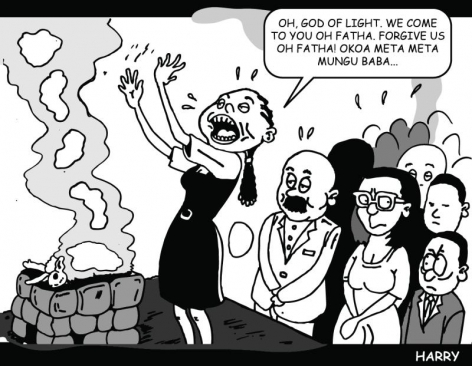 Wangu wa Makeri's scandal has gone viral. As you may recall, she inadvertently ended up being in the same pub as some Meta Meta students and even bought them whiskey. Schola's penchant for spreading and buttressing rumours has given it wings. Even the BOG chairman has gotten wind of the scandal, and has threatened to resign.
"I cannot be the chairman of a management committee of a school whose teachers go on drinking sprees with their students," Donatta overheard him telling Okonkwo. Somehow, students too got wind of the incident. It has been trending on a wall in the boys' urinal.
Furious director
A budding artist has drawn a caricature of wa Makeri doing a Mugithi dance with a beer in one hand and sandwiched between boys in full Meta Meta uniform. Unlike other terms, closing day was a quiet affair. Both Okonkwo and wa Makeri made very short speeches. The only time the assembly came alive was when Magarita told them to avoid going to places like bars. The students broke into wild cheers and whistles.
Indeed, the school has witnessed a lot of drama. Before recounting some of the events that have besmirched the otherwise clean record of Meta Meta this year, Okonkwo appealed to teachers to take advantage of the holiday to generate fresh ideas on how best to run the school.
He recalled how he was summoned to the Education County Director's office to collect a 'sack' of mandazi. A student had been told to buy the whole stream mandazi as a punishment.
He had broken a school rule by buying hot mandazi from a kiosk across the fence. The boy's guardian bought the mandazi. Instead of bringing them to Meta Meta for his classmates to feast on, she went and dumped them at the director's office.
The furious director had called Okonkwo to collect the mandazi, which were making his office smell like a kiosk. He also decried how recently, the whole school had been thrown into a panic. Boys celebrating a birthday party at midnight had detonated fireworks making both teachers and other students think the school was under a terrorist attack.
Thinly veiled
"And now even before the dust has settled on the matter, this ill-founded rumour about teachers drinking with students has been loaded on us," he observed. As if the latest scandal wasn't enough, there are rumours that Meta Meta is under investigation by the Auditor General. Apparently, Tom the bursar and Okonkwo, inflated student numbers so as to get more money from the free secondary education fund.
Consequently, the BOG chairman has refused to sign cheques. There could be some truth in the rumour though. Tom, besides having put on a lot of weight lately, has bought a new car. Schola swears he is putting up a flat in Nairobi's Kayole estate and has married a second wife.
Wa Makeri's fiasco has however, dominated the staffroom with some making fun of her. Vasco Da Gama advised her to try JJ's for her tipple. "I wonder what some people find so interesting in dimly-lit clubs. One can even end up downing a cockroach with the drink," he said in a thinly veiled reference to wa Makeri's scandal.
Magarita has proposed a cleansing ceremony. "Mwalimu, Meta Meta is under attack from the devil. We must organise a serious fast and prayer service to drive out the dark forces that have invaded the school," she observed during a brief.
Promising to lead the CU in the ceremony, she offered to get pure olive oil from the holy land of Israel and water from the very spot on River Jordan where Jesus was baptized by John the Baptist. "Even Satan himself can't stand such," she concluded.
[email protected]
Related Topics