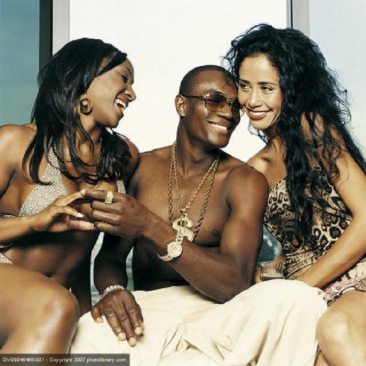 When Kenyan women are not stalking mzungus, then it's Nigerians or Congolese men. The Congolese men drive Kenyan women crazy simply because they know how to dress, sing and dance. Period. Those who can't sing at least masquerade as upcoming musicians.
When the fellas strut around town, all heads turn. When they hop onto the stage for a performance, the audience gets electrified and women hurl underwear at them.
From Kanda Bongoman to General Defao, Werreson, the late Luambo Makiadi (Franco), Fally Ipupa, Papa Wemba, Zaiko Langa Langa, Madilu System, Samba Mapangala, Mangelepa and now Ferre Gola, the kings of bling reign supreme and drive female fans crazy.
Emmanuel Mwashumbe, a rhumba and lingala music enthusiast and presenter at Radio Maisha says it is not so much the honey-coated voices and ndombolo moves that attract women like bees to nectar, but their manner of dressing. He says from hair to toe, the Congolese artistes have swag; they wear wet curly kits, pierce their ears, noses and tongues and adorn them with jewellery.
Hear him: "These men value women. They have time for women and know that without them, their music business is no more because they constitute a big chunk of their fans. They have a way with words; very poetic when talking to women. And always smell lovely."
Most of them have bleached their skin and their clothes are brand new designer wear. Their shoes are the latest make and their colognes and aftershaves are the loudest in town. It is obvious they take a lot of time grooming. In fact, throughout their performances, fascinated audiences spend the better part of the night discussing their flashy clothes and sense of fashion rather than the talented voices.
french accents
No wonder there are many rich — and not so rich — Kenyan women ready to love and be loved at any cost by the men whose French-accented English and Kiswahili sends them spinning. Such women hang around clubs like vultures. Most are in their mid-30s to 60s and dress in clothes that belie their ages.
They drive state-of-the-art cars and carry expensive handbags. Musicians, who are normally stranded at the pubs after their performances because they have not been paid, easily fall prey. Since when did men say 'no' to manna? Not only are they bought beers and other expensive drinks, but are also given lifts in luxurious cars.
Needless to say, most of those lifts end up in posh hotel rooms. Most Kenyan musicians on the other hand dress carelessly. While fans don't necessarily expect them to dress in business suits, they would still do better than turn up looking shabby and bedraggled.
Style, grooming, flamboyance
"I have been clubbing for a long time and have a thing for live bands so I can give you an honest assessment of musicians and how they dress. Even though Congolese musicians occasionally colour clash, there is no question that all their clothes are bought brand new from shops, especially Dubai. They have no time for 'iron-resistant' mitumba (second-hand) trousers which, in the dim light, resemble aliya (dried meat) or obambla (sun-dried tilapia). L'Acromenege, Rhumba Japan, Bilenge Musica, Viva Mosukusuku, Mangelepa, Isso la Isso and other Congolese bands who play or have played in Kenya always come thoroughly styled up," observes 'Makambo' Onyango, 52, a frequent patron of Dream Village Club in Nairobi.
David Masha, another lingala fan, seemed to concur with Onyango. "While I agree that one man's meat is another man's poison, all benga bands need to style up — and I'm not just talking about clothes.
Some seem to wake up from their sleep and head straight to a performance with unkempt hair and unwashed faces. I once saw a dancer with so much dandruff in her hair you couldn't differentiate her head from the disco lights," Masha complained to Crazy Monday.
Huston Ndombi, 50, notes that other bands have such luminous clothes with such screaming colours that they hurt the retina. But our brothers from Congo will have none of that. When I asked one of them how much he earns, he said "not much".
Nonetheless, he proudly said he spent 70 per cent of his income on his clothes, hairdo and body creams, even if he goes without a decent meal for a few days, because he is an entertainer.
Lonely Kenyan women
"Revellers not only come to watch me play and dance to my music but revel in my flamboyance and attire. I must bring to them 'live' the scenes they only watch in video tapes of Kofi Olomide and Wenge Musica," he said. Another Congolese musician let on that they spend between Sh10,000 and 40,000 on grooming.
"Of course we can't afford it. Kenyan clubs pay poorly. At least there are nice Kenyan mamas out there ready to bail us out," the artist said, laughing cheekily. Truth be told, there are some businesswomen in town who earn more than they need.
These women, mostly lonely married women whose husbands are out of town on business trips or further studies, are alleged to maintain the Congolese artists. Others are single women with well-paying jobs looking for a nice time since they are not in serious relationships. Such women have no qualms sampling the best of Congolese machismo, you know.
kept congolese men
I tell you, some Kenyan women are crazy about these Congolese guys. There are women who maintain them in posh residential areas or apartments in Kilimani and Lavington. But when the relationships break, you will find the poor guys living like paupers in slums like Kawangware, Kangemi, Kibera and Korogocho.
"Yet the interesting bit is that even though they sleep on the floor and have nothing to eat, they still go around in expensive suits and golden earrings!" says Jane Simiyu, 40, a reveller. Unfortunately, many Congolese musicians are not good finance managers.
One Congolese star (we chose not to mention him), previously a darling of Kenyans, continues to shock fans as he is always spotted performing in small pubs, never mind he used to command a five-star billing a few years ago.
Bailed out by local lasses
In another embarrassing incident some time back, household name Zaiko Langa Langa Laye and his entourage of 22 musicians were arrested at Charles de Gaulle Airport, France, for trying to get into Uganda for a performance without proof of where they were going to stay.
Rumours have it that help came from rich Kenyan women, fans who sorted out most of the expenses. But closer to home, who does not recall a mysterious Kenyan woman who paid Sh280,000 in cash to release a famous Congolese artist held at the Industrial Area Police Station?
The artist had failed to clear his bills at an up-market hotel in Nairobi. One Kenyan woman who is bonkers about Congolese artistes spoke to Crazy Monday: "Why lie, these guys are in their own class. They are terribly romantic and are very good where it matters.
They know how to make a woman feel special. I left my boyfriend, with whom I had a child, to move in with one of them. I paid the rent, gave him money, bought him food, clothes, booze — everything. I was just crazy! When he dumped me and left for Kinshasa, I almost died.
But believe me, if he came back today, I would welcome him with open arms!" The Congolese men are all too aware of the sparks they ignite in Kenyan women. So even those who are not band members hang around social places where their kinsmen are performing hoping to get noticed.
Love for foreign goods
And rarely will they go home unescorted. Not surprisingly, Kenyan men who flock to clubs to salivate at the Congolese women wriggling and shaking their bottoms like their waists are boneless often get a raw deal.
Half the time, the girls are local lasses who bleach their faces for that 'authentic' Congolese looks, knowing Kenyan men will pay anything for 'foreign goods'. In any case, most of them are intimate with the Congolese musicians, one reason the bands are always embroiled in bitter internal fights leading to incessant breakups.
But the irony is that while Congolese musicians continue to be pampered by wealthy Kenyan women, their equally broke Kenyan counterparts are trailed by jobless groupies who imagine that 'celebs' have lots of cash! Sigh!
Related Topics