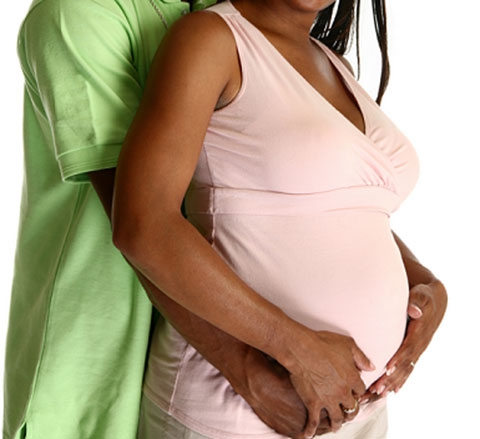 A fortnight ago, a 25-year-old woman from Nairobi's Mlolongo Estate shocked listeners of Standard Groups' Radio Maisha when she called presenters Alex Mwakideu and Jalang'o, asking them and their listeners for advice on her troubled marriage.
Her husband had been proved to be infertile, yet she desperately needed babies. The nature of her problem interested
Crazy Monday. This writer did a follow up, and met her for an exclusive tell-all interview where she opened up and shared her frustrations.
Akinyi, a housewife whose full identity we chose to protect lest we scandalise and jeopardise her marriage, has been married to a certain Mr Odongo, 27, a business man who deals in clothes.
The two have been married for slightly over two years. Unfortunately, they have nothing to show for it. Their efforts to sire a baby have been in vain.
"We have been trying to make babies for months, now years, but nothing. We have even tried timing and doing it every day, just in case, but it hasn't been fruitful; I have never gotten pregnant. We are now almost in our third year.
"I always suspected something is wrong," says Akinyi, adding, "We had these awkward moments when we became suspicious of one another, with my husband thinking it's me who had the problem and vice versa."
We finally sat down, discussed and agreed to go for a medical check-up. He was against the test in the first place, insisting that he is very okay. He had turned the heat on me and always accused me of not getting pregnant.
He eventually accepted, and surprisingly it turned out that it's him who has a problem; he has a low sperm count," reveals Akinyi, looking into the distance with the guilt of one who has just revealed a top secret.
Husband shooting blanks
News that it was him who had been 'shooting blanks' all along startled Odongo. He has since lost enthusiasm, and always looks lost in thought and beaten. What's more, that his recently married younger brother is already a father doesn't make matters any better.
In fact, that state of affairs has exposed him to ridicule. To make matters worse, friends and neighbours have turned him into a subject of ribald mockery.
"Odongo is now the butt of all sorts of jokes. I once heard a neighbour jokingly ask him whether he was waiting for a bell from God to start siring children. Others call him Papa Zero whose only work is to fatten his wife, but still has no clue why people marry!" says Akinyi, unsuccessfully suppressing a giggle, despite the devastating nature of this matter.
Amorous congress
A few weeks ago, during a heart-to-heart talk, the couple explored possible solutions to the problem, but none sounded affordable, justifiable or reasonable.
"Having tried traditional medicine in vain, we lost hope. Medical procedures to treat him seem expensive and other options are untenable.
Hubby's bro to donate sperm
"Separation is out of the question because he paid dowry and that can also be embarrassing because we come from the same place in Siaya County. Almost everybody there knows we are husband and wife. But out of the blue, and much to my surprise, Odongo suggested something strange I had never heard of," she intimates, amid giggles.
She say one night during pillow talk, as they whispered sweet nothings in each other's ears, he mumbled something to the effect that they should let Owino, Odongo's 24-year-old younger brother, step up to the plate and sire a baby with her! Of course, Akinyi, as she says, was shocked to the core.
"The suggestion surprised me. I could not imagine his brother, more so married and a father doing it with me. However, what had begun as a joke, turned out to be serious and we struck a deal," she says.
Tight rules and regulations
Owino was summoned and discussions began in earnest. "His brother was reluctant initially, but after being understanding the gravity of the matter, he expressed his willingness to help us. Unfortunately, the talks at some point collapsed," reveals Akinyi.
Akinyi says Odongo had overly strict guidelines which he insisted his brother was to observe.
"He was happy that his brother had accepted to donate sperm for us. But he sort of began to feel jealous, and insisted that the act was to happen while he watched! He could not wrap his mind around the fact that his brother was to have his way with me," says Akinyi.
His brother on the other hand was too uncomfortable to execute this duty while being watched, urging his brother to take it easy, swallow his pride and let him handle the business privately.
On humanitarian grounds
After all, he argued, they were not going to pay him, and that he was only doing it on humanitarian grounds--for free.
Owino threw a spanner in the works when he suggested that for this mission to be a success, he had to be given a whole month of access, arguing that a pregnancy is a "trial and error kind of thing". The envious Odongo protested, saying his brother was just missing his own wife whose is based in Siaya and wanted to take advantage of his problem.
"The arrangement took another twist when Odongo insisted that this was an activity that only required a few seconds, and he saw no need of his brother doing it again and again— for a whole month.
In fact, he was also opposed to him romancing, kissing or even fondling me before doing it. I just wondered how he expected us to get turned on! An agreement had been reached, but the only problem was how to go about it. That whole week was filled with debate on whether or not his brother was to do it in his presence, and if a whole month was required," Akinyi says.
After realising that the whole thing was turning into a circus, one morning Akinyi made a phone call to her husband who was at work. She told him she was fed up, and all she wanted was a baby, and in fact she was on her way to Owino's place. Interestingly, she made good her threat.
"Be patient, let us finish"
"Just when we got into bed (and began to do the do), much to our surprise Odongo arrived and began knocking on the door. Owino shouted at him, asking him to be patient and let us finish, but he never stopped. We ignored him and proceeded to 'make the baby' till we climaxed," she boldly says, adding, "When we were done, we went to open the door and found a couple of eager neighbours murmuring to each other, perhaps expecting drama. But when we opened, he just walked in, of course seething with anger. He quarrelled a bit, and after a while, we both left as if nothing wrong had happened. However, I am yet to go for a pregnancy test.
Oath of secrecy
As you read this, the second session which was scheduled for last Saturday must have taken place, seeing as Akinyi had hinted about it to this writer. We did not reach out to either Odongo or Owino for their side of the story. Akinyi insisted that they had sworn not to reveal the details of this pact to anybody, and speaking to them would land her in trouble. She says it's only the three of them who are aware of the arrangement. Well, until now.
When reached for comment on this scandal, Professor Paul Achola, a sociology lecturer at Catholic University East Africa and an expert on matters family and marriage, said this kind of arrangement was not new. He said it existed back in the day in traditional African society. He is however, quick to add that it was a top secret which the parties involved swore never to expose.
"When a man was proven to be infertile, clan elders met, deliberated and either his brother or close cousin was earmarked to secretly sire children with the man's wife," said the professor, adding, "Those involved in the arrangement took an oath of secrecy."
No DNA testing
The man who helped sire the children had no right over the offspring. "The man 'hired' to donate his sperm was not responsible for socially bring up the children or claiming paternity. After all, children back then belonged to the clan, and only biologically belonged to their father. But still, in this arrangement, the infertile man raised and masqueraded as the children's biological father. He enjoyed the privilege by virtue of having paid dowry. The donor only had a regulated right of access to the man's wife," adds the good professor.
The guru goes on to add that the children grew up knowing the infertile man was their biological father. Mark you, back then DNA testing was not possible, and there was no way the sperm donor would turn around and claim the children. And were he to try that sort of joke, or if any of those who took oath revealed the secret, elders would curse him— pronto! This, the professor says, was practiced among many communities.
Secret arrangement
The sociologist say there was yet another secret arrangement that took place back then. This particular one was mostly practiced by the Agikuyu women of yore, seeing as their community was, and still is, partly matriarchal. Kikuyu women had, and some still have, a lot of say in their families. They called the shots. Little wonder then, that to the Agikuyu, children 'belong' to the wife! Thus, in the event of separation, Agikuyu women always take their children. Some even inherit land; a practice outlawed in most other Kenyan communities.
But here's the secret: Despite a man being able to sire children, one or two in his family were discreetly sired by a man from a different clan!
Perpetuate mother's gene
"This was a cautionary measure the smart, tough Kikuyu women took to ensure that in the event children from her husband's clan had a genetic defect — thieves, night runners, dunderheads, suicidal tendencies, the 'foreign' children were free from it. Thus, they perpetuated the mother's lineage. In some instances, it is believed, such women did so just to recall sweet memories from a former great lover! Or to immortalise him," the professor says.
There you have it folks. Question is, would you let your brother sire children with your wife, if you were infertile?
Photo: Courtesy
Related Topics