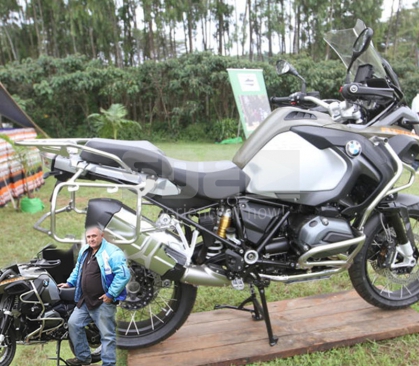 Pulse: What is the make of this monster? Jean: This is the latest BMW R1200. It is the biggest in the market.
P: What are the unique features of the bike? J: This bike has the latest technology. It has an in-built engine and arms protector. It doesn't have chains unlike other bikes. Its design is meant for a mixture of tarmac and off-road and even the tyres are designed for such conditions.
It also has very strong headlights and sidelights next to the tyres for near and clear vision of the road.
P: Is that a GPS (global positioning system) above the speedometer? J: Well, yeah. It is important for security and directions. There is also a gas cylinder for rear suspension pressure control.
P: Tell us about the helmet... J: The helmet has inbuilt glasses for wind protection, an air filter and air space at the top for keeping you fresh.
P: Good swag. Girls must like this monster... J: Yeah. What do you expect? Girls love big machines. They are always asking for a ride.
Jean Marie Sabin is the director of Savannah Riders and BMW Bikes Ambassadors.
Related Topics