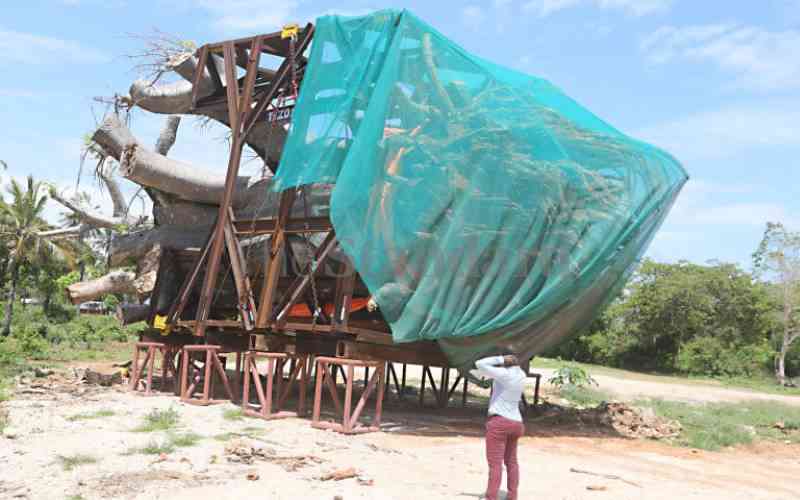 A lobby group has sued the government seeking to block the export of Baobab trees to the United States (US).
Kituo cha Sheria has sued the Kenya Forest Service (KFS), the County Government of Kilifi, the Ministry of Environment and Forestry, the Attorney General and the Kenya Plant Health Inspectorate Service (Kephis) arguing that the move to export the indigenous trees is illegal.
According to Kituo Cha Sheria, the government never involved the locals while the firm which was issued the permit to fell the trees did not comply with the law.
It claims that the trees were sold for between Sh100,000 to Sh300,000 without considering their age and the benefits that Kilifi residents derive from them.
"The private investors from Georgia exploited the residents of Kilifi who are mostly facing hardship following the prolonged drought experienced and who solely rely on the benefits of Baobab three and who have been maintaining the Baobab tree for hundreds of years," argues Kituo.
In its case filed by lawyers Tracy Wachira, Anthony Mulekyo and John Mwariri, Kituo Cha Sheria claims the move encourages uprooting the indigenous trees for charcoal and export.
It asserts that KFS and the National Environment Management Authority (Nema) never considered that by issuing the patent to fell trees, the government was selling Kenya's right to intellectual property.
The lobby argues that it is not the first time that State agencies have sold Kenya's precious trees which are then patented in the West.
The human rights organisation states that Kenya lost its right to Prunus Africana (the African Cherry) which is only found in the Rift Valley. The tree, according to the court papers, was harvested, sent to Europe, and patented outside the country.
"The State failed to protect and enhance the intellectual property in indigenous knowledge of biodiversity and genetic resources of the community under Article 69," Kituo claims.
Court papers filed read that a Baobab tree can live for 100 years, is drought resistant and provides a habitat for a number of species.
"They produce fruit that contains a high level of vitamin C, antioxidants, calcium, potassium and fibre and powder found in fruits is used in smoothies and porridge," Kituo states adding that the fruit's seed is also used for making beauty products.
It argues that wanton uprooting of Baobab will increase the level of carbon dioxide since it lessens the amount of carbon stored and once the tree releases the carbon stored.
Kituo's Chief Executive Dr Annette Mbogoh in her affidavit to support the case stated that Ariba SeaWeed International was the firm behind the Baobab tree-cutting deal.
She expressed concerns over the increasing uprooting and transportation of trees from Kilifi region. "The uprooting also has adverse effects on the environment as it makes the soil more prone to erosion by agents such as wind and water, destruction of animal habitats, causing the greenhouse effect and global warming," argues the lobby.
Related Topics