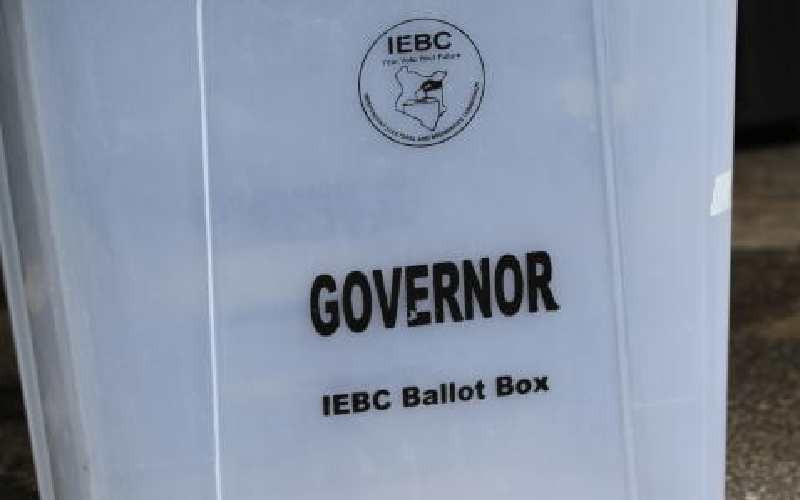 A witness in the election petition challenging Kilifi Governor Gideon Mung'aro's victory was taken to task over allegations of ballot stuffing and voter bribery.
Lawyer Augustus Wafula representing the Independent Electoral and Boundaries Commission (IEBC) asked Shauri Kazungu, a witness, to substantiate claims that IEBC clerks were used to rigging votes in favour of Mung'aro.
Mung'aro's lawyer Benjamin Binyenya also challenged the witness to state whether voter bribery took place.
Chinga Chirume, Justin Charo Baya and Salim Chai Tsui who are members of the Pamoja African Alliance (PAA) party have sued IEBC, Kilifi County Returning Officer Hussein Gurre, Governor Mung'aro and deputy Flora Chibule, claiming that the election was not free and fair and should be nullified.
Kazungu who was a PAA agent claimed that IEBC clerks at Karimboni Primary School polling station engaged in election malpractices, including campaigning for Orange Democratic Movement (ODM), United Democratic Alliance (UDA) and Independent candidates which is against the law.
Kazungu told the court that during vote counting, the Presiding Officer led an opaque process where the ballots were never displayed for verification by the agents.
"The Presiding Officer was just raising the ballot and not turning it around for us to verify and he didn't allow us to file complaints. I cannot remember how many candidates participated, and how many agents were at the polling station, and this is because I only concentrated on the candidate that gave me the job," he said.
George Kithi who was PAA governor candidate joined the petitioners' legal team after his bid to be enjoined as an interested party was struck out by Lady Justice Anne Onginjo.
Munga'ro (ODM) was announced the winner after garnering 143,773 votes against Aisha Jumwa (UDA) who got 65,893 votes while Kithi was third with 64,321.
The witnesses were also told to explain why their signatures appearing in court documents were superimposed.
Mtana Sanga, a PAA agent in Garashi, also claimed IEBC clerks were campaigning for PAA opponents within the Garashi Primary School polling stations, adding that ballot stuffing was done for governor candidates. "I saw some IEBC clerks campaigning for ODM, UDA and independent candidates at the Garashi polling station. The stuffing happened for the governor position."
Related Topics