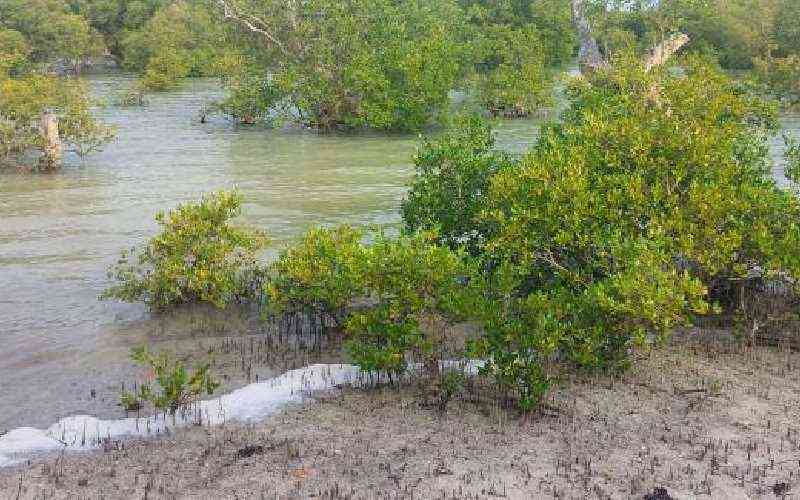 Efforts by communities to increase the fish population in the Indian Ocean are bearing fruit with the mangrove forest cover on Kenyan waters increasing.
While marking World Fisheries Day, officers drawn from various organisations at the Coast planted 500 mangrove seedlings at the Majaoni site that overlooks the Mtwapa Creek in Mombasa County.
"We are not yet there as a nation when it comes to fully rehabilitating our degraded coastline but we have tried to restore tree cover along the shoreline,'' said Ms Betty Makena of the Association for Women in Maritime Sector in East and Southern Africa (Womesa) mentorship committee.
Apart from Womesa, officials from the Kenya Coast Guard Service (KCGS), Mediterranean Shipping Company (MSC), Kenya Fisheries Services (KFS) and Seafarers Union of Kenya (SUK) also participated in the tree planting exercise.
Today, Indonesia has the largest expanse of mangroves. It also has the largest potential restoration area, with more than 2,000 square kilometres available for restoration of mangrove cover.
Ms Florence Bett, a Womesa member and an expert in pollution control said that the mangrove forest is one of the most productive and biologically important ecosystems.
She said that the Coast region is becoming hotter due to the depletion of mangrove forests – a nature-based solution in terms of climate change adaptation.
She said that mangrove forests are an important tool in combating climate change.
"Mangrove ecosystem has a superior ability when it comes to storing carbon which can help slow the warming of the planet.
"They help protect communities from threats associated with climate change such as worsening storms, rising sea levels, erosion as well as forming an important habitat for fish and wildlife," Bett said.
Lucas Wafula, the KCGS Research and Development Officer who represented Director General Brig (retired) Loonena Naisho said that the service was committed to participating in ventures that aim to restore and protect the marine environment.
"Mangrove forests remain an important biodiversity hot spot that must be protected and conserved at all costs," he said.
Ms Rachel Mambea, a representative from MSC said that they were delighted to partner with Womesa and the other organisations in restoring mangrove forest cover.
In Migori County, 491 small-scale fish farmers are to benefit from farm input support next year, to boost fish production.
Dr Charles Nyaanga said the county is working with small-scale fish farmers and the bodies that supply fingerlings.
Migori has a mini fish processing plant in Rongo which has been leased to Rio fish, a body that processes fish and sells fingerlings.
Dr Erick Were, the acting Chief Officer for fisheries said that farmers in Migori need to stop tobacco farming which he said is harmful to their health and the environment.
Additional reporting by Anne Atieno.
Related Topics