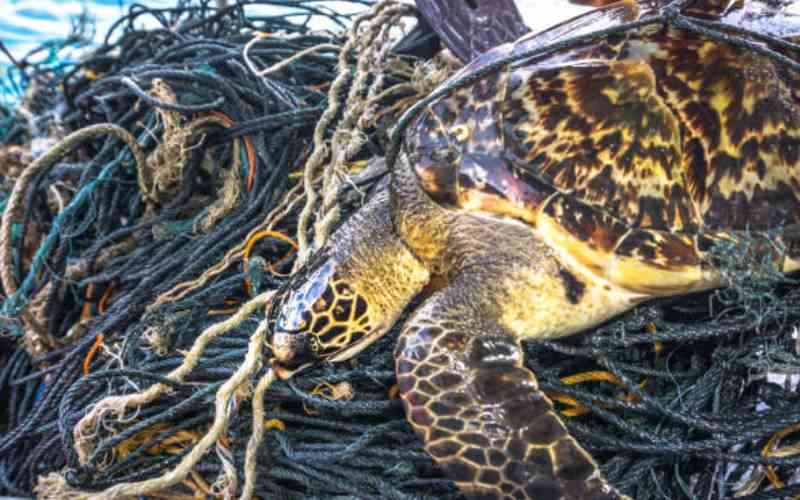 Conservationists in Kilifi County have discovered a highly endangered turtle that died along the shores of the Indian Ocean.
The hawksbill turtle is said to have died after consuming plastic waste along the shore.
The conservationists, working under Progress Welfare Association of Malindi (PWAM), were cleaning up the shore at Casino Beach in Malindi, when they spotted the dead turtle.
The monthly clean-up organised by PWAM brings together different stakeholders from the Business community, hoteliers, school children and their teachers, imams and Muslim students. The exercise is aimed at making Malindi "greener and cleaner".
Kenya Wildlife Service (KWS) officials who were part of the team confirmed it was the hawksbill turtle.
KWS senior Sergent Abu Bocha said the turtle might have died after consuming plastic waste and later washed away to the shores.
Bocha said turtles, at times, eat the white plastics thinking it's jellyfish and end up developing complications that lead to death.
When a turtle eats plastics, Bocha said, its stomach gets bloated and if dies. He advised beachgoers to not to litre the shores with plastics.
"These species endangered in the world. There is, therefore, the need for us to conserve the turtles for posterity otherwise the next generations may not see them," he said.
He said they examined the turtle and it was clear that it was not killed by a human being but after eating plastics.
Meanwhile, Bocha said their partnership with PWAM has helped in raising awareness among local communities on the need to clean up of the beaches.
"Monthly clean-up will go a long way in saving turtles and other marine creatures. We also do underwater clean-ups. We work with Blue Fin diving school to ensure there are no plastic wastes in the ocean," he said.
Related Topics