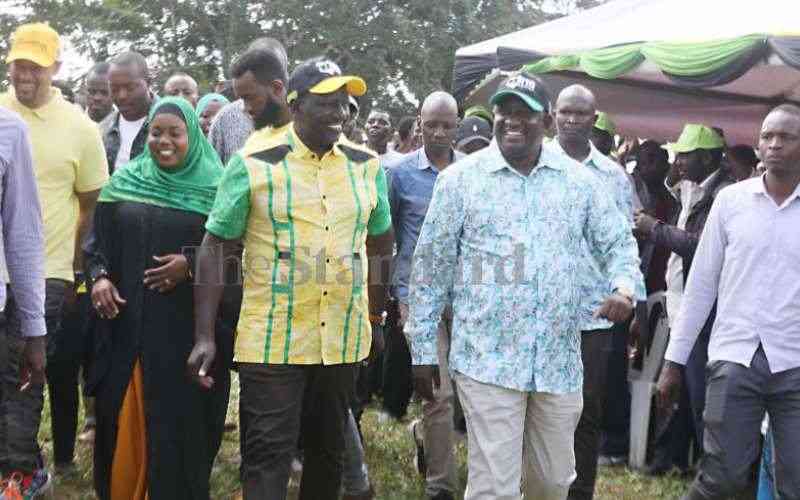 Several Coast politicians defied political odds to win a variety of elective seats in the recently concluded General Election.
According to political analysts, some leaders fought religious and traditional beliefs, while others won seats through protest votes and party popularity.
Fatuma Achani, the outgoing Kwale deputy governor, became the Coast's first female governor after defeating her five opponents in the race.
Former Agriculture Principal Secretary Hamadi Boga, Eng Lung'anzi Chai, Wiper national chairman Chirau Ali Mwakwere, Kwale county assembly Speaker Sammy Ruwa, and businessman Gereza Dena were all defeated by Ms Achani.
"I am overjoyed to be elected governor as a Muslim woman. I am grateful to the people of Kwale and to my political mentor, Governor Salim Mvurya," she said in her acceptance speech.
Throughout the campaigns, Ms Achani battled the notion that a Muslim woman should not run for such a high-level position. Since 2013, she has been Governor Mvurya's deputy.
The governor-elect praised Tanzanian President Samia Suluhu for being given the top position in her country, saying she, too, is capable of leading.
In Lamu, outgoing Woman Representative Ruweida Obo defeated two-term Lamu East MP Athman Sheriff on the Jubilee ticket to become the county's first elected female MP.
Mwatate MP Andrew Mwadime left ODM to run for governor on an independent ticket in Taita Taveta county.
Mwadime easily defeated outgoing Governor Granton Samboja (Jubilee), an ally of Mombasa Governor Hassan Joho with clout in Azimio la Umoja-One Kenya, former Governor John Mruttu (UDA), and other candidates.
According to political analyst Yusuf Abubakar, the Taita Taveta electorate rebelled against party politics and chose a person to serve them.
"Mwadime's case is an act of defiance against political parties. Despite the fact that the MP left ODM just before the election, the electorate chose him over the governor and many other seasoned politicians," Abubakar said.
He said Captain Obo was elected based on her track record. "She spearheaded a campaign against drug abuse, defended fishermen, and advocated for mangrove conservation."
Kilifi South MP Ken Chonga (ODM), who was elected for a second term, became the first MP in his constituency to break the 35-year jinx of one term.
Since its inception in 1987, the constituency formerly known as Bahari has not had re-election of an MP. Dr. Mtana Lewa, a Bahari MP from 1988 to 1992, said it surprised him that the electorate became impatient and kicked him out before he could implement his development agenda.
"I was not given the opportunity to carry out my development plan. The electorate has grown impatient with elected officials," he said.
Kilifi ODM chairman Joseph Chilumo yesterday attributed Chonga's re-election to his performance, particularly in funding education and pushing for road repairs. "Chonga worked hard to endear himself to the impatient voters, and they supported his track record," Chilumo said.
He added that this was also the case for Kilifi North MP Owen Baya of UDA, who was given a second term despite a strong Azimio wave that saw voters elect Gideon Mung'aro as governor on the Orange ticket.
Related Topics