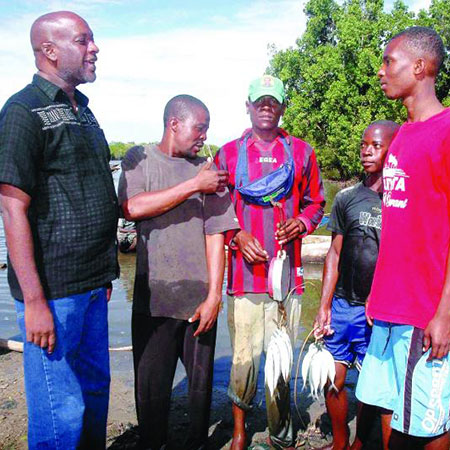 Senator Boy Juma Boy has a unique name and says he is royalty in his clan. He uses a 'mulika mwizi' (cheap) phone which does not receive calls and is just for texting. He is the senator in the county where a constituent whipped his party leader Raila Odinga recently. He swears "in the name of God" that he did not see the beating. The first-born son of a former trade unionist has seen the best and the worst of Kenyan politics. ALPHONCE SHIUNDU spoke to him about his life in leadership at the Coast.
What's with your phone?
You can only SMS (text) me. My smartphone, with a touchscreen, is blocked. That's why I got a torch phone. My phone never stopped ringing. I tell you, I had headaches, but you can't say no to a voter. Now no one can call me, because I can only receive text messages. But I always respond and call back.
Where did you get the name 'Boy'?
I was named after my grandfather. His name was Boy Mwandeyi. Boy, my grandfather, gave birth to Juma. So my father was Juma Boy Mwandeyi. I am the first son of my father. He named me after his father. So I am Boy Juma Boy Mwandeyi. Mwandeyi is the family name.
When did you get into politics and how was it like?
I took over from my father in 1983. I got in through a general election, not through a by-election. I was elected as MP for Kwale Central. Things were different then. It was quite difficult being an MP. You had a paltry salary, yet you were expected to contribute money in harambees. It's not like today where you have a good salary and CDF for projects here and there.
As a chief whip in Parliament, you once 'dealt' with Raila Odinga and former Kimilili MP Mukhisa Kituyi in the opposition.
I was close to power, but it was quite tough. There are decisions that we made in the evening, just when you were about to go to sleep, things will be totally different the following morning. You had to countercheck the decisions every morning to make sure they were still valid.
I remember one day when former President Moi went to commission a power project in Turkwell, West Pokot. Then there was this crucial vote in the House. I called him and told him, "Mzee, I need those people back or we'll lose." He sent a plane to pick the MPs. I kept monitoring Kituyi and Raila as they took tea and mobilised their troops. By the time we were done with the debate, the plane had landed at Wilson Airport, and the ministers arrived in the chamber just in time for the vote.
For 15 years, you were in the cold after losing your seat. It is said you resorted to fishing.
Business was good. Before the Tsunami (in 2004), life was good. You could make up to Sh250,000 every 21 days. But after that, the weather changed. You could spend Sh20,000 on a fishing expedition, yet when the boats came back, there was nothing.
There's this rumour about you being a traditional doctor, a healer of sorts. Is this true?
Yes! You see in Nigerian movies they call them 'Igwee' or something like that. In a family, there is always somebody who is entrenched as the leader of a clan. My uncle was the leader of the clan. It is like His Highness the Aga Khan...the people believe that these guys hold some magical powers. By the time I was ordained as a the leader of the clan, they believed that the Mwandeyis had supernatural powers. That's all there is to it.
My uncle was the leader of the clan. My father passed away when my uncle was alive. Eight months after my father died, my uncle Keya Boy passed away. Somebody had to inherit the leadership of the clan. So I did. To a lot of people, once you inherit that chair, you are like the 'Igweeee!' (he lets out a roaring laughter and repeats the word 'igweee!' with a strong Nigerian accent then clasps his hands and bows a bit, as a sign of respect as is done in West African movies).
In fact, if it was in Nigeria, people would go 'igweeee' if they saw me. I am the head of the Mwandeyis. Whenever a son is born, he has to be brought for blessings by the mzee of the clan. That's me. But we have not entrenched it that much here the way it is in Nigeria and in other places. There's a place that a king has to be, where people come to pay homage.
Are you for the referendum fronted by Cord?
Yes I am!
You were with Raila Odinga at a rally in Kinango when he was caned by Lengo Karisa. What happened?
If you watched the clip, I was one of those dancing. That guy just passed me and went straight at Raila and the governor. He was then restrained by security. Very few people at the function saw what happened, can you believe it? I swear, in the name of God, I did not see a thing.
We were in two lines. The 'Sengenya' is danced in two lines. The PM was in the second line with the governor. I was in the first line with Hassan (Omar, the Mombasa senator), Wetang'ula (Moses, Bungoma senator) and the rest. He (Kinango) was dancing with his bakora. He then broke away from the line. It is only after we had moved to the dais that I saw the old man on the ground with bodyguards around him.
It was during our next meeting in Diani that I saw the whole thing on TV.
At first we thought the man must be mentally unstable. If you watch the clip closely, you will notice a woman shaking the PM's hand while he was dancing. She apparently told the PM that, "You are our saviour."
Related Topics