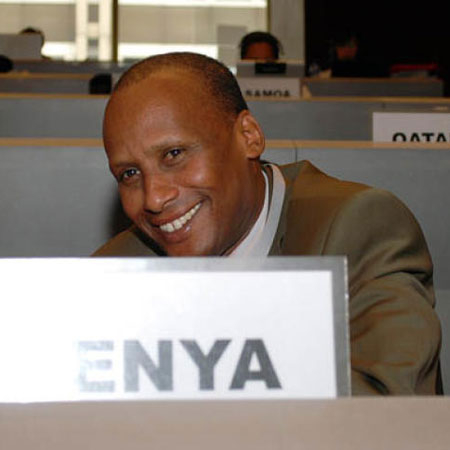 Lawrence Lenayapa, the Comptroller of President Uhuru Kenyatta's State House
A twenty-four-year-old woman is accusing one of Kenya's most powerful man for being a 'dead beat father'.
Vivianne Nyange claims Lawrence Lenayapa, the Comptroller of President Uhuru Kenyatta's State House impregnated her when she was a third-year student at a college in Voi.
Vivianne recalls their meeting in July 2011, "when a friend told me that I had been offered a chance to entertain a permanent secretary. Lenayapa was then Permanent Secretary, Ministry of Environment and Mineral Resources. He was coming to visit our college."
Her friend had earlier 'organised' company for the PS but the big man wasn't happy with the girl, so Vivianne took the position.
A friend of the PS later ferried Viviane to Voi Wildlife Lodge.
"Drinks flowed freely and we had fun," Vivianne told The Nairobian.
"He was a very pleasant gentleman who knew how to make a girl feel great," she says nostalgically.
Lawrence Lenayapa promised Viviane Nyange the good life, a good job after college and a stable relationship "if I agreed to be his 'special girl'".
Come 11pm Vivianne and was left alone with the PS and things got steamy. "I begged him to use protection, but he refused," claims Vivianne.
Sh18,000 for taxi
Vivianne says that she was sent back to college the next day and given Sh 18,000 for taxi. "I hired a taxi back to college feeling on top of the world."
Her knight in shining amour exceeded her wildest expectations. "He was smart, rich and had a powerful position that could open doors in the lucrative public sector.
And what's more, he had assured me that he was just a phone call away. The only downside was that he was married. But that did not bother me as long as it did not bother him," Viviane told The Nairobian.
However, her routine test after three weeks revealed that she was pregnant. "I called my 'new boyfriend' and he promptly sent me Sh60,000 to abort the pregnancy," she adds.
Vivianne decided to keep the baby even after Lenayapa warned that 'the decision to keep the child would up to me.
"When I texted him that I had delivered, he said nothing, and that is when the real ordeal began," she claims.
Vivianne approached the friend who had set them up and explained her plight.
She promised to inform Mheshimiwa and even take me to Nairobi so that he could see his son."
Come D-Day and Viviane was informed she would have to take the bus as her friend could not accompany her.
Her texts to Lenayapa went unanswered and she decided to seek help from the Children's Department in October 2012.
"They summoned him and he sent two lawyers as he was too busy to attend in person. He was sent a second letter after which he made peace and assured me he had good intentions but could not be available because of his sensitive work schedule.
He promised to prioritize me and the baby. We spoke on the phone and for the next few months, he sent me money through aides.
"When the payments became irregular after only a few months, I complained and told him I was better off sticking with the Children's Department. He told me the Children's Department could not take him anywhere."
Talk to the media
Viviane got Lenayapa's attention when she threatened to go to the media with the story. "Lawrence sent a cousin and a friend who traced and took me to a house in Nairobi West.
"We met last year around August and Lawrence went straight to the point. He wanted to know how much it would cost him to set me up for good, so that my baby and I would never bother him again," Vivianne recalls. She suggested Sh6 million, and he negotiated it down to Sh3 million.
Lenayapa, says Viviane, promised to wire the money to her account soon according to text message evidence in our possession, but he hasn't honored his pledge. He reportedly switched on the old charm, reignited the old flame and later sent her away with Sh35,000 in cash.
"It has become a wild goose chase with days turning into weeks and then months and so on, and I still haven't received a penny," she complained. Vivianne fears that her baby will not get any help from his father. "My baby is suffering," she says, "while his children are living a life of luxury. I demand justice."
Related Topics