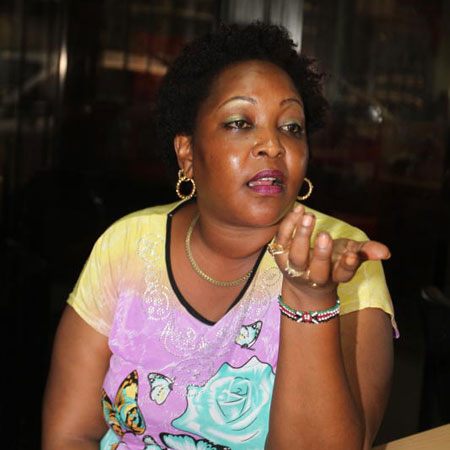 Nairobi Senator Mike Mbuvi Sonko has earned a reputation for splurging cash on the poor and is often moved to tears by the sight of Kenyans in distress.
But Josephine Wanjeri Thuku, his former girlfriend, claims the senator is not genuine.
"Sonko is a heartless man who has destroyed my life and devastated the mental health of our son so badly that he has had to undergo therapy," she told The Nairobian.
Wanjeri claims that while charity begins at home, Sonko, whose philanthropy is renowned, has neglected his child to punish her.
"He proved that he is not interested in our son when he claimed that the boy is in Class Six when in fact, he is a Class Eight candidate," Wanjeri claimed.
Wanjeri also claims that she is not the first victim of Sonko's wrath after a relationship gone sour.
"He is in the habit of ambushing his former girlfriends at home with a pick-up truck and carting away all household items he had bought," she claimed.
Wanjeri tells The Nairobian she knew Sonko back in 1990 while she was in Class Eight, although they began their relationship two years later: "I was a Form Two student when he became my boyfriend and swore undying love for me. Little did I know that things would turn out the way they have."
According to her, when Sonko left Shimo la Tewa Prison, he came looking for her, but she kept off until she finished college and got her diploma.
"I then went against my parents' wishes and moved in with him," she says, adding that things turned sour after she got her first child.
"I had to go to my parent's home to heal. My life has been a living hell since," she laments.
According to her, Sonko did not allow her back to the city.
"He always opted to drive down to the Coast, call me to a hotel, give me some money and leave after making promises that he would soon take me back to Nairobi.
"A member of his family who will remain nameless, however, leaked to her that there was a woman in his house. Imagine, I am nursing our baby and he goes ahead to live with another woman?" she poses with anger.
For old times sake
Wanjeri flew to Nairobi to find all her things locked in the storeroom, and according to her, they have never stopped fighting since.
This, however, does not mean that the lovebirds have not been rekindling old flames of passion every once in a while.
"He invites me to his hotel room and we still have a good time and I cherish the moments. However, these make-up sessions are fraught with drama. There was a time he asked me to meet him at a hotel in Diani, only for him to show up with a female politician," she says.
Her problem, however, is that their fights affect her children.
"What sort of a father refuses to support his children because he's not in good terms with the mother?" Wanjeri poses. Apparently, Sonko confiscated her car, forcing the children who were used to being driven to walk.
"My son is a very bitter young man as he gets to hear how his father takes care of other kids in the country while he is neglected. He has been forced to weather the mockery of other children who deride him, because his father passes through Kwale splashing cash and never bothering to visit him."
"He takes his family on expensive holiday trips, sleeping in posh hotels and travelling all over the world, while my sons are languishing," fumes the mother of two.
"If he is as philanthropic as he would like people to imagine, he would ensure that all his children are treated equally. He is the worst thing that ever happened to me, and even if I find it within my heart to forgive him some day, I will never forget what he has put me and my children through. It has been quite traumatic," she says.
Related Topics