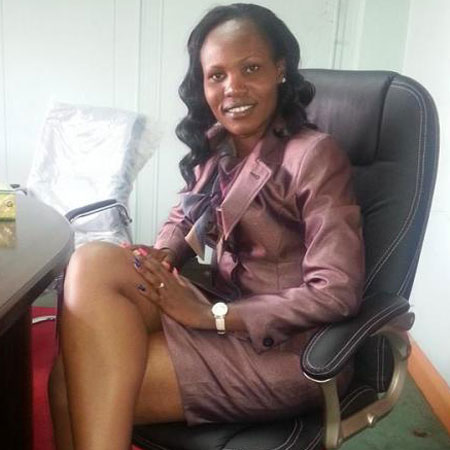 Police officer Linda Okello       Photo: Courtesy
Internet sensation Linda Okello will be the main guest at a charity event to raise funds to buy sanitary towels and underwear for poor girls.
Okello, who faced her boss' wrath for her 'tight derriere' photo that caused a buzz on social media, might soon be hitting the city's bigwig list.
She is no longer the 'cop next door' as she has been honoured as a guest during Galpad's sanitary towel event, where she is expected to interact with the city's Who's? Who.
 The brainchild of the project, Dr Jude Olunga, told The Nairobian they settled for Okello since she is a 'celeb' and will pull a large crowd to the event.
"We have already talked to her and she will be the day's girl pad ambassador. We are looking forward to working with her to make the day a success,"    Dr Onunga.
The initiative hopes to raise money through washing Governor Kidero's ceremonial limousine and other classic cars in the city.
"The car owners will pay Sh1, 000 and anyone who pays more than this amount, will be declared winner of the event. Volunteers will also part with Sh500 for every car washed. It is all about charity and we intend to raise as much money as we can," he said.
Olunga said most girls from poor families cannot afford sanitary towels.
"Most girls from poor families cannot afford sanitary towels and panties. From the funds, we will ensure that every girl receives five packets of sanitary pads and five panties for one year,"he said.
"The sanitary towel idea struck me after attending a medical camp in Uriri, Migori in 2011. A woman came rushing with a girl who was bleeding but unknown to her, she was on her periods. The nurse rolled a bandage and tied it around her waist to prevent her from soiling her clothes," he said.
Related Topics