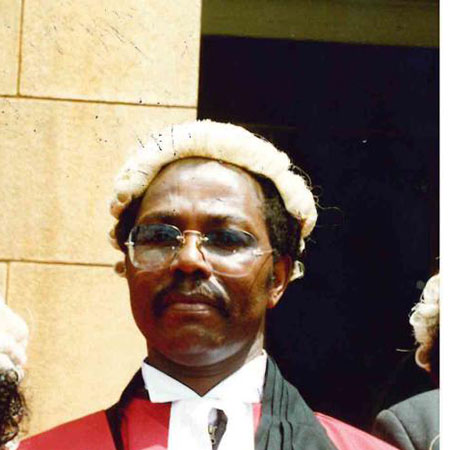 Justice GBM Kariuki has sued Standard Chartered bank for embarrassing him by failing to honour three cheques he had drawn in favour of a motor dealer.
He says DT Dobie dishonoured his cheques on the grounds that he did not have sufficient funds.
"My reputation as a distinguished citizen and honourable member of the bench has been impaired. I have been made to appear as a dishonest payer who gives dud cheques," Justice Kariuki said.
The bank offered to have the matter settled out of court by offering him Sh2 million but the judge declined. In a case filed at the High Court in Milimani, Kariuki wants the court to award him for damages for breach of contract, loss of credit and reputation.
Igembe South MP Mithika Linturi has also been 'embarrassed' after his credit card was declined at Nakumatt supermarket. He sued Co-operative Bank. In his suit, Linturi said on August 4, 2011 he attempted to pay for goods worth Sh194,270 using a card at Nakumatt Junction that was declined. He claims that at the time, his current account with Co-op Bank had Sh2,697,389. Co-operative Bank, in its response, argued that the rejection of a transaction for any of its customers is never revealed to any third party and, therefore, cannot cause embarrassment.
The bank also added that its employees were not at the point of sale when the transaction was declined and, therefore, cannot be held liable for the card failure.
The two cases are akin to the 2009 lawsuit where Justice Nicholas Ombija sued and was awarded Sh2.5 million by Kenya Commercial Bank after his credit card was rejected in a supermarket.
In the suit, the judge sought Sh6 million as damages and another Sh1 million for breach of contract. Through his advocate Cecil Miller, the judge maintained that the bank defamed him at the Hotel Intercontinental and Nakumatt Ukay.
"The bank subjected me to considerable amount of distress, agony, mental torture, humiliation, scandal, opprobrium and contempt in the eyes of the public," Ombija said Judge Joyce Khaminwa later ordered KCB to pay his colleague Sh2.5 million for damages.
Related Topics