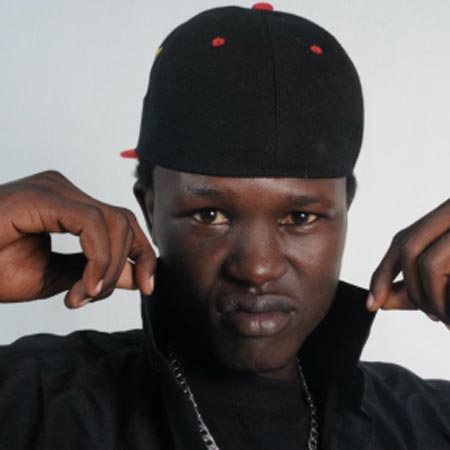 K-Denk Photo: Courtesy
Former Tusker Project Fame contestant Kuonck 'K-Denk' Deng has confirmed that he has indeed joined the army, and is fighting to liberate South Sudan.
"Don't disturb me with questions, I am following my destiny," he replied when contacted by The Nairobian.
The talented rapper, who wowed East Africans with his rapping prowess on music reality show, Tusker Project Fame, has been posting disturbing comments on social media, clearly showing he is enjoying being part of the turmoil that has hit South Sudan.
"I am denied a life I deserve to live, and so I must be an outlaw," proclaims K Denk on his Facebook picture, while holding an AK47 assault rifle.
On another picture, he writes, "at a compound of a General in Malakal. My problem is the current government not Dinka please."
He even mocks the efforts by most South Sudanese musicians who sing about peace.
"It seems every South Sudanese musician sang about peace, and for how long would you want them repeat the same thing?" he writes.
Refigah, the creative director at Grandpa Records, the stable that signed K-Denk right after Tusker Project Fame says he has tried in vain, to convince the former child soldier to drop the gun.
He says he has sent numerous messages to K-Denk, in a bid to convince him to drop the gun and once again pick the microphone, but his pleas have been ignored.
"We signed him on a two-year contract, but he was very difficult to deal with. So we terminated the contract on mutual consent. He used to fight a lot with other artistes and producers, so I saw it fit to terminate his contract, though we remained friends," says Refigah.
The former Tusker Project Fame (TPF) contestant seems to be rubbing his fans the wrong way on his Facebook page after his posts on the current strife bedeviling his motherland turned partisan.
Since the conflict started, the singer has been posting pointedly anti-government posts, and being a Nuer, which is rebel leader's Dr Riek Machar ethnicity, it has come with its fair share of backlash.
"Real men will be seen today. As Kiir said war is possible, boy we taking you down, We need a new president in South Sudan today experience this. F**k your leadership," read one of his updates, posted on December 16, shortly after the conflict started.
At one point, the artiste alleged that he was receiving calls from the president's office trying to bribe him to stop posting negative things about Kiir.
"I just received a call from the office of the president, that I should stop updating posts that contradict Kiir and begin a campaign that is uniting and encouraging peace and harmony. She promised me a huge amount of money which I was to pick in the cause of a day. Well and good, I have acknowledged that I am highly wanted, but eliminating me will never work. Truth be told," he said.
Related Topics