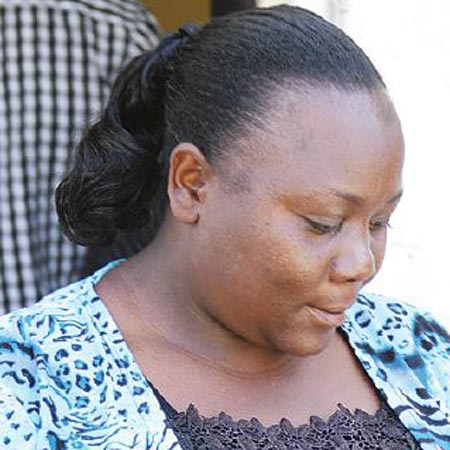 Beatrice Wanja Photo: Boniface Thuku
Who fathered Beatrice Wanja's daughter?
This is the question that a Nakuru court has been trying to establish for the past three years in a bitter paternity dispute involving a computer technician and two medical professionals.
In a bizarre case of finger pointing, Dr John Ndegwa, a Nyeri based pharmacist, and Samuel Wainaina, a laboratory technician, each deny fathering a three-year-old girl with Wanja, a computer technician. Each man claims it is the other who fired the potent bullet.
Wanja sued Ndegwa in 2011, claiming the two had cohabited as husband and wife in 2009-2010, leading to the birth of the minor in June 11, 2009. Another case seeking Sh54,000 maintenance from Dr Ndegwa was dismissed in July last year after a DNA test from a government lab was found to be defective.
Wanja told the court she first met with Ndegwa at Rift Valley Provincial General Hospital when she was a computer technician with a company in Nakuru.
"I met Ndegwa in 2004 while he was working at PGH in Nakuru. We got into a relationship for three years from 2007 before breaking up," she told the court. "I'm therefore seeking for maintenance for the child, that is food Sh15,000, rent Sh9,000, house help Sh4,000, clothing Sh5,000, entertainment Sh10,000, medical expenses sh12,000 and Sh2000 for water and electricity." Wanja said she was self-employed with an income of Sh20,000, and has been having difficulties maintaining the child.
But Ndegwa strongly contested the allegations, saying, "I have never had any shade of relationship with that woman. She has been to my house only once in December 4, 2009," Ndegwa explained. "I don't know how she landed there."
Interestingly Ndegwa told the court in May this year that on December 4, 2009 he mysteriously found Wanja in his bed.
"I don't know how she landed on my bed on December 4, 2009. She even refused to leave my house, and I had to get the help from the police," he affirmed.
Through his lawyer Waiganjo Mwangi, the doctor testified that though he had no problem raising the child if it was proved to be his, the DNA results from the government laboratory had been altered to reflect that he was the father of the three-year-old girl.
"I won't have any issue providing for maintenance of my child. What the court should ascertain is if I am the father," he added.
Ndegwa strongly contested the report by the government analyst Henry Kiptoo, which showed 99.99 per cent probability he was the father of the minor, by quoting incidences where results had been challenged. Grace Mugure, who gave evidence in court challenging the integrity of the Government Chemist, told the court of an incident where the Government Chemist had tested the paternity of her child in 2010 only for a second DNA test by Lancet Kenya to give totally different results
In her ruling, Senior Resident Magistrate Judicaster Nthuku dismissed evidence adduced by Beatrice Wanja and ruled that the DNA test by government chemist was not reliable. She noted that Henry Kiptoo from the government chemist had acknowledged in his evidence that there were instances where the results from the lab had been tampered with.
"I find that it would be dangerous to rely on the DNA results from the government chemist and treat those results as conclusive proof of paternity," Nthuku ruled.
She also ruled that paternity suits should not only be alleged, but proved beyond reasonable doubt since the court might order parties to provide for child till they attain the age of 18 years.
"I find that the plaintiff (Ms Wanja) has failed to prove this case to the required standard and therefore dismiss the entire suit with costs," she ruled.
Nthuku also noted that Sh54,000 for maintenance claimed by Wanja in the suit was excessive, and added that if the case was successful, the court would have ordered for Sh25,000 to be shared equally.
But in June 21, 2011, Ndegwa had also sued Wanja and Wainaina arguing that the two were in a close relationship and should undergo a DNA test to ascertain who fathered the three year-old. But Wainaina, denies the allegations.
"I cannot be the minor's biological father as I have never had any sexual relations with Ms Wanja," Wainaina avers in sworn affidavits.
Right before the case kicked off, Ms Wanja's lawyer, Gatu Magana, filed a preliminary objection in September 7, 2011 arguing that the suit was incompetent and an abuse of court process.
Then in May last year, a senior resident magistrate Gerald Mutiso disqualified himself from hearing the matter after Magana accused him of bias, corruption, incompetence, of running a kangaroo court and altering court records.
"I fear that if I do not recuse myself from the case, the first defendant Beatrice Wanja and her advocate Ms Gatu Magana may exploit the decision to further delay justice for the child," the magistrate ruled.
Mutiso had ordered for Ndegwa, Wainaina and Wanja to all undergo a DNA test in May 3 last year, arguing that the alternative DNA test was in the interest of the child and would help the court to expeditiously determine the matter. Immediately after, there was commotion in court as Ms Wanja and her advocate made loud protests.
Related Topics