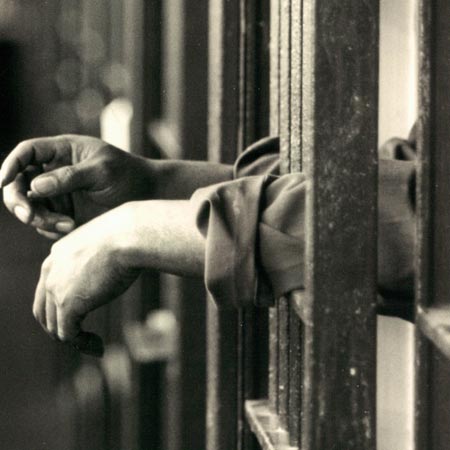 Police cell Photo: Courtesy
Police cells in Nairobi can easily pass for torture rooms in a horror movie. No beds. No sheets. Just a few torn blankets. Smell of sweat, urine and human waste compete for your nostrils. Mosquitoes and kunguni will keep you company for the night. Weaklings, 'softies' and mababi (Cerelac babies) are game for hooligans. You have no rights once you remove your belt and one shoe to enter the slammer.
If a country's police cells and jails are a measure of civilisation and development, we're really in the Third World. Just why common wisdom dictates you try talk your way out when arrested by coppers. Never issue what will turn out to be empty threats that expose you as someone who chose broke, faceless ancestors – realisation that your part of hoi polloi will result in you being a guest of the state-as a lesson. Experience at the police cell will go something like this:
Knock on their knee joints
Ian Arunga was arrested for drunk driving along Lang'ata Road a few Fridays ago. The alcoblow turned red. He was thrown into a waiting police Land Rover. That he only had Sh800 for 'talking' fell on deaf ears.
"Hiyo untaongeza Shilingi 19,200 ulipe fine."(To that you will add Sh19,200 and pay the fine). When a Kenyan copper refuses such 'talking' cash you will sing hot funk. Ian together with other drunkards were bundled and trooped to the Muthaiga Station where a short call came calling. A cop with a curious sense of humour handcuffed his hands to the back…then showed him to the toilets!
"Everyone was then thrown in a dark room," recalls Ian. "Funny thing is, we were thrown in with all our possessions. Nothing was taken from us… You know how belts and shoelaces should always be taken away?! Nothing! I mean, someone could have easily carried a knife or a gun… or a dildo!"
Muthaiga Police station cell has three cubicles… One hard criminals… The next Driving Under Influence (DUIs) and the third was the shi**er… "I was thrown in the third room, where urine made its way neatly into the other two rooms."
Police cells are poorly ventilated, with tiny windows near the sky-high roof from where measured light and oxygen sneaks in. Like Ian Arunga, I too had my fair share of police cell experience one December weekend — two days to Christmas. A night in a cell could be tolerable, but a weekend?
We had gone to watch a late night soccer match at a nearby restaurant 50 metres from the chief's camp. We could not be safer. The match ended at around 1pm. 'My' team won. We decided to walk home. A short distance, you know, for some 50 men. And then police happened, and cordoned the road.
A young female Division Officer asked for our identification cards. We obliged. Feeling conceited, I gave her my international student ID, and told her that I was visiting Kenya from Germany.
Gave out false identities
That didn't mean we would escape being taken to the Buru Buru Police Station via the Black Mariamu. Of the 50, only six ended up in the cell where names were entered without any confirmation with IDs. We gave out false identities. The mandatory belt and one shoe were demanded. Valuables were registered in the Occurrence Book (OB). Then we were thrown into the corridors, a no-nonsense officer keeping watch. The cell was reasonably clean. Surprise, surprise. It was better lit, but an offensive smell from the adjoining cells meant that was the toilet. There were cubicles that served as cells but peeping into them, there were mean looking men, nobody could risk. We discussed anything while standing in the corridors: the match, politics, sex, women and tribal stereotypes that created good cheer.
One of the most dreaded things is the mandatory sweeping or washing of the toilet. There is hardly enough water. You will scrub the floor with a bad broom, or at worst use a torn rug. Either way you have to interact the putrid floors. The criteria for who washes could be that, you are the latest entrant, the shortest or even the tallest inmate.
Assembly at the cell yard to be checked and served government tea soon follows. An uninspired elderly man arrived with tea in a flask and, slices of dry bread in an old yellow polythene bag. Some reluctantly took the cups as a bully cop on the verge of retiring barked that we must all appreciate the effort of the state to serve us the first meal of the day.
After breakfast we were taken to the Makadara Law Courts at 9am. The holding cell there starred a hundred men tucked in what looked like a classroom in a rural primary school in Mosocho. You could hardly breathe among drivers, conductors, street urchins, muggers, thugs, drunks.
Nearly half of us were supposed to pay a Sh200 'bribe' after pleading guilty to being drunk and disorderly. We had no choice. It was Christmas Eve.
Thank the 2010 constitution for 'eradicating' brutal beatings of yesteryears, though a little knock on their knee joints is reserved for extreme mang'aas.
Related Topics