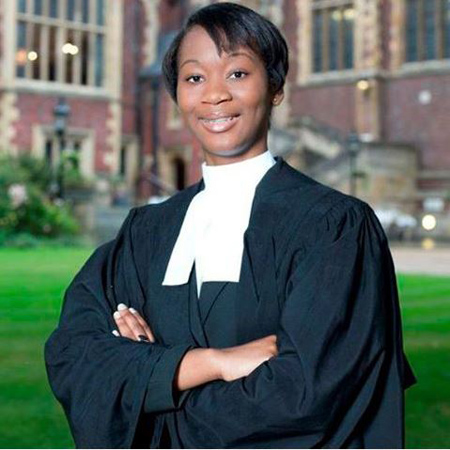 Young Lawyer Photo: Courtesy
From the storehouse of paternal wisdom, common prudence guards men against three classes of women: those more ambitious than them, drama mamas and damsels-in-distress. See, there are certain women men won't touch with a ten-foot pole for the long haul.
A short romp, yes. A one night stand, yes. A booty call, certainly. But a long-term relationship…well, no my dear Lavender.
The same goes with certain careers that have men scampering away from certain women no matter how good they prove to be in other departments.
These are the same women who will be cuddling duvets and teddy bears given their careers have ostracised them from the dating circles even on Valentine's Day.
They could be having a man, but only probably as a standby stud, soon to be dispensed with like used rubber.
Women in the careers we are about to enlist according to men interviewed are stereotyped to be loose, dangerous, mean, ambitious, intelligent and every trait that men hate or are uncomfortable with regarding women they desire settling down with.
10. 'It is over and out now, Roger' (The military and policewomen)
Revered because, 'you cannot cross them' according to Arnold Korir, they are armed and trained in disarmament that can get one spouse signing P3 Forms if an angry brush with their martial arts skills doesn't get them disabled. Just why those in the military and police force have little tolerance when 'played.' They shoot to kill, mostly, the competition!
Besides, their odd, grueling schedules, more so, the night shifts make most men insecure about their fidelity given their job related pressure and proximity to male colleagues in say, a far-flung outpost like Wajir. "They are too close to their male colleagues and policemen are some of the known perverted men around," according to Kamande, who slaves for a mobile service provider.
9. 'Book me on the five O'clock flight' (travel consultants)
Dennis Munyaka has a bone to pick with foot-loose women constantly on the go, be it for fun or work-related mobility.
"Frequent fliers are hard to please. They crave for new experiences and adventures. Their exposure to better things make them never to appreciate whatever you try to impress her with," says Munyaka, a trained actuary in travel consultancy. "Besides, travelling is such a world of uncertainty. She follows her heart and goes with the flow, so tying her down or settling is out of question," Munyaka unequivocally concludes.
8. 'Room service, please' (Waitresses and Housekeepers)
Paul Onyango reckons that women in the hospitality industry are 'dangerous' as they will compare you with the men they deal with, ranging from high-flying tourists to businessmen. "Given their careers (waiters) are based in lies, some tend to be carried away and live the lies," quips Onyango. "They are also away from home most of the time. Whatever they are doing deep into the night only God knows," according to the 28-year old programmes' officer with a local NGO.
7. 'Doctor, doctor, it's an emergency' (medics)
Most men cite two reasons why docs make for difficult dates. One, they work odd, ungodly hours that can be daunting to a relationship that could end up doing with a few syringes of love every now and then. And two, to date Dr Camy Ajulu, you have to be her better, say a pilot, neurosurgeon, flight or genetic engineer…and most men are average. "You have to be better than them academically or financially. Not many men are that good to their expectations. Often they have been known to settle for less," according to Duncan Nyakundi, a city based Engineer. Doctors end up marrying fellow doctors or nurses!
6. 'Give me the bob cut, manicure would do too' (Hairdressers and Stylists)
A male insider in the hairdressing and styling business calls them 'Koinange Street Private Sector' alluding to the allegations that they sometimes moonlight as chini ya maji hookers in their spare time to supplement measly earnings.
"Not exactly in the sense of prostitutes, but a more discreet way of soliciting for money from their male clients," says Stephen Ruoth. Especially, those who work in high-end parlours. Masseuses are even worse as they sometimes engage in 'extra service' for randier male clients for extra-charge.
5. 'I know more and more about less and less' (consultants)
They sell 'lies' according to Joel Ombati as consultants have humorously been described as professionals who 'know more and more about less and less'
"Most of the time, they like too much money and a woman who likes too much money will never have the time to be a woman in a relationship," says the 30 year old city planner adding that "NGO type women have wild expectations of life and the money they handle makes them hard to please, especially if you are broke. Besides they travel too much and live within extremes," says Ombati.
4. 'One more for the road, tafadhali' (counter girls)
Bar waiters and counter girls are stereotyped as women of 'easy virtue.' Most men look at bar tenders as either ever ready to augment their meager salary with any man boasting a wallet resembling a small novel. Sidney Kehari, who works in the fashion industry thinks, "the nature of their jobs will make your friends mock you. They always think the worst with regards to their chosen career."
3. 'The man actually bit the dog…' (journalists)
Men out here don't have a charitable 'breaking news' view of female journalists. They know too much and are loose balls if you ask the average Joe Public. "Journalists know too much and sleep around too much. Besides they are public figures and that can always get to their heads," one male sports journalist lamented.
Alexander Kirui, an animator, adds that women in the media have an "an open-mindedness than can be a blessing or a curse, mostly a curse. It makes them hold very liberal views on life, sex and religion which can be dangerous for any relationship." Add too here, women in advertising, public relations, media production and film industries.
2. 'We are cruising at 60, 000 feet above sea level' (Air hostesses)
Perhaps the most revered lot are air hostesses. They are well travelled, earn good money and everything they have is from Seattle, Istanbul, Jo'burg, St Petersburg…. not Luthuli Avenue or cheap 'exhibition' stalls.
Most men speculate, that their constant traveling exposes them to numerous adventures they'd rather not imagine.
Sydney Odawo has dated one and says, "they are party animals. The one I dated had more liquor in her fridge than food. And expensive liquor. Her lifestyle was beyond my means...they have too much access to men with money."
David Kamande thinks that air hostesses mutate into ever smiling girls. This might invite men with a lot of money.
"Their busy schedule and out of town flights will give me sleepless nights, I will be imagining she is in the hands of the captain or some celebrity or some older tycoon," explains Kamande adding, "her absence can tempt you as well."
1. 'Senior counsel and fellow learned friends…' (Lawyers)
Of the men interviewed, female lawyers emerged as the most 'undateable'. And reasons are as many as there law suits and not necessarily of the judicial separation variety.
Andrew Osiany thinks "the concept of human rights law they are taught in second year gets imparted into them as a life skill, something which can never apply in real life without some adjustments," says the political scientist. He is not yet done adding that "every argument is valued monetarily and the competition for this wealth of words is unbearable."
Accountant John Kinyua also adds his two cents saying, "I can only date a female lawyer if she behaves like a woman. Most of the time, they behave like men. You both have 'balls' in that house. And she will quote an Act (in the law) as to why she has not cooked nor helped in washing your clothes."
For Dennis Munyaka, female lawyers "seem to think legal knowledge translates to all life knowledge. And generally want to argue on virtually anything in the relationship. "For Sidney Odawo, they are arrogant for life. He cites FIDA as evidence.
Related Topics