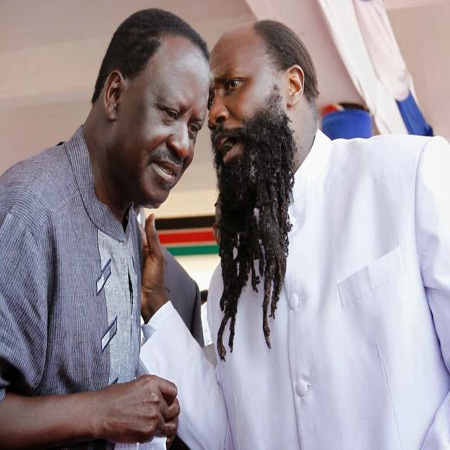 Prophet Owuor converses with Raila Odinga Photo: Courtesy
The second-born in a family of six studied at Makerere University in Kampala. He could not complete his education at the university owing to unrest in Uganda but later transferred to University of Nairobi where he studied a Bachelor of Science degree.
After completing the undergraduate degree, he undertook masters in genetics at the University of Nairobi. Being one of the leading students, he got two scholarships to Germany and Israel. He chose Israel. At the Ben Gurion University, he changed his programme from plant genetics to biochemical genetics.
On graduation he returned to Kenya briefly and worked for the United Nations Environment Programme (Unep) as a volunteer. He went back to Israel in 1994 for a doctorate in biochemical genetics at Haifa University, where he specialised in DNA sequencing.
After completion, he went to the University of Chicago Centre of Pharmaceutical Biotechnology in the US and specialised in transduction (advanced DNA science). He then moved to University of Medicine and Dentistry in New Jersey, where he lectured and researched.
He says he was attached to a Cancer Institute as a specialist and focused more on researching tumour genesis and how it grows. He worked at the centre until 2003 when he left and started preaching.
Owuor, who is not married, says: "In this calling one cannot be able to raise a family because you are always on the move from town to town, country to country."
Having a family, he says, will tie him down and he may not be able to follow the will of God.
He says he had a son in Israel and almost married the mother but he moved to the US and the girl's family refused to let her go with him. While in the US, he also cohabited but the woman left after he started seeing visions.
Related Topics