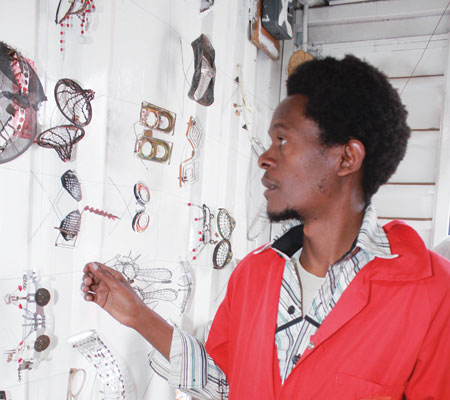 Cyrus Kabiru specialises in making eccentric eyewear using trash and recycled materials
The name Cyrus Kabiru does not ring a bell in the minds of many Nairobians but is a big name internationally.
The soft-spoken creative artist has exhibited in many cities across the world including New York, Milan, Vancouver, Los Angeles, Amsterdam and Istanbul.
The Kuona Trust-based artist specialises in making eccentric eyewear using trash and recycled materials.
His breakthrough came in when he co-exhibited with Lady Gaga's designer Kerin Rose, the founder of A. Morir eyewear design house in the prestigious London School of Fashion.
"Lady Gaga's designer couldn't let her client access my designs for fear that I might take over her popular clients," the artist told The Nairobian at his Kuona Trust studios.
"But this is normal since everyone will always protect his business territory".
Although Kabiru missed the Lady Gaga deal, the talented artist has been designing eyewear for Bobby Womack –the American singer and instrumentalists whose tracks were used in Denzel Washington's 2007 blockbuster The Gangster – for the last one-year.
Kabiru was nominated as TED Fellow 2013.
TED is a gathering that brings together young innovators from around the globe, all with insightful and bold ideas that have the potential to influence the world.
The ideas are expressed in individual 20-minute talks that are widely publicised on TED's website and YouTube.
"The exposure that this gathering gave me is beyond my dreams for I had an opportunity to display my work to prominent global icons like Bill Gates, Warren Buffet, among others," he says.
Other Kenyan TED Fellows include Ory Okolloh, Juliana Rotich from iHub and Boniface Mwangi of Picha Mtaani fame.
But how did Kabiru adopt his 'trashy' art form?
"As a young boy I used to be obsessed with spectacles but my father categorically told me that the only spectacles I could wear in his house are those that I have made for myself," the artist, who will be attending an exhibition in New York's Studio Museum of Harlem in November, said.
"I took the challenge and started making eyewear using broken spoons and other materials."
Besides eyewear, he also uses trash to make sculptures and paintings.
"Using trash was my way of realising my life motto, 'giving trash a second chance'," Kabiru says.
"This way I give garbage and waste materials a life after their 'sell by dates".
In school he bartered his eyewear with his classmates who did homework for him.
After school he started selling them at Sh5,000 to foreigners, a price that has rapidly risen to more than Sh50,000 today due to demand.
His clients include tourists, expatriates and foreign museums.
"The highest amount I have earned from my eyewear creations is a piece that I sold for $3,000 (about Sh250,000) in Los Angeles last year," Kabiru said.
"I prefer the pieces being bought by museums or domestic collectors rather than by popular artistes and musicians."
While in museums or homes, he says, the artifacts maintain their value unlike when musicians have them because they "make them a fad that will eventually fade".
Each and every eyewear that Kabiru makes has a name and a history, with some of them being made into a series.
The most prominent collection is KDF, one made using four spent ammunition cartridges.
"I made this as a tribute to the Kenya Defense Forces gallant performance during the Westgate hostage fiasco," the eccentric artist says.
"I hope one day I will get an chance to give this masterpiece to a KDF representative as a souvenir," he adds.
There is also Sanyo, a tribute to an old Sanyo radio given to him by his grandfather; Prince Charles, his childhood perception of the British monarch; Githongo, after the Kenyan whistleblower John and Motherboard, made from computer accessories.
Others are Mask, China Face, Boobs, and Mosquito all of which have some resemblance to their names.
"My work is not driven primarily by business but the passion to express my thoughts in the material world," Kabiru claims. "This gives me an opportunity to give trash a value and a second chance."
Related Topics