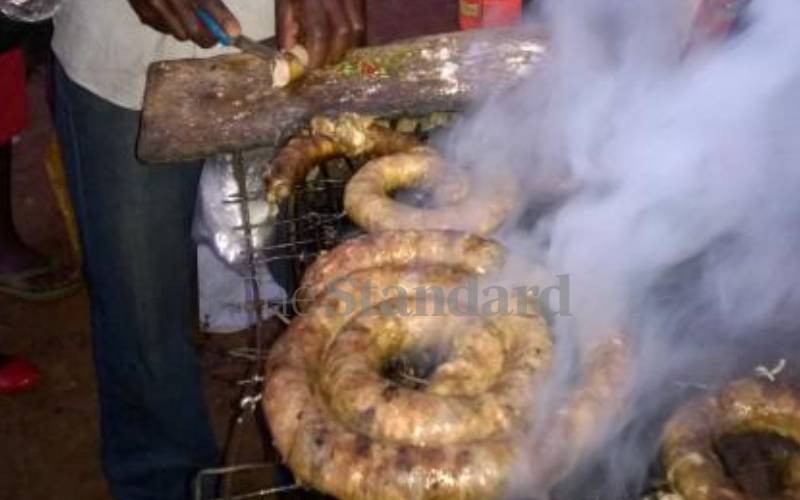 Two people died in a liquor joint in Maragua town after they fought over mutura worth Sh20.
Samuel Ngigi, 49, stabbed Stanley Nyaga, 20, to death in a bar brawl at 2am on Sunday.
The two arrived at the outlet before Ngigi produced a knife and stabbed Nyaga.
Witnesses alleged that the fight between the two arose over a 'mutura' worth Sh20 they bought at a local butchery.
Good Samaritans took Nyaga to Maragua Level Four Hospital where he was pronounced dead.
As Nyaga was being taken to hospital, other revellers descended on Ngingi, raining kicks and blows on him.
James Mwaura, a resident, said there was a need for the authorities to conduct in-depth investigations into the matter.
"In Maragua town, crime is on the rise, thus the need for increased patrols, and to have criminal elements arrested," said Mwaura.
Ngigi died hours later at the Maragua hospital, where he was rushed and under police guard.
Maragua Assistant County Commissioner Joshua Okello ordered the closure of the outlet, saying investigation were ongoing to establish the cause of the dispute.
"Witnesses stated that Ngigi produced a kitchen knife and stabbed his friend several times," said Okello.
He pleaded with the residents to engage each other or seek advice from the elders, should there be a dispute instead of taking matters into their hands.
He added that the police are investigating the incident focusing on what could have triggered the dispute.
The bodies were taken to Murang'a mortuary to await postmortem examination.
Related Topics