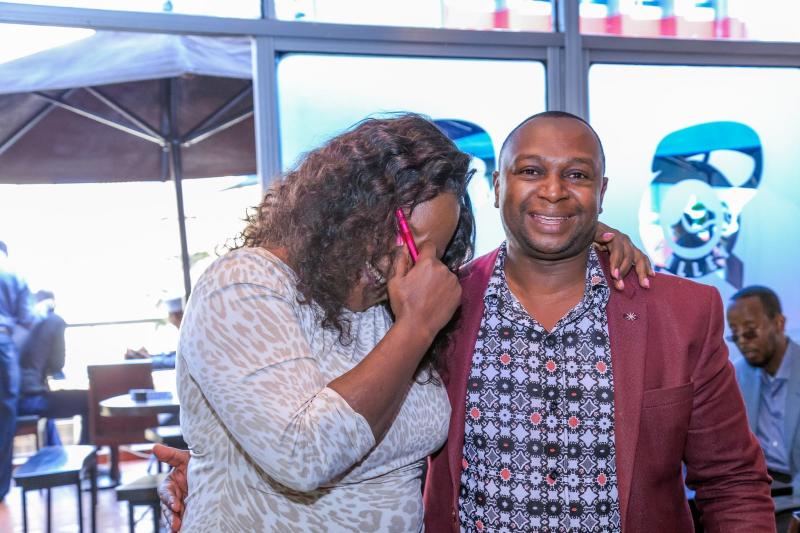 Four years ago, business came to a standstill along Nairobi's Koinange Street, when Bonfire Adventures founder, Simon Kabu, surprised his wife, Sarah, with a show-stopping Sh30 million birthday offering. A new Range Rover, five-tier red velvet cake and an after-party at the upscale Kiza Lounge.
The couple became the talk of the town and couple goals to young men and women who wished one day the could be like Sarah and Simon.
But, in a recent interview with YouTuber Christine Lewis, Sarah says they have been having issues in their marriage for 10 years. Sarah confessed that the things they have been showing on social media are only the good moments and she has been through pain while married to Simon.
"Seventy per cent of what is in social media are blissful and beautiful good times we have had, but we've also had our bad times, which we don't show on social media. Sometimes I meet people and they tell me that I inspire them and we are couple goals, but maybe at that time I'm going through issues myself. I would meet some very simple couples who are inspired by me, and they tell me they look up to me. But I wished I could have that simple life, peace of mind, and simple love. Sometimes I wish I were them," she said.
Although her marriage has hit a rock bottom, Sarah says that she believes in marriage because her parents' union lasted for over four decades.
Sarah also recounting the events that happened when he forcefully took the kids away with the help of his 24-year old daughter, "I had been telling him I was not feeling so comfortable in the marriage because I was tired of faking it. We were in discussion and I wanted a peaceful separation and co-parenting. So, I told him that I will be moving out to an Airbnb just to relax and breathe. That day I slept at Trademark Hotel because I wanted to think first before making the move. The next day when I came home, he had organised with his daughter to pick kids from school without my knowledge and took them to Amboseli," she said.
She said she didn't know where the kids had been taken until that evening because Simon had not travelled with any of the nannies. She involved the authorities and even close friends because she wanted her kids back, and her husband had gone silent on her. She disclosed that her kids were under the care of an unknown caregiver for 10 days, making them feel stressed. "I felt that my kids should not be put in awkward moments. When I tried to talk to their father, and he wouldn't listen, I called his many friends to tell him what he was doing was not good. There was a time I even involved the police."
On claims that her hubby had a secret family and had hidden his daughter from her, Sarah revealed that she knew Simon had a daughter from her past relationship and a son with another woman.
"Kabu had a relationship with someone and had a daughter. He also had a relationship with someone else and had a son. By the time I was getting married, I was aware of his baby mamas, and he assured me that they will not interfere with our marriage. He said they are comfortable where they are, and he has been supporting them from a distance."
Talking about her relationship with Simon's baby mamas, she said that she has met them, but one of them is very dramatic and even wanted to bring her child to their home by force. She says the baby mama's problems became worse when they publicly gifted their child properties.
"Since we gifted our children properties publicly they have been very aggressive but he has been supporting them."
Related Topics