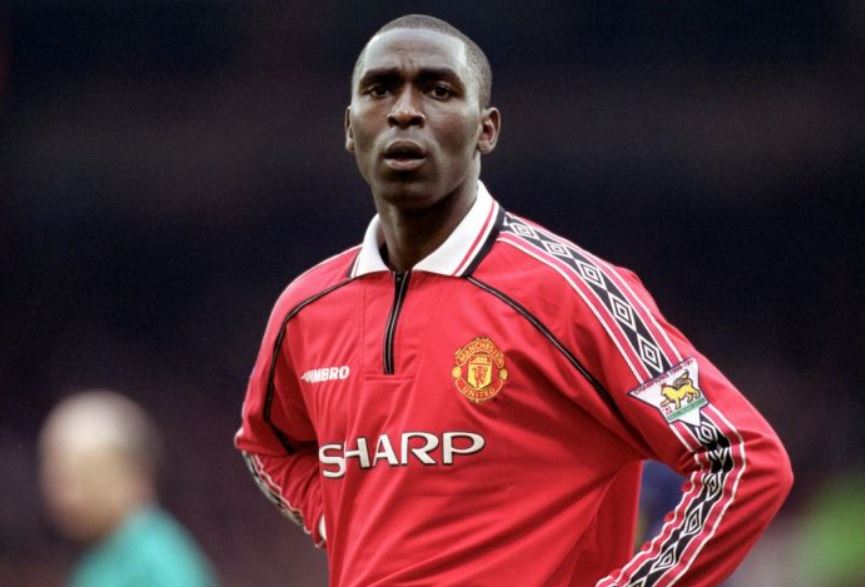 English Premier League and Manchester United legend Andy Cole is fresh from being nominated into the first-ever EPL Hall Of Fame (HOF) class. In an exclusive interview, Alfayo Onyango digresses with the icon about career highs and lows, relationships, Kenyan & African football, current health status, social issues, and the new Manchester United versus old conversations.
Congratulations on your recent nomination into the EPL Hall Of Fame. What was your initial reaction to the achievement?
Very, very proud. Pride because of how I had been brought up by parents and sisters. Personally, it's all the hard work they put in for me to get me to that point, and my team mates as well, that I played with, I'm grateful. I know I did the work and scored all the goals, but for me if you asked my dad a long time ago if he could even imagine this, he'd have laughed you off. It's how things change and anything can happen, so I'm grateful.
How have you been coping with 'Life after retirement'?
During the lockdown period is the only time I've been able to reflect on my career from as a kid to now. I've never really had time. It's been interesting to know I'm one of the nominees in the HOF, I can actually say to my parents that I've achieved something. I've enjoyed every minute.
5 years ago you got diagnosed with Kidney failure and you have been transparent with your journey on the Kidney transplant procedures as well as your mental health. How important is mental health throughout this period in your life?
Massive. When you play football, you're under a lot of pressure. People and fans expect results. There's tough times not only as a baller, but as fans, as well, they go through tough moments and come vent during games so you can get abuse from the terraces and so on. It's not easy. It's ok to not be okay because we're human. People need to talk about it a lot more, and rightly so rather than a taboo. But as a player and person, it comes down to how you handle it.
As a pro, you had a lot of success in club football, but internationally you were snubbed supposedly due to 'racism'. How did you deal with disappointment?
It was disappointing at the time, but when you're in football, that's part of it. It is what it is, but when you grow older you understand you have to accept disappointment and just take it to the chin, start again, work harder and keep working from there.
Today, the game is still ailed by racism hence the Black Lives Matter movement and more in sports. What are your thoughts on the same?
We can do more to eradicate that part of the game. In life if you work hard at anything, anything is achievable. If more people can help support and put the same energy they put into other things, they can use the same energy to ban racism.
Do you think football will return to normal following the impact of COVID-19, especially in EPL?
Intensity-wise it's hard because there are many games in a short period of time (in regards to the game). The players are not robots. The turn-around to the summer is very quick. The crazy thing is that nowadays there's a game almost every day on TV and people talk about they're (the players) getting a lot of money, but that doesn't matter when you think about the demands mentally and physically to play in all those games in front of nobody, self-motivation is everything right now. I think the players have done a great job.
Naturally, we want to see things return to normal and that could happen possibly when the fans are back next season. From a player's perspective however, this season ends the players go straight to the Euros, then the season is back, and then the World Cup follows so there's not too much rest time in this. Financially, people say they're getting a lot of money but does that mean you can go without sleep or rest? There is little or no rest time and that's exhausting really.
What's your take on Man United's 2020-21 campaign?
It's been okay—ups and downs like in any season. At times we could've pushed on, been unlucky, in general they're finishing 2nd, they have a possibility of a Europa League final and winning it, so that's progress. We have to see how they do next season, if they can challenge for the major trophies now.
A lot has been touted about United purchasing sensational English striker Harry Kane. Do you think he is the key to United pushing for a Premier League trophy?
Wouldn't say Harry is the missing piece. This season has proven United needed an out and out striker, would I say Harry is that man? He's a good player but whoever goes in is required to do a good job. Cavani has done well so we'll see if they keep him or go to the market.
What are the strengthening areas that Ole should focus on?
Center forward obviously and they might look at center midfield with the Pogba situation currently.
What are the juxtapositions between the current Man U vs 99 Treble winning team?
Unfortunately, there's no comparison to the team I played in. I would like to point one or two but there's just no resemblance.
How many goals would Andy score in this era?
I always have this joke with Yorke, I would score 50 goals. I guarantee 30 goals a season easily.
What are your thoughts on strike partnerships today in the modern game?
The game is very individualistic now, not many partnerships. It's about roles now. The game has changed and it's based on individual ability whereas me and Dwight was more like a team. The coach built around both of us, and not each of us and our styles.
What are your thoughts on Legends as managers today, and would you venture into managing someday?
Ole has done well. Arteta has found it a bit difficult but time will tell. It's a patience game, and they need time to build. In coaching and managing, the level you're at matters, sometimes it takes more time for players to understand your philosophy and so your guidance might take more time. For me, I've been coaching for a while now but management is not what people think it is, it's a tough job I haven't given much thought yet.
What do you think made the United treble team so special in your eyes?
We all had the same mentality, same desire – basically we all wanted to win, and when everyone wants the same things, it makes things that bit easier. Camaraderie, dressing-room banter, players were special - the common denominator was we all wanted to win.
How was your relationship with the boss Sir Alex Ferguson, and what gems can you pick from interacting with him?
It was decent really, from when I was playing, to right now. He conducts himself in an upright manner, very strict and straightforward, no grey areas. Also, he teaches you to deal with people with respect and the right manner – a great man manager.
What do you think about the talent in Africa and their chances of succeeding in Europe?
Now or previously? I loved George Weah, Jay Jay Okocha, and guys like that. Weah had absolute ability, he could pick the ball from halfway and go create some magic and you wouldn't know what hit you while Jay Jay in the Premier League was just special. They're clear examples that anyone can make it if they believe in themselves.
Do you think there can be more direct support of EPL towards African talent especially since Africa and Kenya have supported the EPL in a major way?
The EPL brand is concerned about their own brand performance, and naturally they just try to do what's best for them. But you never know what the years to come have in store.
Where does African football lack in comparison to European football, or for it to be considered in that same breadth?
Don't know too much about African football so I wouldn't want to sit here and lie, but when it comes to tournaments, you see Africa has the ability, organization, mentality, and they turn up at the major tournaments like World Cup etcetera. You see the players in the EPL, they turn up and prove they have capacity to compete at the highest level. Maybe just that bit of experience in my opinion.
Are Kenyans doing enough to have representation and play in Europe?
Whether the Kenyans or African players, if they are good enough to play they'll play in Europe, they will, because many have and are, and have had high honors. It's all about talent.
Related Topics