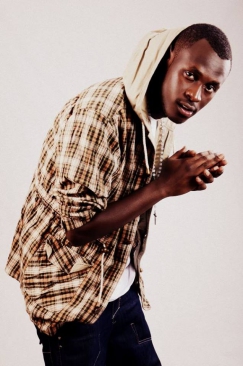 By Sheila Kimani (@sheilakimm)
Besides making hits like 'Adisia' and "Niko kwa Jam nakam", Kevin Onimba a.k.a Rabbit Kaka Sungura is an incredibly talented song writer. His prowess can be felt in well-written tracks like the "Swahili Shake spear" and "Promised land".
Kaka Sungura is also an exemplary music mentor as was evidenced in the recently concluded Maisha Superstars competition where his mentee Phy scooped the grand prize.
Born in 1987, the last born in a family of three boys, Rabbit learnt a lot from his elder brothers who served as role models. He attended St John's primary school before proceeding to Eastleigh High School where his love for the arts and music became evident as the school's entertainment captain.
In this captain role, Rabbit propelled talent competitions and musical initiatives that brought a fun twist to the high school life. It was here that he became conscious of his passion for music and purposed to give it a shot.
After his high school education, Rabbit met DJ Loop, a high profile music producer who signed him up to his recording contract Sneed Music on a two year contract. A move that thrust him to the world of music. He got to interact with big acts like Harry Kimani and Abbas Kunad who had made themselves a name in the industry.
His experience and lessons learnt led him to coin "Kaka Sungura" as his stage name with which he got to release his first album "Tales of Kaka Sungura" in 2008.
On making his debut in the Kenyan rap scene, Rabbit went ahead to build his brand and perfect his art. To date he has several albums and more than 100 songs, mix tapes and collaborations up his sleeve.
Besides becoming a music sensation, King Kaka has curved out a niche for himself and has gone ahead to establish a music empire through which he hopes to conquer higher levels of musical success.
Kaka Empire which not only deals with music production has signed top East African acts like Avril and Rich Mavoko and has a clothing line.
Aside from music, Kaka has featured as an actor in various local shows including Machachari, Higher learning and Mali and also runs a day care school that he opened a few weeks back.
Quite the master of his trade Rabbit is an activist for the Kenyan music as he consistently pushes for its promotion across all platforms and for this reason he is our MCM today.
Related Topics