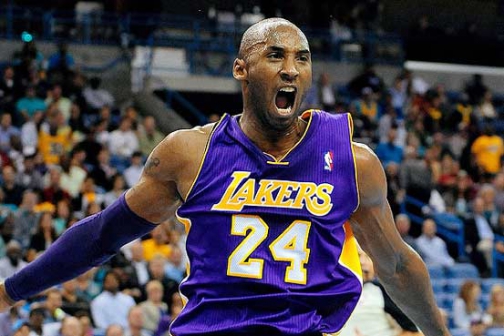 Los Angeles was gearing up to bid an emotionally charged farewell to NBA icon Kobe Bryant on Wednesday as the Lakers legend prepared for the final game of his 20-year career.
Hollywood celebrities and legends of the sport were expected to be among a sell-out crowd of 18,000 fans packed into the Staples Center as Bryant laces up for the 1,566th and last time.
Tickets for the farewell are the hottest in basketball history, according to online exchange Stubhub.com, which listed exclusive courtside seats at an eye-popping $17,000 earlier this week.
A spokesman for StubHub said the average price of tickets was just under $1,000, while one fan had paid $27,500 each for two courtside tickets to the game, which gets under way at 7:30 pm local time (0230 GMT Thursday).
Around 400 journalists from around the world are descending on Los Angeles for the game against the Utah Jazz, compared to the 125 members of the media who normally cover Lakers games.
Around 30 of Bryant's former team-mates from different generations led by Shaquille O'Neal will be in attendance to honor the star while Red Hot Chili Peppers guitarist Flea will play the national anthem.
- '#MambaDay' -
Bryant, who announced his plans to retire at the end of this season back in November, will speak to the crowd at the end of the game, Lakers spokesman John Black said.
A video tribute will be shown before player introductions and further video tributes to Bryant's career will be played throughout the game, Black added.
Los Angeles transport officials meanwhile got into the spirit of celebration, renaming a metro station near the Staples Center "Kobe Station" for the day.
On Twitter, fans were invited to share their memories under the trending hashtag "#MambaDay", a reference to Bryant's "Black Mamba" nickname.
Lakers legend Magic Johnson set the tone for Bryant's last day as a professional basketball player with a heartfelt open letter on Wednesday saluting the five-time NBA champion as "one of the greatest players this game has ever seen."
"You led your team by example and showed them how to achieve greatness," Johnson wrote.
Bryant said earlier this week he was looking forward to the occasion but hinted the emotion may prove overwhelming.
"So far, I've been pretty cool about everything," said Bryant.
"I've been very thankful about everything. I've been very happy about everything. It hasn't really hit me yet. We'll see if it does."
- 'I'm thankful' -
In an interview with the USA Today newspaper on Tuesday, Bryant said he was not sad about his looming retirement.
"I'm thankful," Bryant told the daily. "I'm not sad at all. I left no stone unturned, I gave everything to the game for 20 years in the NBA and more before that. So I feel very thankful to be able to play this game this long."
Bryant will retire having secured his place not only among such Lakers icons as Johnson, Kareem Abdul-Jabbar and Jerry West but also in the pantheon of NBA greats presided over by Michael Jordan.
"He's at the table as one of the all-time greatest," said Eric Pincus, who covers Bryant and the Lakers for the Los Angeles Times and Basketballinsiders.com.
"Now everyone will argue for the rest of time where."
While Bryant's farewell promises to provide the emotion as the NBA regular season draws to a close, the all-conquering Golden State Warriors will share top billing Wednesday as they chase history in their final game.
Golden State will be out to clinch a record-breaking 73rd regular season victory, taking them past the mark of 72 wins set by the Jordan-era Chicago Bulls in the 1995-1996 campaign.
"We've put ourselves in a great position to do something no other team has ever done," Warriors star Stephen Curry said ahead of the contest against the Memphis Grizzlies.
"We want to go out and take advantage of an opportunity that may never come again."
Related Topics