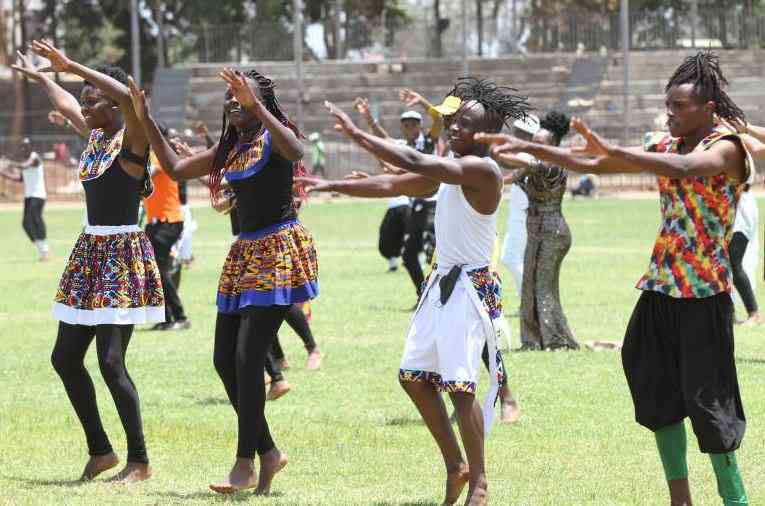 With the General Election now well behind us, the new government is settling into power, even as wananchi remain expectant that the promises made during the campaign season will be delivered.
Artistes are hopeful that the new government will see the innovative and economic potential of Kenya's creative sector and thus support artistes.
For a long time, Kenya's creatives have been overlooked, and it is encouraging to see attitude towards artistes softening.
Signs are indeed encouraging, as Deputy President Rigathi Gachagua has since "affirmed the government's commitment to providing opportunities to harness the talent and creativity of young people."
Indeed, Nairobi Governor Johnston Sakaja in September announced that he plans to facilitate the first annual Nairobi Festival, an opportunity for Nairobians to showcase and revel in the creativity, and the "vibe of the city".
Last month, Sakaja said the festival will be held after the Jamhuri Day celebrations on December 12. Such a festival has been a long way coming, but then again, the acknowledgement and endorsement of Kenya's musicians and creatives, in general, has been long overdue.
Sakaja said he and his team "will set aside streets to display culture, food, creativity, have the Nganya Awards for the best-done matatus; have rugby, football and basketball tournaments and many other activities."
One would hope that this festival will not just be a showcase of Nairobi's established artistes and creatives but also an opportunity for exposure for emerging artistes.
It would also be an opportunity for artistes to gain wider viewership of their work and reach audiences that are unfamiliar with their talents.
Indeed, the market for creativity has been the preserve of a tiny minority of financial elites.
The locations of the few galleries that showcase local art in the city are for the most part situated in the heart of suburbia, where foreign dignitaries, diplomats, and the elite live.
Many people from outside these circles may rightly be put off by these locations, uninterested in the classism that characterises most of the engagement with art.
The same can be said with music, and the expectation is that musicians will be compensated and facilitated by Sakaja and his team to showcase their talents at an affordable rate to all who wish to listen.
Like art in Nairobi, engaging with live music can also be an expensive affair. Understandably, fans of local artistes may not be obliged to pay the often-hefty ticket prices or break the bank to have a meal at an expensive restaurant just to hear a band play or a musician perform.
But art is not for the few, but for the many, and hopefully, this festival would be a step in demystifying art as an activity only for intellectuals and the rich.
Hopefully, this festival will showcase that art and music are products worth paying for and that artistes and musicians deserve to be paid and recognised for their creative work.
Part of what prompted Sakaja to announce the festival was the need to facilitate and encourage business and entrepreneurship.
There have been cases of photographers and other creatives who have been seriously hampered in their activities by harassment meted out by council workers on them over the legality of videography and photography within the city.
"When we say we want to be pro-business it is not just passive to stop harassment of traders; we want to be proactive to facilitate and promote. There are many archaic laws including those that hamper creativity and innovation, and we are going to weed those out," he said.
The Nairobi Festival would also bring Nairobi and the country at large much-needed revenue.
Millions of tourists flock to Kenya every year to enjoy her natural beauty. The festival would not only boost the economy, but it would also market Kenya as the creative and vibrant country that it is.
Indeed, Unesco reports that "the creative economy is one of the world's most rapidly growing sectors, contributing 3 per cent of the global GDP."
With the amount of creative talent at hand, this is an opportunity to celebrate Nairobi's unique artistry.
As a creative, I look forward to the possibilities presented by such an event and hope artistes working in different mediums are allowed to showcase their talents.
Related Topics