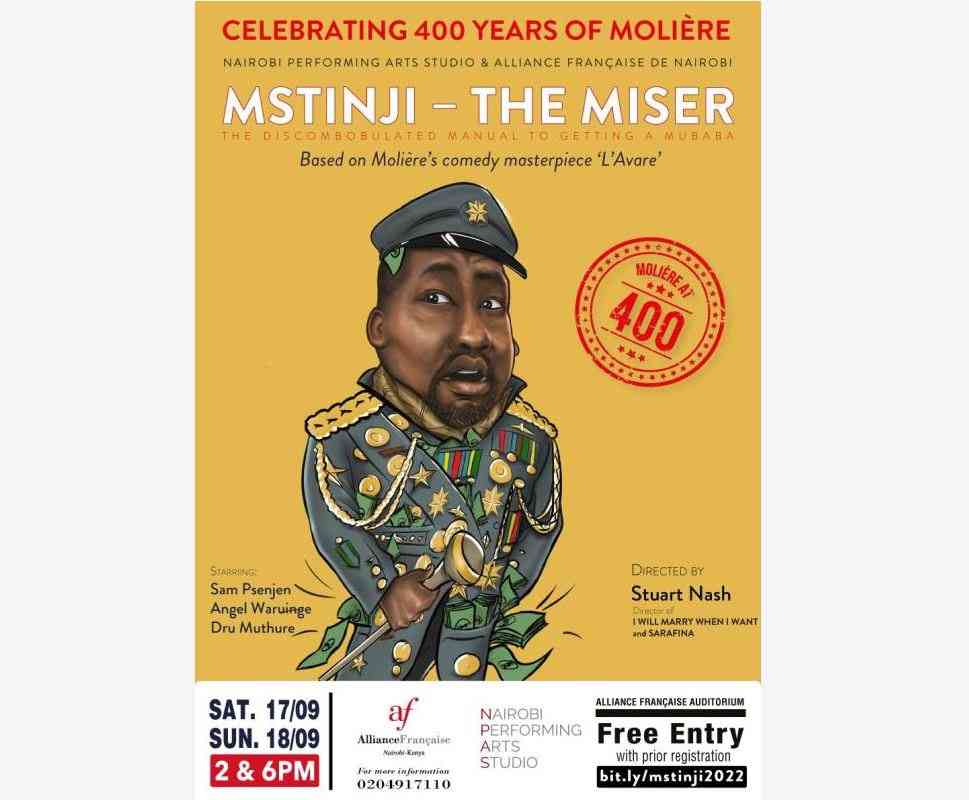 This weekend, the Alliance Francaise, Nairobi, is hosting the performance of a play marking the 400th anniversary of French playwright Moliere, who is regarded as one of the world's greatest comic writers.
The performance, which started on Friday, comes to an end today, with the final show at 6pm. Entry is by prior registration.
Mstinji - The Miser is based on Moliere's comedy masterpiece 'L'Avare'. The Miser was first performed in September 1668 in Paris, France.
The Kenyan adaptation, set in the fictional Democratic Republic of South Kenibia Zamswana, features Sam Psenjen as the miser (General Makasi).
It is described as "blending satire and farce in a fast-moving plot; General Makasi's obsession with money contaminates the socialand moral order of his household."
General Makasi is a corrupt tyrant, siphoning money from state coffers. But his miserly nature means he is loathe to spend the loot, which he hides in his garden. Enter his children Elsie (played by Sandra Wambui) and Harrison (Amani Mwasera).
Hopelessly in love and miserable at their father's tight-fisted and autocratic ways, they try to get their father to approve their choices.
Then the general introduces a younger woman he wants to marry, Maryanne (Suzanne Karani), the same woman his son loves, and you can feel the pace and urgency of the play change.
Mstinji- The Miser also features Angel Waruinge, Dru Muthure, Dadson Gakenya, Jackie Mungai and Kelvin Jeff in the cast.
Directed by Stuart Nash with John Sibi-Okumu as a production consultant, this was always going to be a hit.
Nash was the director behind the recent mega-production of Ngugi wa Thiong'o and Ngugi wa Mirii-written I will Marry When I Want. He has also previously done Sarafina and Jesus Christ Supestar.
Related Topics