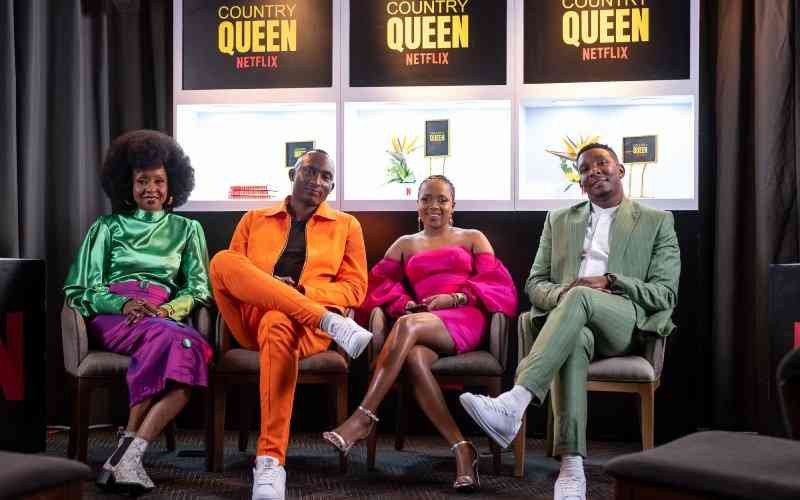 It's a film renaissance in Kenya.
By now many have seen the history-making series, Country Queen, the Kenyan production on Netflix.
Like Country Queen, many local films, TV series, and virtual productions have made news in different ways.
Think of the likes of Softie, Igiza, Rafiki, Salem, Nairobby, 40 Sticks, Crime & Justice, Ahanle, Sincerely Daisy, and Just In Time.
Now Kenya can tip their hats off to having some decent films in the running for global acclaim, if not regional and continental.
Many of these films were not supported by Video On Demand platforms such as the continental juggernaut Showmax, while some have gained traction and fame because of these platforms.
Many saw the light of day through self-financing and crowd-funding efforts.
But it has not always been rosy.
The last two decades haven't been easy, especially in light of growing pressure from direct competition from budding scenes in Tanzania, Nigeria, and South Africa.
"I almost went into depression as I went into bankruptcy during the fundraising stages of the movie," says 40 Sticks' director Fakii Liwali.
"I was getting calls from lawyers, police, auctioneers, you can only imagine. It took help from shylocks, good friends, and Good Samaritans to bail us out and get the production going. It wasn't an easy process," said the resilient director.
A look at the Facebook profile of famous Nairobby director and witty film scriptwriter Jennifer Gatero will show how far filmmakers are willing to go.
"I asked for money for my film Nairobby on Facebook. My inbox was real quiet until a guy I hadn't met but is now an angel in my eyes texted me," she explained in an extended post on how she funded her blockbuster film acquired by Netflix weeks after its premiere.
Independent studios such as Moonbeam and Protel Studios have been creatively resolute in their storytelling. Shows such as Auntie Boss, Njoro wa Uba, and The Real Househelps of Kawangware are examples of what is possible.
Netflix and Kenyan government MoU
In May, the Ministry of ICT, Innovation, and Youth Affairs paired up to sign a two-year memorandum of understanding (MoU).
The first of its kind in Africa, the government through this deal reaffirmed its intention to strengthen and boost the creative industry.
The deal was aimed at improving market capacity, enthusing creative infrastructure development, providing marketing and media spend, local content development, and digital consumer protection.
Through the initiative, Netflix would co-produce three Kenyan-centric shows, one of which is now the highly touted Country Queen.
Netflix would also commit Sh10m through the Creative Equity Scholarship Fund for Africa which will be administered by HEVA Fund in East Africa.
Kenyan filmmaker Brian Munene said he had never been exposed to the level of professionalism Netflix displayed on set for Country Queen.
"They are instilling a belief in us, the time we need to tell a good story, the budgets we need, and a comfortable working environment for us to thrive," he said.
"I think they see who we are and for what we are and it's very clear the West is coming to take stories from us," actress Nice Githinji said.
"I think they (Netflix) are... coming to get the stories right from the people"
Moving forward
Filmmaker Tosh Gitonga emphasises the importance of getting Kenyan films on streaming platforms and curbing piracy.
Kenyans have been known to be quite supportive of their own, only that they do it through illegal means such as watching Kenyan content on pirate sites.
"The government should come down hard on Telcos because they are facilitating piracy. Someone pirating is equivalent to killing one of my own because they're taking one of my own. I believe the penalties imposed by the government should be strict so that if anyone thinks of pirating, they think twice," he said.
He said the challenges of paying the crew and the talent as among the issues the industry still needs to overcome.
"I can't pay you enough if I don't have enough," he said.
Actor Blessing Lung'aho stressed the importance of civic education as a baby step towards fostering a progressive industry.
"Guys back home don't recognise they're not supporting me when they are watching me on their flash disks. They genuinely don't know."
Tosh and Blessing are confident the industry has the ability to deliver good quality productions, but issues such as leadership (sensible policies and implementation), tariffs, and slowing down to the advancement of the film industry.
Future of film industry
"I think we are automatically going to see the standard go up because there is going to be a lot of talent training, capacity building because the MoU and Netflix will raise the professionalism and take our already capable storytellers to the next level.
"I sincerely believe that we are going to look and feel like a more professional package. We will make more money, and we will be put on a global stage to tell our stories. This is finally available to us, and I'm excited the world gets to hear from us," decorated actress and film practitioner Nini Wacera said.
She praised Netflix and other power players empowering the creative industry.
"There is about Sh10b alone being collected from flash disks and piracy. That money can go into a film fund. We need to access this money," Tosh said.
And Blessing feels the industry should be nurturing future generations from as early as the primary school level.
"In terms of acting, we should return arts into the curriculum of our education system. Art should be taken as seriously as other disciplines. The youth need a channel to express themselves, and nurture their gifts from an early age," he said.
Related Topics