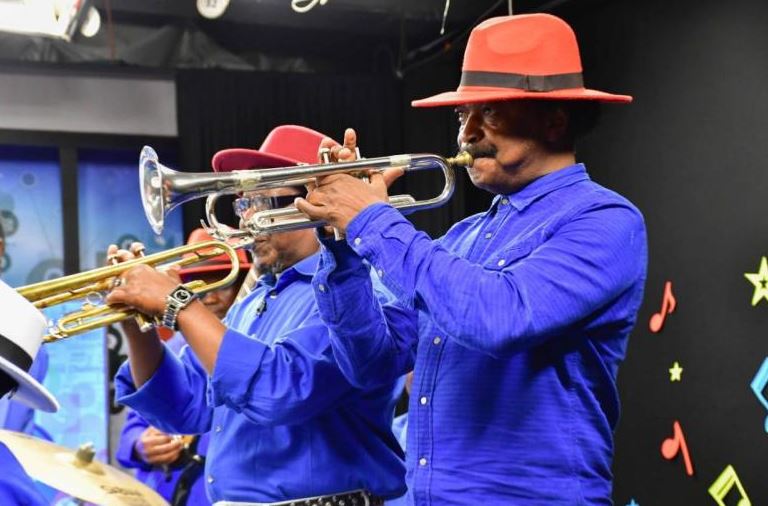 Clad in blue shirts, white trousers and matching fedoras, the 10-man orchestra made their way to the Standard Group HQ for a rare interview. It has been a while since they went quiet, but now, 24 years later, Les Wanyika returns.
Their wrinkly faces will tell you they have left their youth behind, but their spirit is unmatched.
Hits like Jessica, Sina Makosa, Afro and Kasuku, among many others live on, they are some of the classic oldies of yesteryear.
Most of their songs were inspired by real-life stories, take for example Sina Makosa, which began with a fight that the late Professor Omar had in a bar with another man over a woman.
This gave birth to the iconic line "yule si wako, nami si wangu, chuki ya nini kati yangu mimi na wewe."
Every song had its own peculiar story.
Over the years, Les Wanyika has mostly been faceless. This was one of their first media interviews since the inception of the group.
One major reason that necessitated their comebacks is the fact that a majority of fraudsters have been masquerading as Les Wanyika and riding on their fame.
"There are many people who don't know our faces, some even think we are all dead, but I assure you we are here and ready to thrill our fans," founding member and bassist, Tommy Malanga said in an earlier presser.
"We are back due to public demand, though as a band we have not played in 24 years, our songs have grown stronger than ever," band Leader Sijali Zuwa.
"Les Wanyika is an evergreen band we make classic hits."
Immediately we set the cameras up and started rolling, the studios turned into a mini extravaganza as the band gave a majestic performance.
Their Lead guitarist Tuesday Oguro fills the air with guitar riffs that have shaped East African music for decades.
The youngest member of the band, 25-year-old, John Sappy handles the guitar expertly. His flawless execution of the Kajituliza Kasuku intro, shows why he's in the band.
The group, an offshoot of Simba Wanyika, another legendary band was formed in 1978. For close to 20 years they were at the top of their game.
So when did the rain start beating them?
The iconic band initially comprising members from Tanzania and Kenya came to life when drummer Rashid Juma, guitarist Omar Shabani, bassist Tommy Malanga, saxophonist Sijali Salum Zuwa and Phoney Mkwanyule left the Simba Wanyika Band. They were joined by guitarist John Ngereza and vocalist Issa Juma.
They formed one of the most formidable musical teams. However, the death of band leader, John Ngereza in 1998 broke up the ensemble. Four of the founding members are now deceased.
"During our times, we didn't have any structures in place and the death of a band leader meant the death of the group as well, we are lucky right now things are looking good and we have good management," says Sijali Zuwa.
He also faults the mismanagement of funds by the pioneering leaders as to have caused them their woes.
He explains that, for example, through their hit song Sina Makosa they made a fortune but their leader then, the late Professor Omari, squandered their fortune.
"Mungu aendelee kumlaza mahali pema, lakini yeye ndiye aliyezitumia pesa zile vibaya na hatukupata haki yetu. Hii ndiyo sababu wengi wetu tulitoka kwenye bendi," he says.
Once they left the band they came up with their ensemble and they had to think of a name.
"That is when I came up with Les Wanyika, indicating that we are the Wanyika team although now we were less," he said.
As Zuwa puts it, their comeback was due to public demand.
This saw him take the reins in 2019 and begin constituting the new team, which consists of trumpeter Sijali Zuwa Salum, bassist Tommy Malanga, trumpeter, Bernard Kilindo, lead guitarist Albert Tuesday Oguro, rhythm guitarist John Sappy, drummer Msabaha Zuberi, vocalists Rama Kocha, Charles Obala, Rajab Kadima and percussionist Hassan Muhammed.
Coming up with the bands was a hefty task as not many young people can play Les Wanyika's songs effectively, said Zuwa.
"Amongst the youth, we do not have like legit original players that can play Les Wanyika's songs. But the team I managed to put together is mature and we are going to do marvellous things."
The team now consists of some youngsters as well.
"My journey with Les Wanyika began in 2021 when I came to Kenya on tour with a band from Congo. I was spotted by the bandleader, who invited me for an audition," said John Sappy.
Msabaha Zuberi termed working with this team as a dream come true, but he also comes with vast experience having played for three other bands before officially joining Les Wanyika.
The new cast has formidable team players who have played for other iconic bands like Maroon Commandos, Juju Masaai, Black sweat and Mangelepa.
After the 24-years hiatus, Less Wanyika is now set for its inaugural comeback concert. It will be held on June 1 at the County 2 County Grill in Westlands Close, Nairobi.
"Our research reveals that despite being gone for 24 years, Les Wanyika's timeless tunes keep the band relevant. We've devised a great comeback strategy based on data and actionable tools, and it's working out nicely so far," says Boniface Nyaga, CEO of Mawaitha PR who doubles up as their manager as well.
His major task will be to ensure that the band catches up with the ever-changing world.
"The dynamics have indeed changed, but we still need to embrace the culture of celebrating our past. Les Wanyika history is the history of East African music," adds Nyaga.
"Absence in any market creates a vacuum that is filled by other players and by the time you are coming back technology and culture have changed, we have embraced new technology and we are ensuring that Les Wanyika gets all the digital footprints on all social media platforms," says Evelyn Njeri the digital manager.
The comeback plans also come with the pain of royalties and the issue of writing new music instead of depending on their former glories. A fact that the team has thought over and actually has already hit the studios and recorded some hits already.
"Our first plan is the grand comeback concert and after that, we shall figure out the rest. But we know in Kenya royalties are a mess, so us as Les Wanyika we are bringing diplomacy on the table, ready to sit down and come up with sustainable ways for all of us and the governing bodies," says Boniface.
What they term a historic moment, their Madaraka day concert is a celebration of the resilience and power of East African music.
Although tickets are going for Sh5,000 and sources close to the band reveal that they are quickly running out.
Zuwa has assured fans Les Wanyika is back and better, and with new management taking the reins, the group is confident the future is bright.
Related Topics