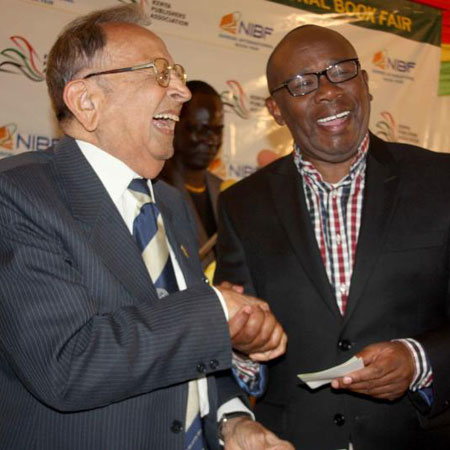 Attorney General Githu Muigai congratulates the legendary columnist,and famed author of Surgeon's Diary Yusuf Dawood (left) for emerging the ultimate award wining author at this year's 17th Nairobi International Book Fair held at the Sarit Centre Expo Hall Westland's Nairobi.PHOTO DAVID NJAAGA
If there is one doctor who needs little introduction to the Kenyan audience, it must be one Dr Yusuf Dawood.
A seasoned author and a celebrated surgeon, Dawood 86, has practised medicine for almost 60 years, and 52 of these have been spent in Kenyan hospitals offering selfless service.
And when he announced that he would retire his scalpel in November last year, it was met with gloom by patients whom he had taken care of, now running into generations.
Known for his popular Surgeon's Diary column that runs in a local daily and in its 35th year, Dawood carved out his niche as a one-organ surgeon choosing to specialise on the treatment and management of breast cancer.
Described by his peers as the 'breast-guy', the soft spoken surgeon with a diminutive frame has dedicated his time and energies in breast cancer treatment, management and research for the last 60 years.
So passionate and driven is he that on his last day at work in November last year, he crowned it all with a mastectomy on a woman who had advanced breast cancer. The surgeon who always teases that he has four wives - Marie (his lawful wife), surgery, writing and Rotary shares great insights into the world of breast cancer.
Hormone contraceptives
"We are seeing more breast cancer cases because the 21st Century woman is undergoing menarche (the age at which a woman receives her first period) earlier, going through menopause later, bearing fewer children, not breastfeeding their young ones and beginning their families later than ever before, and also using high hormone contraceptives," he says.
Dr Dawood points out that the longer a woman is exposed to reproductive hormones like oestrogen, the higher her risk of breast cancer. The doctor says starting periods earlier exposes a girl's immature breasts to oestrogen earlier which in turn increases her risk of getting breast cancer.
But he highlights the fact that there have been great strides in advancement of treatment and management of breast cancer, thereby offering hope to patients whose lumps are discovered at an early stage.
"This research has changed the face of this disease from a fatal illness, into a treatable condition with normal life expectancy in early cases," Dr Dawood says.
Other factors that increase the risk of getting breast cancer include genetics, environmental factors, dietary habits, smoking and alcohol.
With his speciality being breast cancer, Dr Dawood's clinic reception is always packed with a significant number of women of all ages and from all walks of life coming to seek answers for a disease that is both dreadful and depressing to have.
And he teases that he has that tender and considerate heart needed to handle the women clients, thanks to his early schooling at a Catholic girl's only school -St Agnes Convent- in India.
Kenyan by choice
Medicine aside, Dr Dawood grew up in a small village in rural India known as Bantwa, where his father owned a cashew-nut factory. The veteran doctor grew up and schooled in India before coming to Kenya with his wife in 1960 for a three-year contractual appointment as a surgeon at the Aga Khan Hospital.
He later went ahead to work in various other hospitals including Kenyatta National Hospital and a lecturer at University of Nairobi as a lecturer.
However, his regret is not being awarded title of honorary professorship by the university after teaching there for over 30 years. Having settled in Kenya almost permanently, he now describes himself as Asian by birth, British by marriage and Kenyan by choice.
Owing to his wealth of experience and vast knowledge in the world of breast cancer, Dr Dawood has handled thousands of patients in Nairobi, Aga Khan University Hospital, Kenyatta National Hospital and his private clinic offering rich consultative services.
In this enthralling journey, he has several lasting memories - from the youngest patient he has treated with breast cancer, a 16 year-old girl, to the oldest a 92-year-old woman.
"In 2008, I met this graceful lady who at 92 years, was battling breast cancer. With family support and a dedicated medical team, we successfully removed the cancerous lump and adopted manageable ways to ensure she healed appropriately for her advanced age," Dr Dawood recalls, adding, "Amazingly despite her advanced age, she recovered from the surgery and took up a mild regime of chemotherapy and was back to enjoying her sunset years with her grandchildren and great-grandchildren." The woman died four years later.
So what interested the good doctor in the field of surgery?
His father's death from oesophageal cancer inspired him into this branch of medicine.
He says his first personal encounter with cancer was in 1948, when his father was diagnosed with cancer of the oesophagus. Dawood was then a First Year student in campus.
"I can still visualise the agony on his face as he struggled to swallow a drop of water," Dawood describes what had become a daily ritual of feeding his father in the hospital ward through tubes made surgically in his stomach.
Even though he died from it, it ignited the passion in Dr Dawood to find answers to this mystery disease that was horrific and left families devastated.
Once he became a fully trained breast surgeon, he encountered his first case of cancer while working as a medical intern in 1954 in Bombay when a middle-aged woman reported to the hospital with a cancerous lump in her breast.
One of the most memorable, yet painful cases he handled was of a career woman in her late 20s who came to his private clinic seeking a second opinion after she was diagnosed with breast cancer.
"She explained to me her predicament. She told me her doctor had informed her that she had breast cancer and that she had to start rigorous treatment immediately. I emphasised to her that she needed to start treatment immediately, but she had other ideas.
She left my office and returned one year later and confessed that she had gone to seek the services of a witchdoctor who had promised to cure her cancer. It was a futile mission," Dr Dawood recalls.
"After examining her thoroughly, we held a candid discussion because her cancer had advanced to her breasts, liver, lungs and bones. Chemotherapy offered a glimmer of hope, though it was not as promising."
Though she was started on a regimen of chemotherapy, she passed away three months later. After her demise, the woman's family sent a personal message to the doctor informing him of the tragic news.
"In her Will, she thanked me for the humane way I had treated her both at the first and second visit, taking my time to explain to her what was happening inside her body," Dr Dawood remembers. Such sad endings break his heart, but he draws strength and inspiration from thousands of his patients who recover and resume their normal lives after successful treatment regimes.
"Some of my patients will outlive me. But I am contented that I touched their lives," Dr Dawood says. Much as breast cancer affecting women is his 'pet subject', he also loves to highlight the reality of male breast cancer.
"Male breast cancer is a subject many people are unaware of. It is a reality and men who suffer from it need treatment and support just as the women," he says.
Dr Dawood is the kind of doctor who forms a special bond with his patients choosing to walk with them through the journey of treatment, the high and lows, and celebrating when the patient is declared cancer-free.
And so when he announced retirement, tears welled in his patients' eyes, their hearts sank, but he promised to place them with physicians and specialists who would take good care of them.
And to tame his addiction to the theatre for 'just one more', he deliberately did not renew his doctors' license and indemnity for 2014.
A year later, some of his former patients still contact him for a consultation 'here and there' but he always politely refers them to other experts who are equally competent.
"With such patients, I always offer them the reassurance that I am referring them to a great doctor and that they are in safe hands," Dr Dawood says.
And what legacy does he want to leave behind?
"I want to leave a legacy of brilliant surgeons who carry forward the mantle in the advancement of research and treatment of breast cancer," he says.
Related Topics