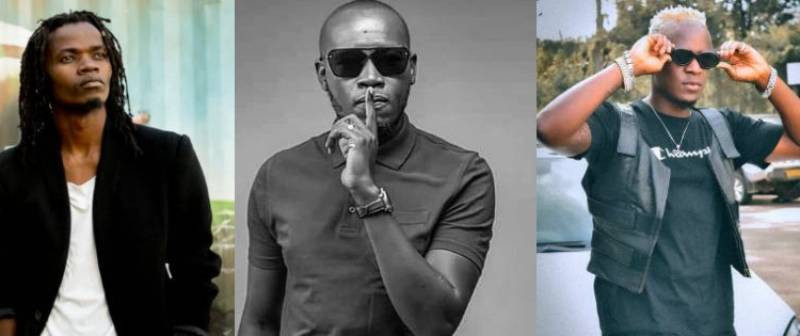 It is a common thing for celebrities to be involved in sex scandals but when they choose to practise celibacy, it raises brows and many questions among their fans. Practising celibacy has become a common trend among Kenyan celebrities. Some owe the decision to horrible past relationships but others do it for faith and religious reasons. Here are are the ones who have opened up ongoing on 'dryspell'.
1. Juliani: Before Lilian, I was celibate
Kenyan hip hop gospel artist Julius Owino popularly known as Juliani opened up about practising celibacy. Speaking during a recent interview, Juliani revealed on Hot 96 FM that he was abstaining from sexual intercourse at the time he met Lilian Ng'ang'a. The duo tied the knot at the beginning of this year and have a son called Utheri.
2. Daddy Owen: Too busy for lungula
Gospel musician Daddy Owen revealed that he began his celibacy journey two years ago during a recent interview with Presenter Ankali Ray on Milele FM. The singer who seemed contented with the decision, argues that he is occupied with a lot of work and does not feel any pressure to fall in any temptations. Owen and his wife have been divorced for more than two years.
3. Comedian YY: I was waiting for the right woman
Comedian Oliver Otieno aka YY has also tried practising celibacy. YY claimed that he was a virgin and waiting for the right woman. In a past interview with Jalang'o the celebrated comedian said, "I'm waiting till marriage because I believe good things take time. I am a virgin. I am willing to date, but only if my partner will wait as well….that's why I am single. "
YY is now in a committed relationship with his baby mama with whom they have a child.
4. Coco Sobo: I wanted to work on myself
TV and radio host Dominic Ngori aka Coco Sobo swore off sex after breaking up with his girlfriend of seven years. Coco said that he would abstain from sex for a year in order to concentrate on working on himself. He has not updated his fans whether he already broke off the sexual fast.
5. Betty Kyalo: It's hard
TV Siren and business lady Betty also tried becoming celibate, but it did not sit well with her. In a Q & A game, her younger sister Gloria Kyallo asked her if she ever gets dry spell to which Betty replied, "Dry spell ya pesa si sana… I have tried to be celibate, it's hard."
6. Justina Syokau: Focus is to take care of my son
Gospel musician and Twendi Twendi hitmaker Justina Syokau said last month that she settled for celibacy after divorcing in 2013 from her husband. In an interview with Consumator, Justina added that she remains celibate in order to concentrate on taking care of her son.
"I left my marriage with a child and decided to be celibate because I didn't want to get into temptation again and I have whom I need to take care of his responsibilities," she said.
7. Robert Burale: Sex is good for marriage
Motivational speaker Robert Burale has been vocal about his celibacy journey. The talk show host revealed that he resorted to celibacy after his marriage dissolved nine years ago. Speaking at an interview with Kalondu Musyimi he said that he believes that sex is an important factor in marriage.
8. Dr. Ofweneke: My neighbours thought I was gay
Comedian Dr. Ofweneke revealed on social media that poverty pushed him into practising celibacy. He kept off women since he was trying to make ends meet and achieve his dream of becoming a top city lawyer and comedian. Dr Ofweneke revealed that his neighbours thought he was gay since none of them saw him inviting any women to his house .
9. Willy Paul: Nimechill
Gospel musician Willy Paul revealed that he is a virgin way back in 2017. During a media tour in Tanzania, the gospel singer told Clouds TV that he is waiting for marriage in order to break his virginity. He said,
" Of course (nimechill)..ofcourse…mimi ata..SIJAWAI. Nangoja tu. Sijaoa na sijawai na nangoja nioe. Nkioa ndio labda,"
10. Cece Sagini: Yes, you can wait till marriage
Popular female artist Cece Sagini who is featured in Jimmy Gate's song practiced celibacy with her husband Victor Peace before they got hitched. They attributed their decision to their faith as well as their experiences in previous relationships. During a past interview with Pulse, the duo urged the youth to stay celibate until marriage.
Related Topics