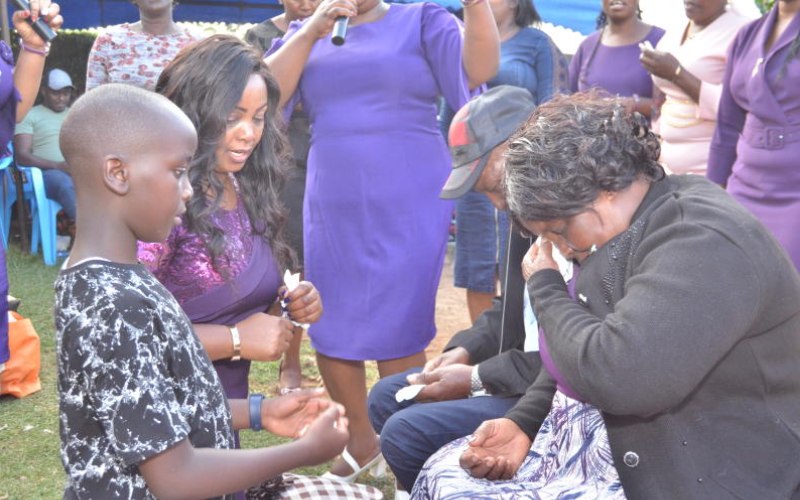 Rarely do people find it necessary to confess their childhood mischiefs that may have ended up hurting their parents, before seeking blessings from them.
Without blessings from parents who are considered as only second to God, one doesn't expect to prosper, as Ann Mburu realised. Despite successfully establishing herself as a businesswoman in Nairobi where she runs a recruitment agency, she felt that the blessings from her parents were essential.
Ann travelled to her rural home in Matuguta Village in Githunguri, Kiambu County where she alongside her siblings, business associates and friends, went to thank her ageing parents for the love they have showed their children. Besides, to make the get-together more fulfilling and colourful, she confessed to them what she believes were bad behaviour she exhibited while growing up.
Not that she was rebellious or defiant, not at all! This is part of life in almost every child. After her confession where she revealed some of her petty misdemeanours which her parents may not have been aware of, she sought their forgiveness and blessings.
It was a ceremony like no other when Ann opened up and disclosed the misconducts she made all attempts to conceal. Those in attendance included her son Melvin Mburu, a pupil at St Mary's Ruaraka School in Nairobi.
"As a child while washing kitchen utensils, I remember I would (carelessly) break a cup or a plate, which I did not want my parents to know. So I would throw away the pieces in the garden," she disclosed amid laughter from the gathering as she explained that she had to do this not to upset her parents. They had proved to be too good to her and her other siblings that she would do anything to keep them happy.
Ann also remembered how she would at times hide in a maize plantation from her father whenever she felt she had done something that would upset him.
What's funny is that, her father would not even realise his daughter's misconduct, but she had to hide out of guilt, she admitted.
Unable to hide their joy, her parents keenly listened to their daughter as they sat side by side to each other. It was her mother, Mary Njoki Mburu who first spoke applauding her daughter for her boldness while her father Mzee Geoffrey Mburu Kabage equally showed his great appreciation for Ann who he proudly revealed, has been his inspiration since she was a baby.
The businesswoman who her father described as robust and resilient caused laughter when she said jointly with her childhood playmates in the village, they would scamper after hearing her father's car from a distance.
"We would play with my younger sister Nancy, cousins Priscilla and Wariara after school and whenever I heard the rumbling of my father's car, I would quickly ask them to leave the compound," she continued to the amusement of the crowd who included Priscilla herself and some of her six siblings.
Such mischief is common in children while growing up. One of Ann's sisters, told the attendants that Ann would at times secretly hide her school blouse on top of a tree just to skip attending school.
Those were the childhood days when Mzee Kabage's children were growing up and today, the man and his wife are happy parents and grandparents having successfully bought up a family of six children – four girls and two sons.
In her adulthood after she joined high school, Ann said she shed all her childhood misbehaviour. She never defied her parents and ensured that she went home straight from school after they closed for holidays.
"I made sure I arrived home by 11am," she recalls.
Her father had very kind words for her: "From the time she was just a toddler, I loved playing with her and I could see that she didn't want to do anything to annoy me," recalled Mzee Kabage.
Recounting her efforts to instil Christian values in her children Mrs Mburu said her daughter's confession had showed the trust she had in her parents.
She said a prayer thanking God for the occasion and asked God to bless her children and their offspring.
"I have nothing against them (her children), I love them all," she said in her prayer.
Mzee Kabage, however, admitted that some of the stories Ann narrated sounded foreign.
While sharing her childhood experiences, Ann said one of her sisters had a habit of writing to their father to ask for money for a school trip. And their father would rush to school to deliver the cash.
Mzee Kabage said he only came to learn from Ann that her sister was only asking for money to buy goodies.
However, he considered this as normal saying the daughter knew the love he had for her.
Ann is a member of a Rescue Welfare Association, which is an organisation of recruitment agencies, which assist Kenyans to secure employment abroad.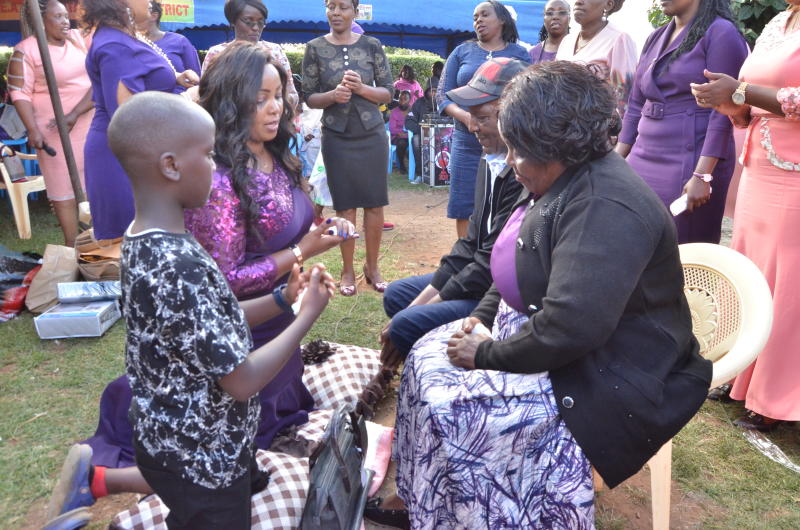 Its chairman Johnson Waweru said they had accompanied her as they also wanted to get blessings from her parents.
Related Topics