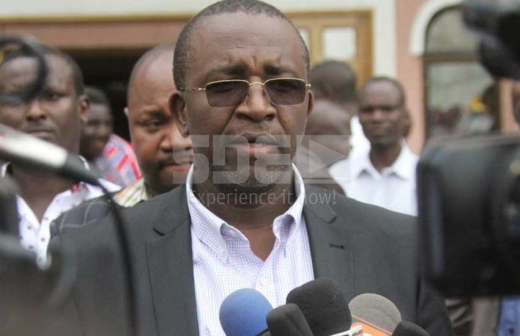 Igembe south MP Mithika Linturi has sued UoN for readmission
Linturi wants the court to quash the decision by UoN to deregister him
The MP is seeking an order on the university to reinstate his name on the graduation list
He says he learnt about his deregistration through the TV
Senator Mithika Linturi has gone to the High Court, seeking to be admitted back to the University of Nairobi.
Mr Linturi claims he was poised to graduate on December 22, 2017 with Bachelor of Laws degree and paid tuition fees for a Master's programme at the university.
Through lawyer Tom Ojienda, Linturi claims that on November 30, 2017, just 21 days to his confirmed graduation, while watching TV news, he learnt that he had been deregistered as a student of the University of Nairobi (UoN).
"This was the first time the applicant heard that he had been deregistered by UoN,"said Ojienda.
According to court documents, UoN is questioning the authenticity of Linturi's degree from Babasaheb Ambedakar Marathwada University (formerly known as Marathwada University).
Linturi, in court documents, claimed that his tribulations started during the election campaign period when his political opponents swore that they would do anything to ensure that his name was not on the ballot.
Admission records
He claims that on May 17, 2017, a law firm, MM Gitonga Advocates, wrote to UoN demanding that it be furnished with the admission records of the applicant. The firm claimed Linturi falsified Kenya Certificate of Secondary Education (KCSE) examination results and was, therefore, not qualified to join a law class at UoN.
On June 14, 2017, UoN wrote to the law firm affirming that the applicant was qualified to pursue a law degree and re-affirmed his admission.
Ojienda said that the political war was taken over by the Ethics and Anti-Corruption Commission (EACC) through a letter dated May 26, 2017, in which the agency summoned Linturi to appear before it for investigations on May 31, 2017.
He claims that EACC demanded that the Independent Electoral and Boundaries Commission (IEBC) expunge his name from the ballot papers for the August 8 poll and summoned him to respond to the allegations of falsified the 2013 self-declaration forms.
Linturi now wants the court to quash the decision by UoN to deregister him and order the university to reinstate his name on the graduation list for December 22, 2017.
Related Topics