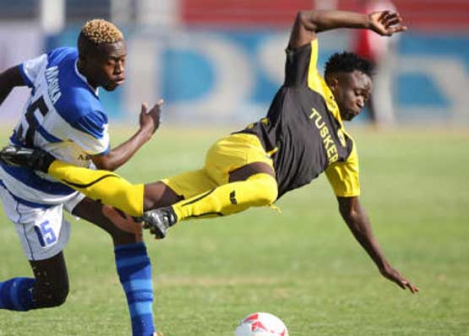 As the 2015 Kenya Premier League season winds up, football lovers will be left reeling some of the scandalous happenings on and off the pitch. The Nairobian awards some of the players, coaches and even referees who made the season.
Chairman of The Year: Moses Adagala
Kenyan football now knows that Moses Adagala is a no nonsense man. Hate him or love him, Adagala has single handedly lifted Muhoroni Youth FC from lower tier league to KPL top eight finish. But as the lads on the pitch sing praises to him, the referees on the other hand fear him. In a recent report at Nyayo Stadium Police Post, Nasoor Doka claims that Adagala attacked him after Officiating a match at Nyayo National Stadium.
Then there is the story of KPL's Independent Disciplinary and Appeals Committee who in one of their sittings were told how Adagala watched as Muhoroni Youth fans beat up Western Stima Chairman, Laban Jobita.
"Adagala warned that if the match was abandoned Mr. Jobita would not leave the stadium alive," said Jobita.
Most Talented Player: Danson Kago
But who would forget Danson Kago. The talented winger is known to be candid with the ball but never shy of taking risks. So, first Kago was accused of battering his pregnant lover Carol Mbithe (case still in court) but before the dust could settle on his assault case, Kago was again making headlines. This time, he was not being charged with anything but serious allegations about a scandal involving the national football team.
Most Controversial Team: Tusker
Given, Tusker FC may have had one of their worst seasons on the pitch but those who have been keenly following the back pages will also tell you that the brewers were not any better off the pitch.
Flop of the Year: Francis Kimanzi
What in the world would drive a man so qualified and experienced as Francis Kimanzi from coaching a team with top class talents and resources as Tusker FC? When Francis Kimanzi returned to the local scene last season, a lot was expected from a coach who had just a few years earlier nearly sent Harambee Stars to the 2010 World Cup held in South Africa.
But his first year at Tusker was not as successful as expected and everyone thought he would do better this season especially when he signed big names at the club while getting rid of some established players.
The experiment however went awry and Kimanzi was forced to 'step aside' three weeks ago amid claims of sabotage from the playing unit.
When contacted Kimanzi did not want to comment much about his stint in Ruaraka nor comment on the sabotage allegations.
"There are many things being said about my stint at Tusker but at the right time I will set the record straight," he said.
Hooligan of the Year: Ingwe Fans
Even though the cases of hooliganism could have reduced in 2015, AFC Leopards fans could not sit back and watch certain occurrences. In a season when Ingwe were literally cash strapped, their fans did not add any value to their already many problems by throwing stones at anything and anyone who made them angry. The goons of Kenyan football started all their heinous acts at Thika Municipal stadium where they beat up almost everyone for a
Blunder of the Year: Duncan Ochieng
The Tusker goalkeeper remains as one of the most experienced goalkeepers in Kenyan Premier League. But make no mistake; Ochieng's vast experience was all thrown out of the window on Friday 21 August when he was red carded for handling the ball outside the box when Tusker played against City Stars.
Referee of the Year: Amos Ichingwa
If there is one person who takes the biggest flak over poor officiating then it is center referee Amos Ichingwa.
Ichingwa beat them all especially with accusations and counter-accusations that he favored Gor Mahia during a Kenyan Premier League (KPL) Top 8 match last Wednesday.
Ichingwa came under sharp focus after he controversially sent off Tusker midfielder Clifford Alwanga.
None other than Tusker defender James Situma criticised the referee. Ichingwa was non-committal when contacted.
"I am a referee and not allowed to speak to the media about my work," he said when we contacted him.
But this is not the first time he is being accused of favoring Gor Mahia. In 2012, former Karuturi coach Michael Nam accused the referee of awarding Gor Mahia a dubious penalty in a match they won 1-0 at City Stadium. Nam said then:"It is unfortunate that we were 'crucified' by a dubious spot kick awarded to Gor Mahia by the referee due to pressure from fans."
Most Porous goalkeeper: Shaban Odhonji- Nakuru All Stars)
Move over Lucas Indeche (AFC Leopards), forget Farouk Shikalo (Muhoroni Youth) Shaban Nonda Odhoji is giving goals for free. The Nakuru All Stars goalkeeper has soaked in a record 58 goals in 30 matches which is an average of two goals per match and it is no wonder that the club was relegated.
But the goalkeeper will be forgiven for letting in this high number of goals given his lack of experience and would have probably done better had the team had another go at the top league.
All Stars coach Peter Okidi admits that their poor start to the season caused them a place in topflight football.
"If you look at our season, we started badly and a lot of those goals were conceded in the first leg. Most of our players were inexperienced and it cost us a lot," he said.
Kenya's Fashion icon: Noah Wafula
The local footballers do not know much about what to where but give it to Tusker FC's Noah Wafula. When Kenya lost Zambia in the African Cup of Nations (AFCON) qualifier match played at Nyayo National Stadium, the former Ingwe forward was trolled on social media by fans after he showed up wearing bathroom slippers. As harambee Stars' players left the bus at the Stadium entrance, the likes of Dennis Oliech, Victor Mugubi Wanyama, David Calabar Owino among others were in their best sports outfits and branded nifty cat open-toed home sandals Wafula could only afford green slippers to wear.
This young probably was not well prepared for the assignment and when he got to the pitch, simple moves and ball control were a nightmare to him.
Related Topics