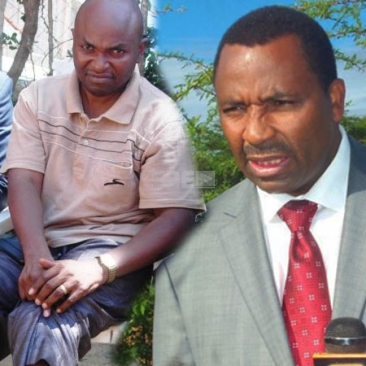 A Kitui County officer is accusing Mwingi Central MP, Joe Mutambu, of attacking him by pulling and squeezing his testicles, a charge the MP denies.
Charles Dickens Kyale, who is the political advisor of Governor Julius Malombe, alleges that Mutambu assaulted him on February 23 during a demonstration by traders led by the MP. The traders were protesting the increase in business licence fees following the enactment of the County Finance Act 2014-2015.
The said altercation between the MP and the county officer allegedly took place at the governor's boardroom where Mutambu, accompanied by activists Miltonic Mwendwa and Moses Banda, went to present a petition to Governor Malombe who was not in the office.
Kyale claims the MP spotted him seated and, without provocation, attacked him while accusing him of undermining his authority as Mwingi Central MP.
Addressing the press in his office the following day, Kyale further claimed that Mutambu punched and slapped him severally, sending him sprawling on the floor, after which he pulled and squeezed his private parts.
"He punched and slapped me across the face and I fell down. He then knocked my head against the executive table. When I fell down, He bent over as if to bite off my genitalia, but I pushed him away," said Kyale, adding that his clothes were torn in the process.
The officer recorded a statement with the police after receiving treatment at the Kitui County Referral Hospital and said he was in the process of instituting legal action against the legislator.
"I will definitely press charges against the MP. He should relinquish his seat...he doesn't deserve the title honourable," said a bitter Kyale.
A P3 form in possession of The Nairobian shows that the county officer suffered 'red eyes' and bruises, while general result of the medical examination was listed as 'harm.'
Kitui Central OCPD, Kennedy Onsando, confirmed that Kyale had recorded a statement and that investigations into the incident have been launched.
Kyale, who comes from Mwingi Central, claimed that there has been bad blood between him and the MP after he raised issues on "rampant misuse of the constituency's development funds on ghost projects," which he alleges has angered the MP.
However, speaking to The Nairobian on phone, Mutambu denied assaulting the county officer. "I did not beat him at all, if anything, he should be thankful that I removed him from the venue where he would have been beaten thoroughly. If he wants to go to court, then he is free to do so," Mutambu said.
Members of Mwingi Professionals Forum and Business Community, which Kyale is a member, have condemned the incident. "It is despicable for an MP to behave like a hooligan in public, and worse still, assaulting his own voter. We support Kyale as our member to sue the MP," said Campbell Munyambu, the forum's co-ordinator.
Related Topics