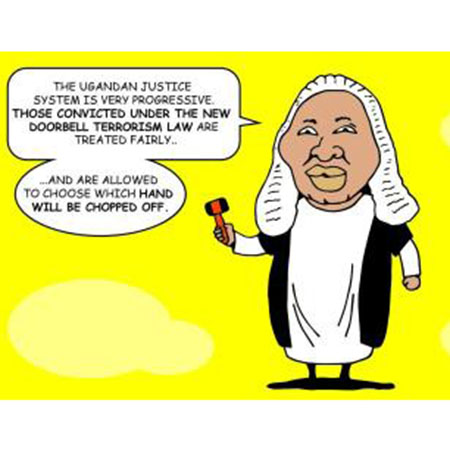 When the National Assembly of Uganda entered a recess mid August, it ended one of the most productive legislative sessions in the country's history.
The 375-member unicameral parliament enacted widespread reforms to the country's exhaustive criminal code, including the criminalisation of backseat-driving, doorbell-ditching, and witchcraft.
The East African country of 32 million people achieved worldwide notoriety in 2009 when its Parliament debated a controversial anti-homosexuality law, supported by American fundamentalist Christians, that would make same-sex activity a capital crime.
New offences
The National Resistance Movement, which held a majority in the Assembly's most recent session, sponsored the radical changes to the Ugandan criminal code, which demand harsh penalties for those convicted of the new offences.
"No one likes go to the door when the doorbell rings, but no one's there," said Samuel Gabmwe, a member of the Assembly representing the city of Mbale in eastern Uganda.
"We are sending a message to the Godless in our country with this law. Going to door when no one is there is terrorism and a threat to the Ugandan family."
Added Gabmwe: "When you ring the doorbell and run away, you will lose your hand."
17 years in prison
The sentences for the other offences listed in the Gazette, the official record of the Ugandan Parliament's legislative acts, are equally severe.
Second-degree backseat driving is punishable by 17 years' in prison. Those convicted of first-degree backseat driving, in which the accused's hands must have made contact with the steering wheel, is torching, a recently-revived custom that involves the criminal's head being wrapped in cloths, then doused in gasoline and set alight.
painful surgery
Those accused of witchcraft under the new legislation face some form of painful surgery if convicted.
Despite international condemnation of the new laws, Ugandan politicians have denied the crimes are absurd and the punishments are barbaric.
Rebecca Kibama, a member of the Assembly for the city Hoima in northwestern Uganda, insists that the opposite is true.
"The Ugandan justice system is very progressive," said Kibama. "Those convicted under the new doorbell terrorism law are treated fairly, and are allowed to choose which hand will be chopped off."
Related Topics