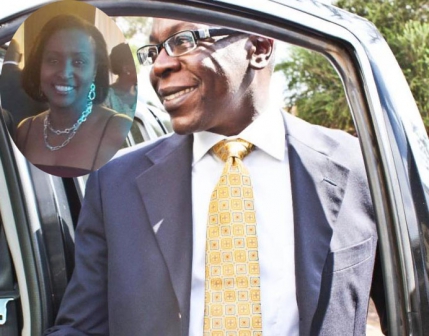 Many Kenyan women would kill or kiss love goodbye to marry a man worth US$2 billion (Sh201 billion), including a cool Sh600 million in hard cash laying eggs in local banks.
But Catherine Jelugat Kiplagat, a vivacious corporate executive and wife of Kanu era billionaire-lawyer Ken Kiplagat, walked away from her husband's gold mine because, she claimed, he cheated on her. And she claimed half of his loot.
That was revealed during a divorce case in which Catherine asked the court to issue a temporary injunction restraining Kiplagat (who was recently in the news for claiming he lost a multi-billion shilling police frequency bid to Safaricom) and five other women from disposing of, alienating, selling or charging or otherwise interfering or dealing with the properties.
Read Also: How rich is rich? Billionaire Ken Kiplagat's wealth in numbers
Her plea was, however, dismissed with costs by Justice GBM Kariuki in a ruling dated March 1, 2012. The judge ruled that Catherine had not adduced sufficient evidence to prove the actual property the six defendants held in their names and her actual contribution towards their acquisition. Judge Kariuki, however, stated that Catherine could sue the defendants through a separate litigation.
Catherine had further claimed that she was aware Kiplagat was in an adulterous relationship with Milly Cherono, the sixth defendant, with whom he sired a child.
"If this honourable court does not intervene, I will be denied justice as a wife, and will be reduced to living life at a standard much lower than I have been accustomed to," reads court documents.
"I verily believe that the first defendant's net worth is over US dollars 2 billion and the properties, shares and bank accounts I disclose herein are a fraction of the matrimonial properties the first defendant owns. Although it is public knowledge that the first defendant is a very wealthy man, he holds no real assets in his name, despite having been declared Kenya's biggest tax payer by the Kenya Revenue Authority in 2003.
"The honourable court be pleased to order that the said properties, shares and funds enumerated herein above be valued and sold and the net proceeds be divided equally between the plaintiff and the first defendant herein," pleaded Catherine in her submission to court.
"The first defendant acquired the properties due to the plaintiff's input and contribution. The plaintiff (Catherine) has helped the first defendant to acquire his multi-billion shilling empire. That in addition, the first defendant (Kiplagat) through my influence and connection, acquired several licences from the Communications Commission of Kenya (this has since changed to the Communications Authority of Kenya, or CAK in short), which he has in the last four years been selling for millions of dollars.
"I am aware that the first defendant owns a company known as Toads Media Group Limited which was allocated more than 10 frequencies by the Communications Commission of Kenya (CAK), two of which the first defendant disposed of during our marriage for a cool sum of US dollars four million.(Sh400 million)," she stated.
The Nairobian was not able to establish how the property was eventually shared out.
Kiplagat, a shrewd lawyer and businessman, graduated top of his class with a First Class Honours degree from the University of Nairobi Law School in 1989. He subsequently was admitted to the prestigious Yale Law School, where he graduated with LL.M and JSD degrees and taught briefly at the University of Nairobi Law School from 1993 to 1997.
According to a profile on his firm's website, Kiplagat has handled some of Kenya's biggest cases in the fields of telecommunications, transport and infrastructure. He enjoys playing golf and tennis and has great fascination with northern Kenya, which he considers to be 'unspoilt', and easily the most beautiful part of Kenya. He frequently undertakes adventure trips through the counties of Baringo, West Pokot, Samburu and Turkana and is deeply involved in various conservation and tourist ventures in these counties.
Kiplagat's rapid rise to prominence and immense wealth is attributed to his wheeler dealer attitude which is said to have rubbed some of his powerful friends the wrong way.
Currently, he is reportedly embroiled in a tussle with Safaricom over a damaging forensic audit report that the telecoms giant claims was leaked.
Related Topics