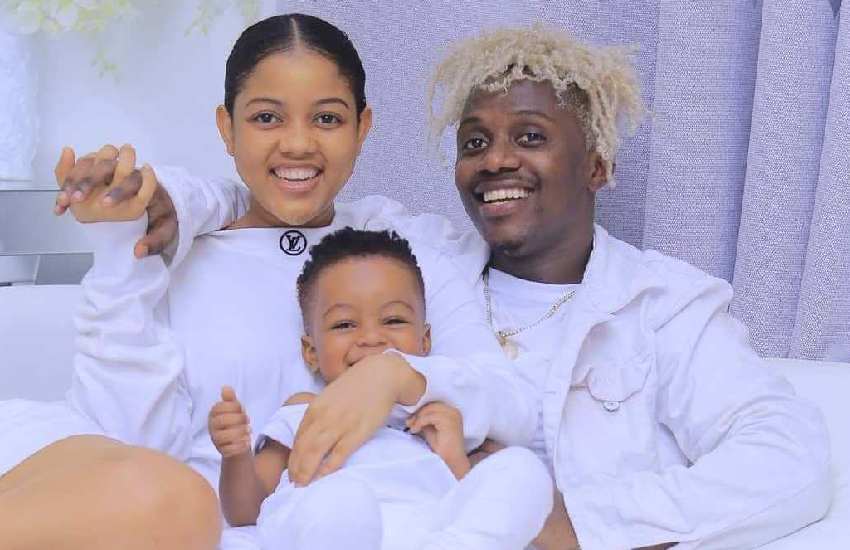 Naysayers hoping to jump in glee when Faima 'Fahyma' Msenga's relationship with singer Raymond Shaban Mwakyusa alias Rayvanny runs aground will not have their wish, this is according to the sassy Tanzanian baby mama.
Speaking to Global Publishers, Fahyma said there is concerted effort from several quarters to see their relationship up in smoke, a situation she says will not happen.
Fahyma opined that her love with Rayvanny is a match in heaven and that they are bolstered by every attempt to drive a wedge between them.
She noted that they grow in love with every storm that blows their way and that no man will put their union asunder.
"Dawa ya watu ambao wanasemasema kila wakati, ni kuwadhihirishia maneno yao hayatugusi na kama penzi alilipanga Mungu, ni ngumu sana binadamu kulipangua. Kadiri wanavyosema, ndivyo tunazidi kupeta," said Fahyma.
Read Also: 'Natongozwa sana!' Rayvanny's wife Fahyma laments
Her declaration comes under five months after Rayvanny sent social media on overdrive after posting a cryptic message after a serious fallout with Fahyma.
"Nimekua nakuheshimu miaka yote tuliokua pamoja kuna mengi tumekoseana na tumesameheana na most of the time umekua ukitamani maisha ambayo kila siku nakwambia hayatakusaidia. Nakuheshimu na naishemu sana familia yangu. Ikiwa umeamua mwenyewe kuondoa I won't blame you. Still love my family. Nakutakia maisha mema," shared the Mbeleko hitmaker.
In 2017, the marriage hit some serious tailwind and shuttered its rudder after reports alleging that Fahyma cheated with Ali Kiba's brother, Abdu, emerged. Claims she denied vehemently.
Reports that saw a pained Rayvanny write, "Mpende ila usimuamini, mpe ila sio vyote, mtunze ila usimchunge , mpe mwili wako ila usimpe siri zako. Ata mkojo ulikuwa soda, vitamu ndio vichungu. Keep it in your mind."
Their separation ended after Wasafi Classic Baby (WCB) members reportedly intervened.
Read Also: Rayvanny features Magufuli in new Coronavirus song
On re-uniting, she told Shusha Pumzi that unnamed parties in the periphery of their love were out to tear them apart.
"Unajua watu wengi hawapendi mapenzi yangu mimi na Rayvanny, yaani wanatamani hata kesho tuachane, lakini hicho kitu hakiwezekani kwa sababu mambo ninayompa tukiwa wawili sio rahisi kunisahau, kwa hiyo wanapoteza tu muda. Bora waendelee kufanya vitu vyao vya maana kuliko kufuatilia maisha yetu," she said at the time.
Related Topics