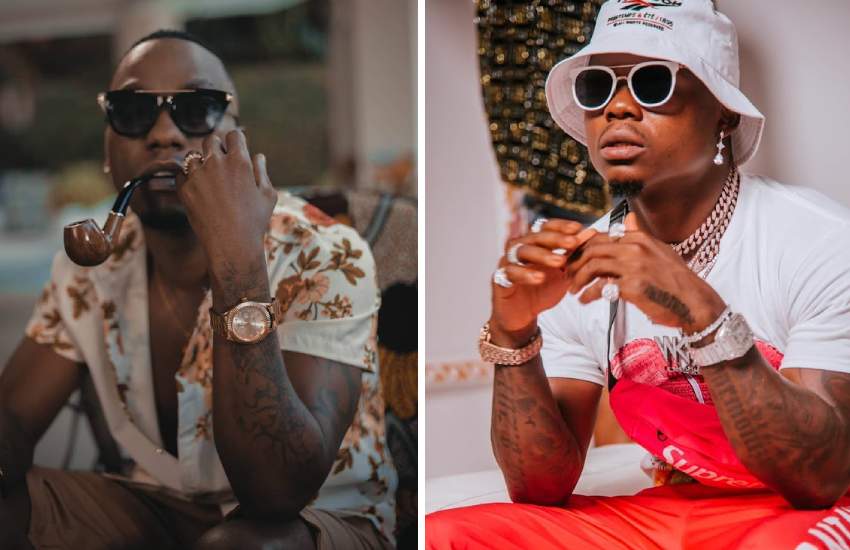 What is troubling veteran Bongo Flava crooner Richard Martin alias Rich Mavoko?
This is the question many are asking following Mavoko's eight-month hiatus from music and worrying inactivity on his social media pages since January 1, 2020.
Loud silence from the singer who in 2018 exited Wasafi Classic Baby (WCB) in a huff over, among other issues, discontent with his contract.
A move that has attracted compatriot Rajab Abdul Kahali better known as Harmonize who in a May 6 Instagram post offered insights into Mavoko's pain and struggles; stating his belief that the Ibaki Story star will rise once again.
According to Harmonize, Mavoko's pained mother has lamented over his son's state. He revealed and warned of curses that she has uttered that he says may befall those deliberately scuttling Mavoko's progress.
"Familia ngapi zipo nyuma ya Mavoko? Na zinamtegemea Yeye kwa kila jambo hasa hili la kupata mkate wa kila siku vipi kuhusu ndoto za familia hizo na zinaishije katikwa wakati huu?" He posed.
"Ndoto ngapi za wasanii ambao wanategemea kuzifikia hizo ndoto kupitia Mavoko? Na nyuma ya hao wasanii kuna familia nyengine pia. Je maumivu, malalamiko ya wazazi wake hasa mama mzazi ambaye ndio kama roho yake! Ushajiuliza ni kauli ngapi za uchungu anazitoa ambazo zinaweza kumpata kila anaefurahishwa na hili kwa makusudi?" He went on.
Read Also: Tanzanian authorities move in to settle Rich Mavoko, Diamond beef
Harmonize added that there is no gain in pulling the singer down, "Mzazi wa mwenzio ni wako pia laana yake haishindwi kukupata ...!! La mwisho kabisa mgeukie mwenzio anaefurahia na kuifanya hii kuwa ni habari njema kwake ya kumfanya atembee kifua mbele na hata kuandika mtandaoni kwa furaha Mavoko kapotea muulize anafaidika na nini?"
He pointed out that as Mavoko's junior and a friend, he was in constant prayer for his rise and reiterated his love for the Morogoro born singer.
"Mungu ana sababu na maana yake bro Mavoko kama mdogo ako nakuombea najua ukimya wako una maana Kubwa sana ndani yako ninachojua ni kujiweka sawa na kutuletea kazi zingine. Tunakupenda na tunakuombea Mungu akufanyie wepesi. Let's go bro mdogoako, rafiki yako nipo hapa muda wowote," added Harmonize.
In a 2019 interview with Dozen Selection, Mavoko hinted on his fractured relationship with WCB and especially his mother's fight to have him as an A-lister in the label's congested roster.
"Kuna Vitu ambavyo niliona vinaenda kinyume na vile nilikuwa nataka na mimi pia napenda kujipima. Hata mama pia alikuwa ananiambia jifunze kujipima maana kuna vitu vingi vilikuwa vinapungua kwangu. Kwa kukaa muda mrefu Jikoni alafu bila kutoa mapishi ambayo uko nayo. Nilikuwa narekodi material mazuri alafu yapo tu ndani nikiuliza kuhusu label inakuwa ni mambo ya kukimbiana kimbiana," said Mavoko.
Mavoko noted that his mother engaged with the management in an attempt to have his unreleased works in circulation.
"Kuna kipindi nilikaa muda mrefu bila kutoa kazi hadi Mamangu mzazi akawa amepanic, ikabidii awapigie simu wahusika, maana alikuwa ananimabia kuwa kila siku marekodi lakini kazi hazitoki kwa hiyo nitaishia kuwa chizi muziki," he added.
Read Also: "Roho Yangu" singer Rich Mavoko finds a home in Kenya
Mavoko is said to have particularly been elated when his ally followed in his footsteps, ditched WCB and formed his own unit, Konde Gang. He reportedly immortalized the exit in his song Babilon. Claims he denied.
"I had already recorded that song and I didn't know the timing of the song went hand in hand with Harmonize leaving WCB," he said.
Related Topics