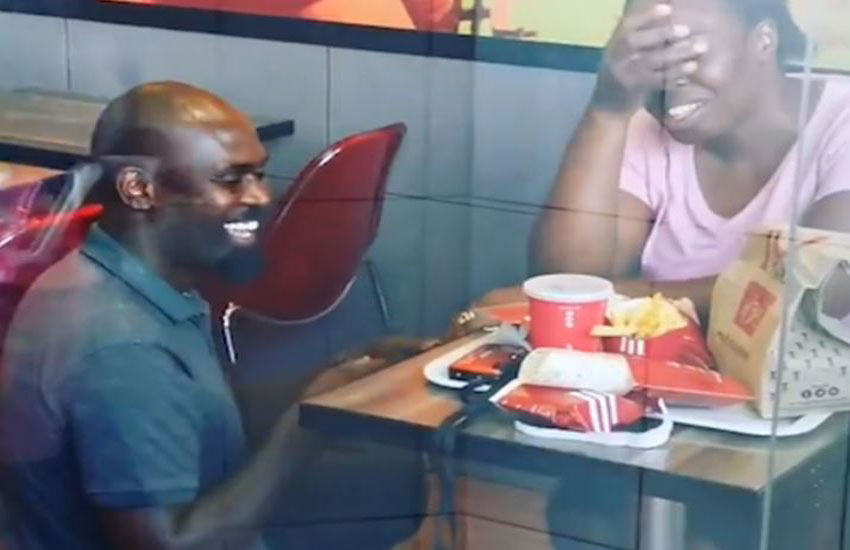 A South African couple who got engaged on Wednesday at a fast food outlet and sent the internet on a wild spin have opened up for the first time.
In a statement to SowetanLive, Hector Mkansi and Nonhlanhla Soldaat revealed that they are overwhelmed by the support after a video of their engagement at a Kentucky Fried Chicken (KFC) restaurant went viral.
The two lovebirds who -according to the media house- met in 2010 and wedded two years later, stated that they are touched by the immense show of kindness.
"Thank you, South Africa. Your kindness has truly warmed us. We would have never imagined that our love story would have touched so many of you. While we appreciate the support, we ask that you please give us a moment to take it all in. We will let you know about our plans around the wedding," they wrote.
In a post that has been retweeted over 21,000 times, Hector Mkansi was taped adorably on one knee full of smiles halfway through his fried chicken to jubilation at the KFC branch.
Mzansi please help us find this beautiful couple, re batla ho ba blesser ???? DM us any leads, there might be a Finger Lickin' Good surprise in it for you too. Batho ba Vaal re thuseng! We love love ?????? #KFCProposal pic.twitter.com/6bj89dtj4j

— KFC South Africa (@KFCSA) November 7, 2019
Soon two hashtags: #KFCProposal and #KFCWedding had gone viral as South Africans and over half a dozen brands united to trace the newly engaged couple.
Leading the fast-food fairy tale was the US-based fast food restaurant chain who revealed to their customers online that they have a surprise for Hector Mkansi and Nonhlanhla Soldaat.
Coca Cola offered to provide drinks at the wedding while automaker Audi tweeted that the they will chauffeur the lovebirds at their big day.
"Just like your chicken and our Coke® are the perfect pair, and we're all for bringing people together. The soft drinks for the wedding are on us!" tweeted Coca Cola South Africa.
"These honeymoon destinations look far. Someone needs to drive them there. We got you," added Audi.
That is not all.
Kulula Airlines has offered a complimentary holiday package to Hector Mkansi and Nonhlanhla Soldaat in Cape Town.
Other brands; Sun City Resort, Siwela Wines, Castle Lite, Tsogo Sun, Puma, and Huawei among others were joined by personalities such as DJ Fresh, Ami Faku, Precious the Planner, Zakes Bantwini and Donald who also pledged gifts and offered their talents to make the wedding day special.
Here are some of the lovely gestures and comments on twitter.
Prime example of "when the enemy thinks they're destroying you, but God uses it for good". ????????????????#KFCProposal #KFCcouple #KFCWEDDING pic.twitter.com/gxpCJfj9nK

— Yewande Samuel (@YewandeSamuel) November 9, 2019
Twitter will humble you! I don't think she will be coordinating this wedding!she was trying to bring down this brother , but he had the last laugh ???????????? #KFCProposal @butterfly_Anele pic.twitter.com/TtcxPpzRN3

— Siv Ngesi (@iamSivN) November 9, 2019
Ayyy congratulations to the lovely couple. I know you're breathing easy. Wanna gift you guys two VIP tickets to the Africans Unite Concert on November 24 in South Africa. #AfricansUnite #KFCProposal #KFCWedding @KFCSA https://t.co/4sjTKDK5mp pic.twitter.com/cuyHL2Ahjq

— Jidenna (@Jidenna) November 8, 2019
Nani ako free, leo tuende KFC???? Most preferably tall, dark like 5pm dark not midnight dark, and a beard is a bonus ????#KFCWEDDING

— bosi_bori (@bosibori_Ke) November 9, 2019
We didn't want to steal the happy couple's shine but since some of you have asked, we'd like to offer them a clean slate. Over & above imvula mlomo, we'll clear their personal loans up to R300k & if they're with us we'll clear it all! No need for skoloto! #GoodToGo #KFCProposal

— Standard Bank SA (@StandardBankZA) November 8, 2019
Related Topics