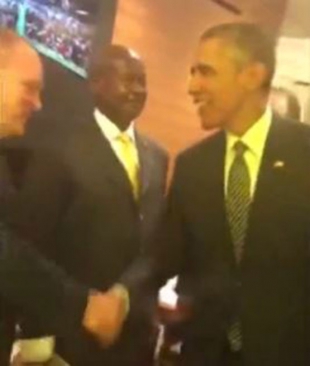 By Wesley Kipngenoh (@Wess_Kipp)
On his arrival at the UN Headquarters for the 70th United Nations General Assembly in New York, President Barrack Obama shook hands with heads of states who had lined up to meet him.
His brief moment with Ugandan President Yoweri Museveni however, caused a stir on social media. Museveni who has in the past clashed with Obama over gay rights in the past, used his left hand to greet the US president and for valid reasons: His right hand was bandaged.
President Obama shared a light moment with Museveni joking about his injured right hand.
"...someone made you mad and you took a punch at him?" President Obama asks Museveni after seeing his bandaged right hand.
From the video posted by Uganda's website howwe.biz , Museveni was not amused by the joke and briefly explained himself that he got small accident and he quickly stepped aside, literally.
The video was a subject of huge debate on social media as messages posted by some Ugandans indicated that they had been offended by Obama's joke.
President Museveni through his communications team explained in detail why he was using his left hand:
"When I was going to Japan, while in a hurry, I strongly hit my right hand against the door of the car. The doctor applied some anti-inflammation gel when there was some swelling. We did not concentrate on it because it did not hurt but remained slightly discomforting.
When later an x-ray was done, it was discovered that there was a small spiral fracture on the metacarpal bone of the right last finger (akahara) which is being managed conservatively. It is not painful except when direct pressure is applied on it.That is why I use the left hand to greet. Managing conservatively means using a bandage for two weeks.
Related Topics