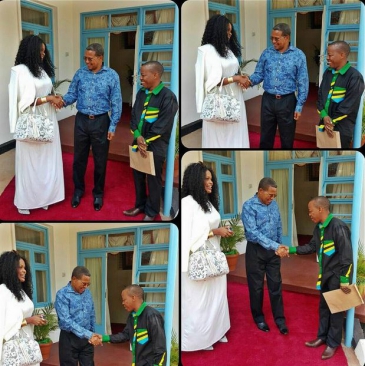 Wema Sepetu is a lady whose social life has been riddled with controversies. Her latest move has landed her in politics after she declared her support for Chama Cha Mapinduzi (CCM),the ruling party in Tanzania, ahead of upcoming general elections.
The Miss Tanzania 2006 says that she supports the party's' flag bearer to death- a message that flooded her social media page with comments.
She said this aftwe paying President Jakaya Kikwete a visit at State House in Dodoma as show of solidarity.
This comes a day after declaring her support for CCM's candidate Magufuli who is running for President of Tanzania. " I am a diehard fan of CCM" she says " TeamMagufuli to death ... Nilishasema mi ni CCM Damu Kabisa"
Alafu nina msg to Team Wema ... Please my darlings... kama kuna mtu anatumia account yenye jina langu naomba msimpost Lowassa tafadhal... Kama unashindwa then badili tu jina... Dont use my name kumpost Lowassa .... Jamani Iam Not Team Lowassa.... Thank u... CCM tu hapa... TeamMagufuli to death ... Nilishasema mi ni CCM Damu Kabisa... Sidanganyiki...
In another post on her Instagram, Wema hit out at her haters telling them to watch as she rises to success. "As you talk nonsense(about me) , my life gets better" she said , attaching a photo of her with Tanzanian President Jakaya Kikwete.
nyie mnaongea upuuzi... Yangu yaninyookea..... Alhamdulillah... Wa moja havai mbili... Abadan asilan.... Earlier today... Ikulu... Dodoma... Thank u Mr.President..
She acknowledges that she might have had a difficult or perhaps questionable past, but , "it's the present and the future that matters" she adds.
Tanzania is expected to hold its elections in October.
Related Topics