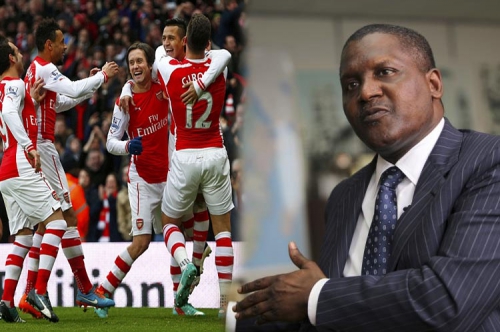 By Wesley Kipngenoh (@Wess_kipp)
Africa's richest man, Aliko Dangote, has disclosed why he wants to acquire a stake in English Premier League team, Arsenal.
In an interview with Forbes, the billionaire says he is buying the club for the better good of his country Nigeria.
The 58-year-old was heavily criticized for taking his investments abroad. Many Nigerians wanted him to own football clubs In the country and in the long run promote the local premier league, which as reported is in more need of the money.
Dangote, has however explained why he is interested in buying Arsenal. He says that in fact him buying the club has everything to do with marketing Nigeria internationally.
"The issue is that if I buy all the Nigerian clubs, the Nigerian flags will continue to remain here. But buying Arsenal will take the Nigerian flag worldwide. Just like whenever Abramovich is mentioned, the name of his country, Russia comes up. Everyone knows he's Russian," Dangote told Forbes.
Listed with wealth of 17.5 billion dollars, Dangote had previously made an effort to buy a small stake in the club but the deal was rejected.
Arsenal's largest shareholders have not expressed any interest in selling the club to Dangote or to anyone.
The club owned American billionaire Stan Kroenke and Russian steel magnate Alisher Usmanov (66.6% and 30% of the club respectively) are the current FA champions.
Related Topics