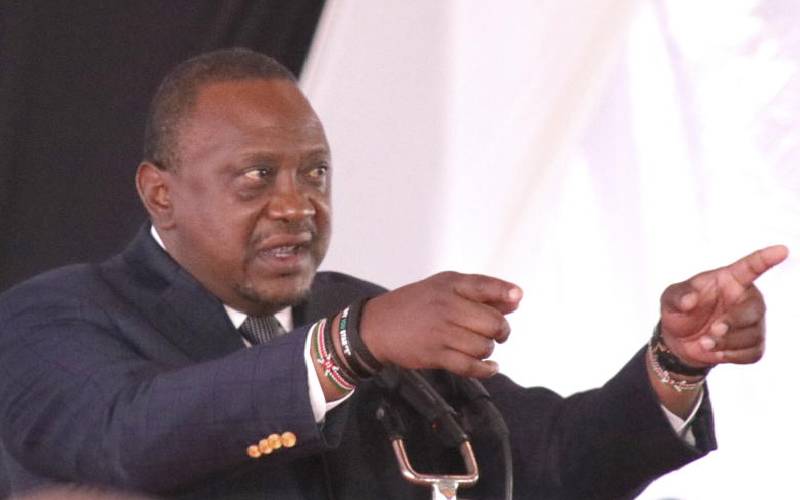 The debate triggered by former Jubilee Party Vice Chairman David Murathe that President Uhuru Kenyatta could consider running for the Prime Minister (PM) position has thrown the political arena into a frenzy. Murathe had alluded that given the proposals of Building Bridges Initiative (BBI) report which suggested that the leader of the majority party in the National Assembly would take the premier position, then Uhuru was better placed for the post.
New song
And yesterday, a cocky Murathe repeated his statement that there's nothing that stops Uhuru from becoming the PM if his party has the majority.
SEE ALSO: Mr President, where are the nine stadiums, 500, 000 houses?
"Unless those making noise want to run for Jubilee Party leader and then be the leader of the party with the majority of MPs. Why can't they come out and declare that they will challenge him for the position? Let them not just raise tantrums," he said. Kandara MP Alice Wahome had on Thursday termed Uhuru a threat to Kenya's democracy, freedom of speech, freedom of expression and political growth. And as she hit on the President, a new song by an artist from Mt Kenya took the sting higher, telling the President that things were 'bad' in the region. Muigai Wa Njoroge, in what is arguably a rebuke to President Kenyatta, tells Uhuru to stem divisions in his party or he will never know peace in his retirement. Njoroge supported Kenyatta in his two presidential campaigns. He sums up what he thinks is wrong with the President's recent overtures in his song, Tukunia, which equates presidential advisers to independence home-guards who sold out their mothers for a meal.
SEE ALSO: Uhuru's fury with Senate stalemate
"Baba let me tell you the truth. Things are very different on the ground. I do not know what the Tukunia's are telling you," the singer sings. He warns the President that like King Ahab, who in biblical times disregarded counsel from a prophet of God, risked leaving the country in a bad state. "There are two pregnancies you want us to abort. I am not very educated but I think aborting a seven-month pregnancy is pretty dangerous," warns the singer, adding that it would be better for the President to honour his political promises before cultivating new alliances. Yesterday, politicians were divided in opinion, with some supporting Murathe's comments while others claimed it was a recipe for "disaster". "If Uhuru wants to succeed himself, it would be a disaster and bad for Kenya. Kenyans will not accept it," said Mwingi Central MP Gedion Mulyungi.
SEE ALSO: Why Chewing or Miraa has been banned at Statehouse
Former Mandera Senator Billow Kerrow warned Uhuru to banish the thought of hanging on to power as he is being urged by his friends. "It is quite alarming. Kenyans should be alarmed, it has happened in Rwanda, Uganda and the narrative on the BBI could be providing ground for what Uhuru advisers were alluding to," said Kerrow. He urged President Kenyatta to come out openly and clear the air on the matter. The constitution, according Bungoma senator Moses Wetangula, was explicit on the two terms for the President and it would not be prudent for President Kenyatta to contemplate another term. "I am not sure this is what Uhuru plans to do, I am not privy to the facts. These could be just ferile imaginations, rumour mills and innuendos. When Uhuru comes out to say he wants to vie again, we tell him not to," said Wetang'ula. His Makueni counterpart Mutula Kilonzo Jnr said it was clearly not possible for Uhuru to run again after the end of his term because the law would not allow him. Kiharu MP Ndindi Nyoro refused to be drawn into the raging debate, saying the person who sparked it is not worthy of a response. "Who is Murathe? He is not worth my response and he can say what he wants. His opinion does not matter to anyone," said Nyoro. But Lugari MP Ayub Savula called on the Head of State to crack the whip on members of his party that were undermining him. "The President should deal with the hired goons now distracting him from leading the country. They are his detractors and and he should crash them," said Savula.
Incessant calls
His comments were echoed by Murang'a MP Sabina Chege who said it was disrespectful for Wahome to attack the President when she had failed to formulate policies in Parliament that can be of help to the country. Central Organisation of Trade Unions (Cotu) General Secretary Francis Atwoli also reiterated his incessant calls on President Kenyatta to hang on to something post 2022. Addressing journalists in Nakuru, Atwoli dismissed claims that he was working at the behest of State House through his relentless statements that Kenyatta was too young to retire. Atwoli said he was entitled to his personal opinion and that Wahome should respect that. "I am a free and independent person who respects views of others. I am not a state house operative," he said. In her statement, Wahome accused Murathe, Atwoli and Nominated Senator Beth Mugo as being the proponents of calls for Uhuru to extend his term.