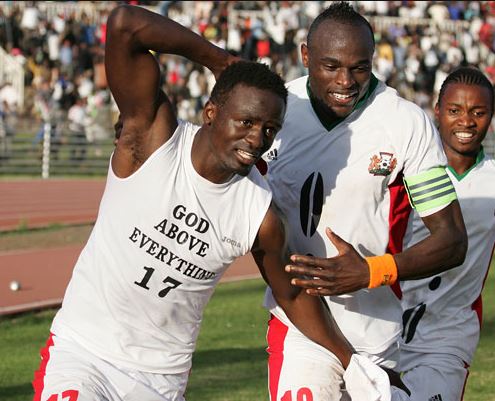 It is an interesting statistic in sports and political circles. After names of Kenya's eminent footballers, Dennis Oliech and McDonald Mariga, were thrown into the hat for Kibra Constituency by-election, social and mainstream media were abuzz with all sorts of comments and reactions. Jubilee Party have since cleared Mariga to contest and it remains to be seen if the footballer will change the narrative -sports persons losing in elective seats. On Tuesday, Kenyan Premier League champions Gor Mahia terminated Oliech's contract terming his quest for Kibra parliamentary seat as 'misconduct.'
SEE ALSO: Political threshold a must to impeach a governor
Oliech, who returned to Gor on a two-year deal last year, said he was not aspiring the seat while the letter from the Jubilee Party where Mariga was listed as an aspirant was dismissed as fake. "If I wanted to vie for the seat, I could have surely made a public announcement. Somebody sent me the photo on WhatsApp and I forwarded it to our group just trying to show I was not aware of the banter going around. "People are just trying to create controversy from where it does not exist at all. But because there are reports McDonald Mariga will vie for the seat, then people want to start pushing me into politics," Oliech said. He claimed the reports were the work of 'malicious' people. What cannot be ignored is the supposed entry of two of the most famous Kenyan footballers in politics generated varied opinions on social media. Of late singers, radio broadcasters, television personalities and sports personalities who leaned on their fame or got backed by wealthy sponsors, have managed to win political seats.
SEE ALSO: Mt Kenya bigwigs to support Kimunya after private 'lunch'
Dan Wanyama, the MP for Webuye West and a member of Parliamentary Service Committee on sports, was national volleyball team player. He was the overall team captain at the 1999 All African Games (now African Games) in Johannesburg, South Africa. Due to the rigorous training in volleyball, his hands are hardened and most people including dignitaries avoid shaking hands with him since, "he loves that firm and painful handshake."
SUCCESSFUL ENTRY
Wanyama and former Chesumei MP Elijah Lagat, the 2000 Boston Marathon winner, are perhaps the only ones to have secured two terms in parliament. Dan Shikanda, the chairman of AFC Leopards and former player for the club said public perceptions hinder the successful entry of sports persons in politics. "Sports in this country is not treated like an industry. People will ask what can that footballer or athlete achieve in politics because they do not take them seriously," Shikanda, who was the running mate for Peter Kenneth in the 2017 Nairobi gubernatorial race, said.
SEE ALSO: Jubilee puts Kihika, Ngunjiri on notice
"People spread propaganda against sports persons that they can't make it in political leadership. That's from the analysis I did after vying. We wish to prove we can also lead by making AFC work," the former aspirant for the Makadara parliamentary seat emphasised. In other countries, sports persons have gone on to become political leaders with Liberia's President George Weah and Pakista's Prime Minister Imran Khan leading from the front. Weah, a former Fifa World Footballer of the Year winner, and Khan who led Pakistan to 1992 Cricket World Cup as captain initially failed to ride on their sporting fame to win public trust.
POLITICAL AMBITIONS
But they were later voted in. As they serve their first terms, they inspire sports icons who want to try their hand in politics. For most Kenyan sporting heroes, political ambitions are often costly and has left many of them broke after losing in elections. Wilfred Bungei, the 2008 Olympic 800m champion, lost the Emgwen Constituency race in Nandi County to incumbent Alex Kosgey, the son of former cabinet minister Henry Kosgey. It was a different script in the neighbouring Chesumei Constituency, where incumbent Elijah Lagat, the 2000 Boston Marathon winner, lost to former high school teacher Wilson Kogo. Former Africa 800 metres record holder Sammy Kosgei, who was one time a nominated councilor at the defunct Nandi County Council, ran for Emgwen parliamentary seat but los in 2013. Emgwen – which was carved from Chesuemei Constituency – attracted three world beating athletes that included Elijah Lagat, Amos Korir and Sammy Kosgei. Ibrahim Hussein, the first African to win New York City Marathon and a three-time Boston Marathon winner, lost to Emgwen MP Elijah Lagat in the party nominations in 2007. Simion Bor, the 2006 Hong Kong Marathon winner, lost the Kosirai MCA seat. Wilson Kipsang, the former world marathon record holder, lost Keiyo South MP's bid to Daniel Rono with a small margin. Wesley Korir, the 2002 Boston Marathon winner, lost his Cherangany Constituency seat to Joshua Kutuny. Christoper Cheboiboch, a runner up in Boston and New York City marathons, could not defend his Emsoo ward seat on a Kanu ticket. Gilbert Koech, the 2009 San Antonio Marathon winner in USA, lost his bid for incumbent James Murgor in Keiyo North Constituency. Koech, the husband of two-time London Marathon winner Edna Kiplagat, battled it out with former MP Lucas Chepkitony, lawyer Thomas Maiyo, Joel Kimaiyo and Kipchumba Matuma. Wilson Boit Kipketer, a former world 3,000m steeplechase record holder, could not retain his Kabiemit Ward seat while Charles Cherono, a former marathoner, could not defend his Kibigos ward seat in Elgeyo Marakwet County. Daniel Kipng'etich Komen lost Racecourse MCA seat in Eldoret. Komen has three world records –3,000m (indoor), 3,000m (outdoor) and two miles –under his belt. Komen, a glowing alumnus of Biwott Secondary School in Keiyo South, proved he was no push-over as he set the world outdoor 3,000m record of 7:20.67 in Rieti, Italy, on September 1, 1996. That was not enough, Komen went into annals of history as the only man alive to run two miles under eight minutes where he set the world record mark of 7:58 in Hechtel, Belgium, on July, 19, 1997. He then proved his mettle, setting the world indoor 3,000m record of 7:24.90 in Budapest, Hungary, on February, 6, 1998. Amos Korir could not retain his MCA seat for Kaptel/Kamoiywo ward in Nandi County.