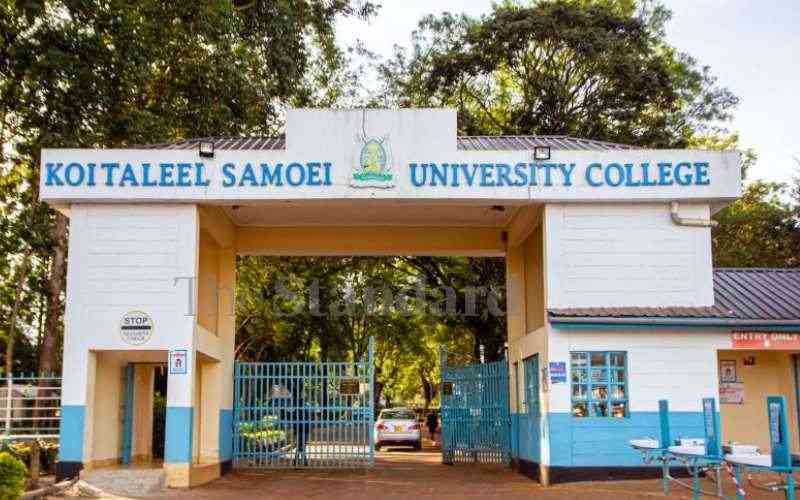 Construction of Koitaleel Samoei University College's main campus in Nandi Hills is on course after the institution obtained land ownership approvals.
Three years into its establishment, the university college, which is named in honour of Nandi legend and freedom hero Orgoiyot Koitaleel Arap Samoei, has made milestones and currently has a student population of 705.
The college expects another 433 placed under the Kenya Universities and Colleges Central Placement Services (KUCCPS) for the September intake.
"The university has obtained land documents for 100 acres in Nandi hills and another 51 acres in Mosoriot," the college's Principal Prof Winston Akala said.
According to him, construction is in progress for the main campus in Nandi Hills while facilities at the former Mosoriot Teachers Training College, where the university college currently sits, have been renovated.
He said the university college has also completed acquisition of more land offered by Nandi county government in Kaimosi and another in Tinderet, which will be used to establish a state-of-the-art facility to tap athletics talent.
"The process of construction work is impressive and the university's steering committee is in within its work plans," stated Prof Akala, who was this week named as substantive Principal of Koitaleel University College.
He takes over from Prof Jackson Too, who has been steering the institution in an acting capacity. Prof Rose Ruto Korir, formerly of Moi University, has been named as deputy principal.
"We currently run four programmes – Bachelor of Education (Arts), Bachelor of Commerce, Master of Business Administration and Bachelor of Education (Early Childhood Development and Education) and we plan to expand our programmes to meet growing demands," said Prof Akala.
He added: "The university college in anchored on doctrines of justice for communities having been named after Koitaleel Arap Samoei, a freedom hero who fought for justice and in future, we plan to establish a vibrant law school."
The institution, he added, is utilising available resources and human capital in strategies towards complement government efforts in capitation.
Akala pointed out that staff have raised Sh50 million in grants through research projects, which, he said, would support the hiring of additional staff among other running costs.
He said the university college, a constituent of the University of Nairobi, is building a strong bonding with the community and challenge residents to derive benefits through construction of hostels and provision of other goods and services.
"The college only accommodates 261 students while the rest live among the local community, hence residents can construct rental premises and tap on the opportunity," added Akala.
Prof Korir encouraged private public participation to enhance business enterprises and cultivate cordial relationship between the higher leaning institution and the local community.
Prof Risley Kavu Ng'ala, the college's chairman, said he expects the new management to to be innovative and adopt strategies that will enable the institution to prosper in light of reduced support from the National Treasury.