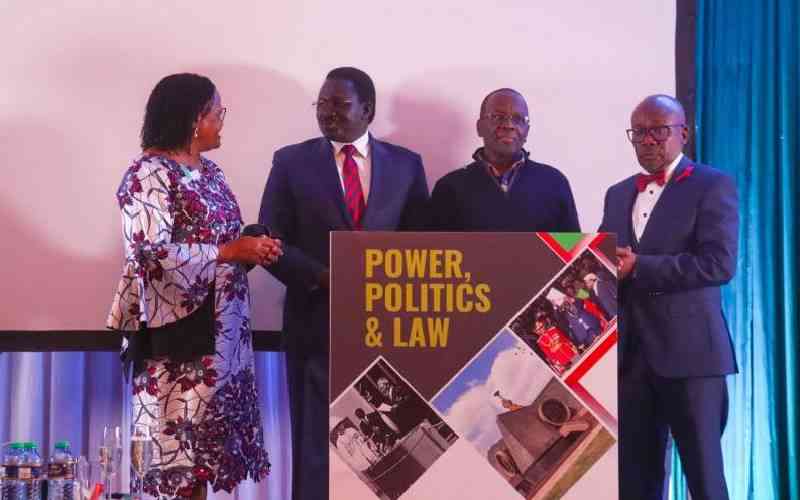 Scholars have been challenged to use the local printing press in order to support the industry.
Kabarak University Vice-Chancellor Henry Kiplagat said the move will encourage the growth of publishing at the university and media in general.
Speaking during the launch of a memoir, which narrates Kenya's constitutional journey, 'Power, Politics and Law,' The Dynamics of Constitutional Change in Kenya, 1897 - 2022 by Prof. Githu Muigai, Kiplagat urged scholars to support local publishers and in particular, use the local printing press to produce their works.
"I hope this launch will persuade the legal academia in Kenya, that local scholars can publish locally and still be able to reach a wide audience,'' said Kiplagat.
The university published Githu's book.
According to Kiplagat, Kabarak University, which started offering media studies in May 2016 is well equipped to offer training.
"With a competent editorial team, we managed to do this work in less than a month. We have the capacity of doing it,'' he said.
Chief Justice Martha Koome, said the book which shows a keen appreciation of a rarely acknowledged reality that the process of constitutional amendment straddles law and politics' is a major milestone for Kabarak University press.
''The book is a study in political science. In tracing the powers and politics that have influenced our country's constitutional change. It also presents an analysis of their legal effect and how the practice of constitutional law was shaped by our country's politics. It is a worthy reference text for students of political science in Kenya,'' noted Koome.
The CJ underscored the importance of civil servants sharing their life after exiting public service.
"The great tradition where senior government officials retiring from public service share their reflections with the greater public should be celebrated and emulated,'' she said.
Prof Githu, the AG emeritus, said the book is his dictionary story to tell what he investigated while in service.''Few texts have traced our constitutional history to the founding of the Imperial British East Africa administration, and I believe this is the only scholarly work to cover an analysis of the proposed constitutional amendments in the post-2010 era,'' he stated.
He encouraged academicians to share their knowledge in their memoirs while still alive.
''Our history must be written by us, otherwise, it will be written by other people, and they will write the wrong story. We must also solve our problems ourselves,'' stressed Prof Githu.
Former Chief Justice Prof Willy Mutunga lauded the book for its in-depth analysis of legal practice and how constitutional law was shaped by Kenya's politics.
"Githu completes the journey of how foremost constitutional law started. And does so excellently. His book gives us a thorough and comprehensive account of Kenya's constitutional development from 1887,'' he said.