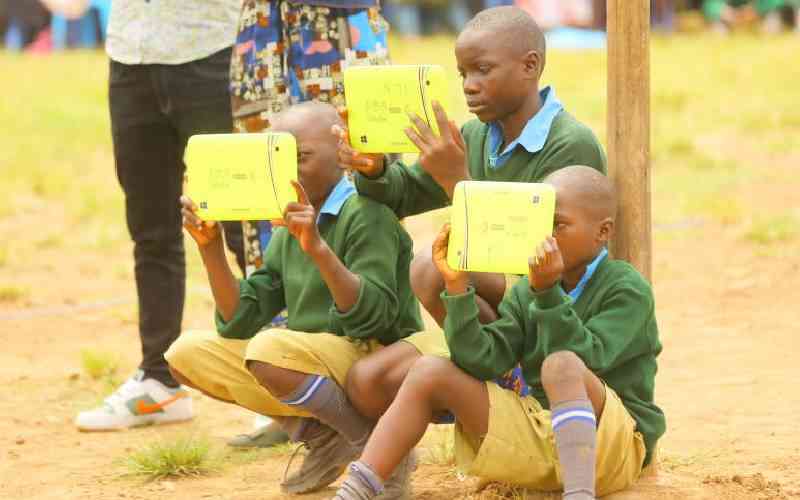 More than half of Kenya's population are children, set to grow up in a world where mobile technology, social media, and online communities shape how they learn, communicate, and develop.
Technology has transcended poverty, age, economics, and race to become a driving force in the lives of people worldwide.
Over the decade, the speed, affordability, and flexibility of rapidly evolving digital technology have helped close the digital and to an extent economic divide between the haves- and have-nots, enabling millions of young people in developing countries to join and benefit from the digital world.
With this opportunity, jobs have been created, innovation nurtured, and creativity developed, creating employment and a source of well-being for the youth.
Access to E-Learning and internet exploration has been found to play a role in early childhood learning and stimulation.
For Grace Muia, a Standard Eight pupil in Noonkopir Township Primary School, the quality and quantity of information she gets when she learns through her tablet, which the government donated, and internet-enabled by Unicef, is better than what she gets on her course textbooks.
"I get information on the internet that I cannot get from textbooks. I can google different illustrations and explanations on a topic to get different perspectives. The textbooks have fixed images and text and thereby can limit learners," she says.
Muia's school is among a fraction of schools that benefited from the government's tablet initiative.
Unicef stepped in to enhance the functions of these tablets by partnering with telecommunication companies to provide internet installation and maintain monthly subscriptions.
Unfortunately, only 25 per cent of school children have access to the internet in East Africa, exempting an entire 75 per cent from the endless benefits of e-learning.
Wesley Sankare, a Standard Eight pupil who loves sciences, enjoys his favourite educational channel, Doctor Binocs, on the tablet during his free time.
"Dr Binocs is interactive, and I learn so much while enjoying the show. This way, I retain so much information," he said.
Increasingly, technology is regarded as a powerful development tool used in the global battle to meet the child and youth-focused targets in global education. Regarding education, there is evidence that young people are increasingly using ICTs and technology as learning tools.
According to Evelyn Kavata, Education Officer, Innovation at Unicef, the government must invest more in providing e-learning opportunities for more school children.
She says, "young people are quick to adapt to new technology naturally. The potential for technology and the internet is certainly a force for education, innovation, and change. We've barely scratched the surface."
Kavata urged the next government to provide and connect more schools and subsidise internet connectivity.
Her sentiments were backed by Noonkopir Primary School head teacher Peris Gitare, who couldn't over-emphasise the benefits the tablets and internet connection have brought her students and staff.
"Being a science teacher, I know how vital diagrams and drawings are to explain science concepts. However, I am not incognizant of the fact that I am not an artist. I can mean to draw the heart to explain the circulatory system, but end up drawing a basket, which will not give the true picture," she says.
"At the click of a button, however, pupils can get different images of the heart and understand better how blood moves by watching illustrations."
The only concern Ms Gitare has is the propensity of the pupils to wander to different sites, to which she praises Unicef's step in controlling the sites her students can visit.
She urges parents to let their children use the internet but monitor closely the sites they visit and, where possible, install software that blocks inappropriate content.
"Through real-time experience, we've ascertained that access to technology can bring young people into contact with the broader world and access to education and vocational training in a very cost-effective way," says Ms Gitare.
Teacher Tabitha Randa has been teaching science for 12 years and stands convinced that internet learning is the way to go.
She believes the tablets and internet connectivity have brought her students a renewed zeal to learn.
"Learning through technology is a key factor in increasing literacy in Kenya. On the days the pupils know they will use the tablets, there's 100 per cent class attendance.
"Children are massively motivated to learn to text, write and operate their devices. In the process, they become obsessive learners, readers, and writers through these devices," she says.