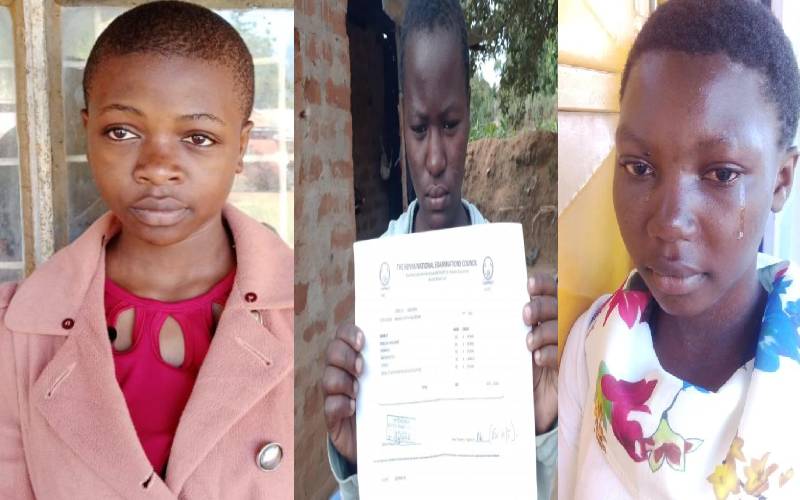 Some of last year's Kenya Certificate of Primary Education (KCPE) exams top performers in the Western region are likely to miss their dreams to secure secondary school education due to poverty.
In Kakamega County, the story of Dentrick Apuya, Ajema Asheleen and Ivety Muhonja, who hail from Shivakala village in Malava constituency, is the touching tale of children whose hopes for a better future fading away.
They studied in the same school and when their KCPE results were released, Apuya scored 301 marks while Ajema and Muhonja got 277 and 340 marks respectively.
Mohonja was expected to join Kaboson Girls High school in Baringo but her parents could not take her there due to financial difficulties, said Joseph Amanya, the girl's father.
When The Standard on Saturday arrived at the home, Mr Amanya, who works as a casual labourer at construction sites was preparing to leave.
"I just arrived this morning from a construction site where I work but the children have accompanied my younger brother to Shamoni secondary school, about seven kilometres away to plead with the headteacher to admit them," said Amanya.
The triplets' uncle has been moving around with them seeking good Samaritans.
A well-wisher helped enrol Muhonjia at a local secondary school but her brother and sister are still stranded at home.
Mr Amanya said his meagre pay makes it hard for him to take his two daughters and son to school.
Besides, Amanya is worried about the deteriorating health of his own father who started developing health complications and requires specialised treatment.
Apuya was supposed to join St Joseph's High school in Mumias while Ajema was to join St Mary's Shihome Girls High school.
Robai Amanya, the triplets' mother, said she has been having sleepless nights over the plight of their children.
In Lurambi sub-county, Linet Kokakola,15, trekked about 20 kilometres from her Indangalasia village home to Kakamega town on May 11 to look for help.
She studied at Elufwafwa primary school and got 352 marks but failed to secure a scholarship.
In Busia, a local assistant chief rescued a 14-year-old girl from Indoli village from early marriage.
The girl who scored 325 marks in KCPE told journalists that her own mother married her off to a man last month because she could not afford her school fees.
"I would like to join high school, pass my exams and become a doctor in future," said the victim who was supposed to join Busiada girls' High school within the county.
Then there is Bridgit Chepkoech, a former Kakamega Primary School pupil, who has been tirelessly looking for bursaries to join a high school with no success.
Accompanied by her mother Audrey Otula, the 14-year-old has knocked on the door of bursary giving institutions without success.
Benard Lusigi, Jackline Inyanji, Michelle Muchelule and Robert Amalemba