37,000 pupils to benefit from Ajuma donations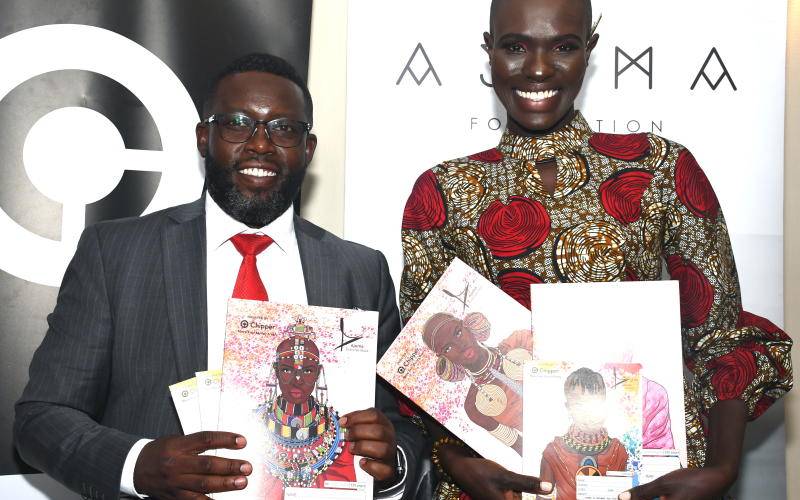 More than 37,000 students in 60 primary schools across 18 counties from hard-to-reach communities will benefit from the Ajuma Foundation's Exercise Book Initiative.
The project, run by the 36-year-old Kenyan supermodel Ajuma Nasenyana in partnership with money transfer fintech Chipper Cash, seeks to boost literacy levels in rural parts of Kenya.
Since the inception of the project in 2021, close to 12,000 learners in remote areas of the Rift Valley, Eastern and Coast regions have benefited from the literacy improvement programme.
Ajuma has said Covid-19 pandemic has taken an economic toll on families, especially in rural areas of Kenya, thus disrupting learning and supply of educational resources for young learners.
"With little economic resources, parents are torn between providing meals or buying books essential for learning, leaving children to use carton boxes as exercise books so that they do not miss school," she said during the project briefing in Nairobi.
"If we say that education is key to a society's social and economic transformation, then we need to do everything we can to give these children an opportunity to transform their lives and their communities' fortunes."
She added that the book donation drive project aims to address challenges beyond closing gaps by providing educational resources and infrastructure to primary schools in rural Kenya.
"This project also seeks to address challenges that include teen pregnancy, period poverty, hunger and insufficient water storage facilities among other issues which have been barriers to a holistic education for young learners," she said.
Leon Kiptum, the country director of Chipper Cash Country said that the Ajuma Exercise Book Initiative aligned with the company's education pillar as it improves access to education through books which are basic tools for effective learning.
"As a business, we have an important role to play in society, and we are leveraging partnerships to combine resources and expertise to tackle societal needs holistically. The Ajuma Exercise Book initiative is helping to improve literacy levels in primary schools and connects the younger generation through culture, regalia and language," said Kiptum. "As a truly African brand, we are glad to be participating in this initiative and our partnership with the Ajuma Foundation propels this project to the next level."
The second phase of the project moves to the Coast region with a target to donate over 20,000 exercise books to benefit over 5,000 students in Taita Taveta, Kwale, Mombasa, Kilifi and Lamu counties.